Cleveland AGS Show, 2006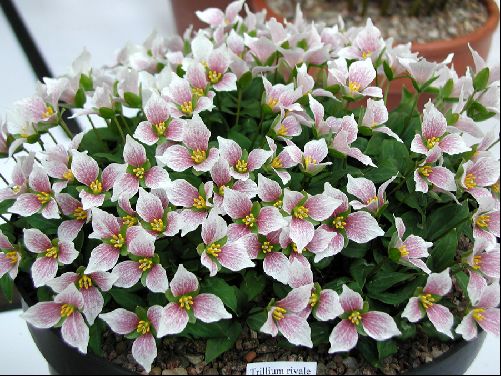 The large plants of the Open section are those that most impact on the senses on entering any of our shows and many of the plants shown in this section of the Cleveland show were sensational, making the judges` task in many of the classes exceedingly difficult. Class 20. one bulbous plant ,excluding fritillaria illustrated the dilemma with six top class entries.  In the end the first place was awarded equally to Narcissus rupicola with a hundred or so stems and a packed and compact Narcissus bulbicodium Subsp. obesus with sixty or more blooms. Elsewhere in that class an imperious pot of Erythronium citrinum with its pale lemon flowers and mottled leaves and two excellent pots of Trillium rivale with the three petalled flowers heavily spotted and streaked in the darker shades of purple, currently the fashion with that species, and a commendable pot of the fragrant Narcissus cordubensis competed for the minor places.Adjacent, the one pan fritillaria class had in it three equally superb entries. The winner, a pot full of F. hermonis Subsp. amana with stocky, sturdy 18cm stems and large, full petalled bells competed closely with the taller, elegant F. amana with its narrower flowers; both in shades of brown with prominent green striping. Bringing up the rear, and a mere point or two behind, was the pinky purple Californian F. pluriflora; with ten flowering stems and possibly the best ever seen in an English show.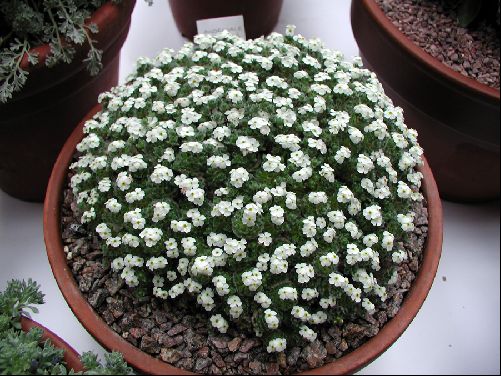 In complete contrast were three pans of the N.W. Himalayan Androsace muscoidea, all shown by the same exhibitor. Never an easy species to please and forming shallow domed mats of hairy,globose leaf rosettes, two of the exhibited plants had been raised from seed collected from the third, Androsace muscoidea `Schacht`s form`. This is a fine selection in itself with large white flowers sitting close to the cushion. However, the two seedlings were even better with flowers to 1cm across and demonstrated the importance of encouraging seed set on home grown plants to produce progeny equal or better than those growing in native haunts.In recent years we have come to expect magnificent specimens of Paraquilegia anemonoides from a particular partnership of highly organised, scientific and technologically advanced growers. This year was no exception and the 2006 paraquilegia with its 160 plus nodding pure blue blooms was as good as any ever exhibited. Apart from winning its class by the length of the M1 it was overlooked for any other major show award. Perhaps the judges think that now the secrets of cultivating such specimens have been fully revealed ( The Alpine Gardner Vol. 73, p 272 – 285 ) we can all do it. Dream on !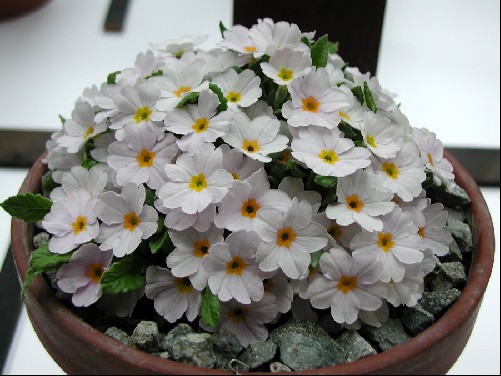 Elsewhere, a fine pot of Primula sonchifolia with three packed posies of its blue, yellow eyed flowers had to concede to the Farrer medal plant, a 17cm dome of the recently introduced and rare ( certainly at this size ) Primula bracteata Subsp dubernardiana exhibiting a total covering of its 2cm white, delicately flushed pink flowers.This is a Chinese species from shaded limestone rock faces which may prove to be an Asiatic primula more amenable to cultivate than most.
Finally, a miscellany of plants, including a very pure blue, and little known, form of Primula marginata `Herbert Dickson`, and winner of two trophies in section B, a pristine 30cm, pale yellow Dionysia ` Monika `, an even larger acid yellow, packed mound of Draba longisiliqua EMR 2551, a most neat and compact small pan of the white form of Jeffersonia dubia with over 30 open white goblets on short 12cm stems arising from emergent scalloped, heart shaped leaves, and a venerable specimen of a compact and gnarled Pinus mugo mops `Midget` with an annual growth of only 1.5cm completes this brief snapshot of a very varied and high quality Cleveland Show.
Alan Furness