Cleveland AGS Show, 2016
With a weather warning of high winds and heavy rain later in the day, it was with some trepidation that I set out for the show. Happily though, these conditions held off until I was well on the way home. It was good to be back at the 'old' venue, albeit held in a completely rebuilt school, now styled the Ian Ramsey C.E. Academy. The spacious building and facilities were in pristine condition and while it was a slight walk from the spacious car park to the show hall, there were trollies available, if required, to transport plants, exhibitors seemed to manage without complaint.
In the initially rather too warm hall there was the usual hustle and bustle as plants were benched. It soon became apparent that, after a slow start to the showing season, in terms of numbers of plants, things were now changing. The benches filled quickly with many plants of good quality. Just one example: although there were initially several entries in the large six-pan class, once Tommy Anderson's exhibit had been staged (it not only won an AGS medal, but two of its components were individually recognised, Trillium nivale receiving the David Baker Vase for the best North American plant and Corydalis glaucescens a Certificate of Merit), the others withdrew and reassigned their plants to other classes!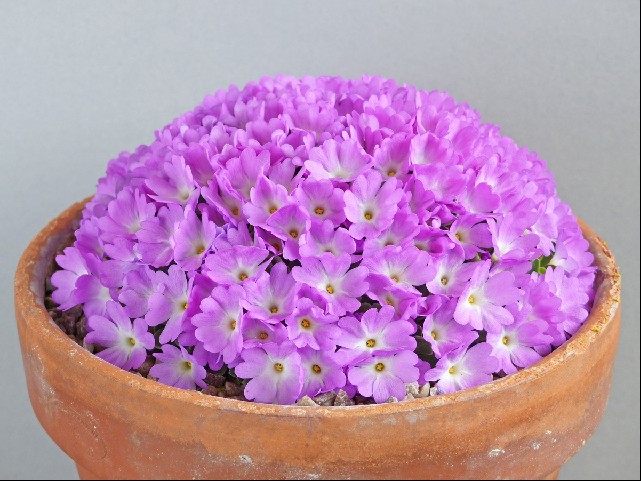 There were more saxifrages in evidence too than at any of the previous shows. It has been a difficult year for this genus, the consequence, perhaps, of the mild winter. In addition the numbers of Primula allionii cultivars and hybrids (the Farrer Medal recipient, Geoff Rollinson's 10 year-old P. allionii 'Mrs Dyas', most notably) in a variety of shades and the well-entered bulb classes combined to make this a feast of horticultural pleasure appropriate for the Easter weekend.
Even the Miniature Garden class had an Easter feel to it with Peter Hood's exhibit. There were four entries in this against three in the Alpine Landscape class – evidence perhaps of its popularity with some exhibitors, not to mention the general public, though it is perhaps not so popular with some others.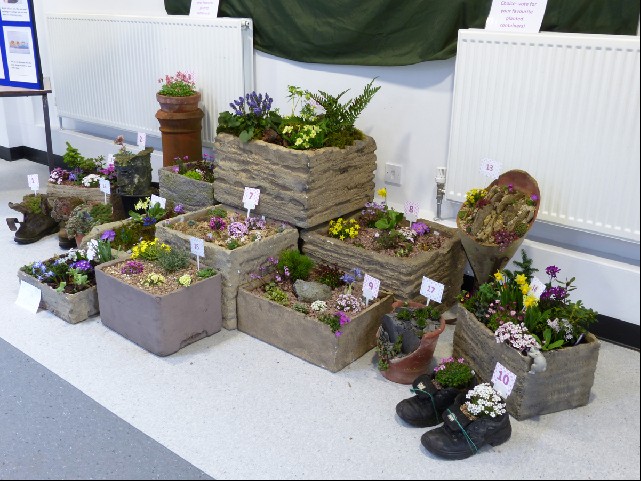 Outside the main hall, adjacent to the kitchen and refreshment area, was the Local Group's display of troughs, many made from polystyrene fish boxes. Someone noted that the chief contributor, Morag Roberts, had displayed a somewhat disturbing enthusiasm when creating these, armed with her blow-torch! The display, surrounded by a brain-taxing quiz, was awarded a Gold Medal by the judges. And speaking of judges, the huge mural in the show hall, a photographic depiction of what had been a mosaic on the outside wall of the former school, appropriately exhorted those present to be filled with 'the spirit of wisdom and understanding'. On the available evidence, they were.
Many thanks to Barry Winter, Norma Pagdin and all the helpers for another extremely enjoyable and smoothly-run show.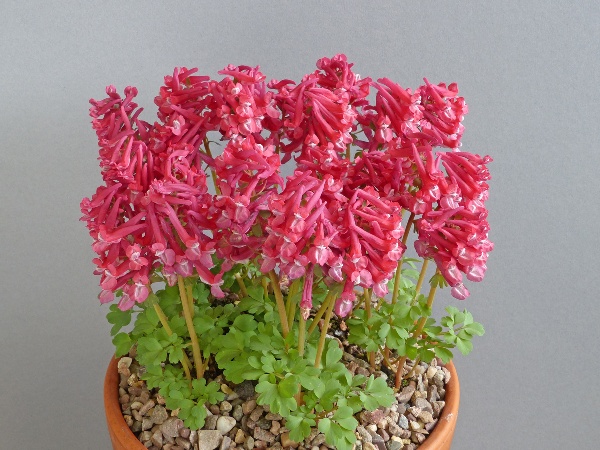 Tommy Anderson's Corydalis glaucescens was a close contender for the Farrer Medal and thoroughly deserved its Certificate of Merit. It is to be found in the Tien Shan, Altai, and Pamirs of Kazakhstan and Kyrgyzstan at 1,300-1,800m in shrubberies and light woodland. The plant on show came originally from Jānis Rukāns 10 years ago and differed from those previously seen, leading some to query its identity. It had been grown in a mix of ericaceous compost plus some John Innes no. 2 and perlite. This was a whitish form, but a pink-flowered selection, 'Early Beauty' is presently offered, while others such as 'Medeo' are occasionally seen. A number of other species also caught the eye, Don Peace's striking deep red selection of C. solida Penza Group [left] and C. solida subsp. incisa in particular.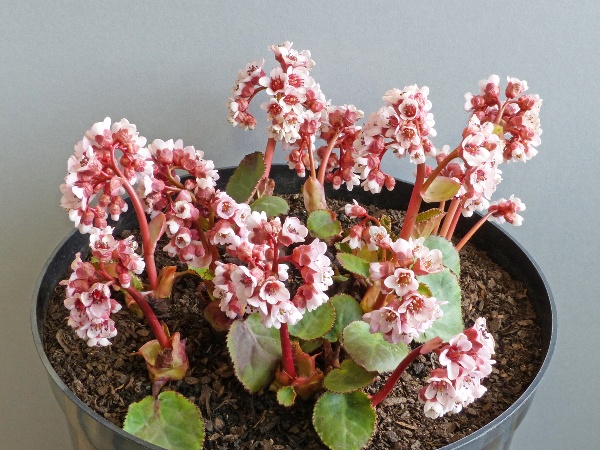 Generally the genus Bergenia does not appeal to me, being too large and coarse to my eyes, but B. ciliata 'Patricia Furness' is more diminutive and compact in its parts and its deep pink stems and calyces are most eye-catching. The original stock came from R.B. Cooke's garden and thence via Alan Furness to Mala Janes, where it grows happily in her Northumberland soil. It had been grown in the exhibitor`s garden but lifted as it started to grow away as frosts can quickly spoil the flowers, although this does not affect subsequent growth. It appears to tolerate most soils ranging from light to heavy. A smaller pot shown by Chris Lilley was from the same source.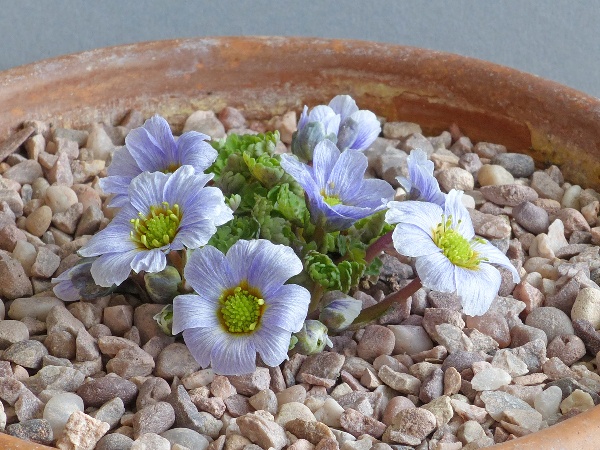 Speaking of Alan, his Callianthemum farreri was much admired. Quite often plants in the 'New in Cultivation' and 'Rare in Cultivation' classes seem destined to appeal to the botanical specialist rather than the gardener, but on this occasion I felt that at least three of those on show were horticulturally meritorious. For me this was the outstanding one. Rather similar in form to C. anemonoides, yet more compact, delicate and a beautiful shade of blue, which Farrer described as a 'melting China-blue', it grows in forests and on grassy slopes as well as damp rocky ledges at 3,500 – 4,000m in S. Gansu and N.W. Sichuan. This specimen had been bought as a young plant from Mojmir Pavelka but has since been offered by (for example) Wildside Nursery in the UK. Grown in a long tom pot because of its extensive root system, it responds well to a compost is 50% John Innes no. 2, 40% coarse grit and 10% fine bark, well-watered in growth and kept just moist in winter. The two other plants that appealed in these rather specialised classes were both primulas, P. nana 'Alba' (Don Peace) and P. bullata var. bracteata (Peter Hood), the latter in the class for 'New in Cultivation'.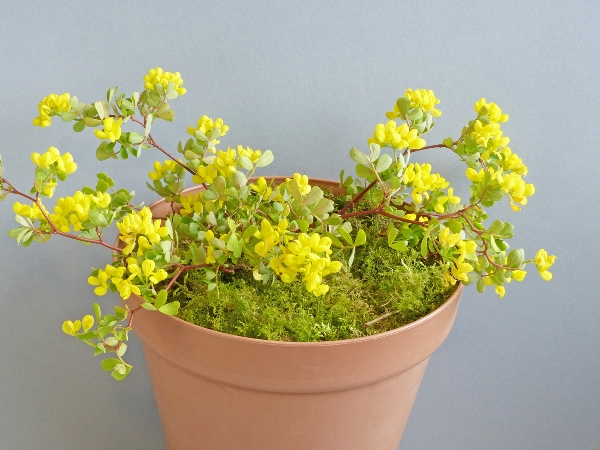 Another change of name: Tom Green's Coronilla emerus has been shunted to the sister genus Hippocrepis. It is rewarding to see plants that seldom appear on the benches and this legume attracted me, not only by its appearance, but because its scent. One common name for it is the 'Honey Coronilla' and its sweet scent can fill the alpine house. Although styled subsp. glauca, that epithet relates instead to C. valentina. The AGS Encyclopaedia of Alpines describes it as a deciduous shrub growing to 1m or more. It came second in its class to a lovely specimen of Grevillea 'Poorinda Rondeau' shown by John Savage, but even he admired it and graciously said that he thought that it might have beaten his. One of 20 species of the genus native to Europe, the Mediterranean and North Africa, it often grows in poor, dry soils, in scrub and on limestone. The grower obtained his plant from Rumbling Bridge Nursery. It can be grown in the garden in a sheltered spot, although the flowers need protection from frost and so it had overwintered in an unheated alpine house, then brought outdoors again when the danger of frosts was over. Grown in a humus-rich mix with 50% grit, apparently it is easily propagated from cuttings.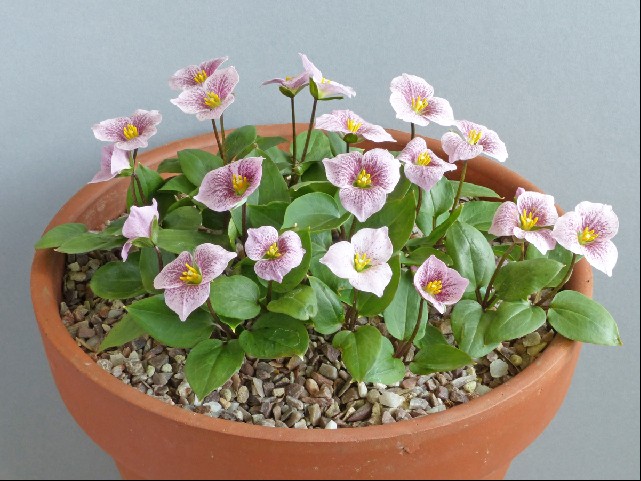 While there were other and perhaps more difficult examples of this genus on show – lovely pots of Trillium nivale and the taller T. chloropetalum 'Val Mulvihill' were in lovely, fresh condition, a pan of T. rivale (like the last-named, also shown by Fred & Pat Bunday) stood out [left]. The flowers can be had in a variety of shades from plain white to darker pink/purple, often spotted or dappled: this example, from a 1990 sowing of a seed from Jim Archibald (JJA11055), was pleasingly dark pink, every bit as attractive as 'Purple Heart' and certainly worth bulking up. It received a Certificate of Merit. Grown in a mix of 50% John Innes no. 3, 40% grit and 10% perlite plus a sprinkling of lime and Vitax Q4, it had not been repotted for eight years – disturbance seems to set it back a season. Each year the top inch or so of compost is removed in July/August, before root growth restarts. It is then top-dressed with the above mix.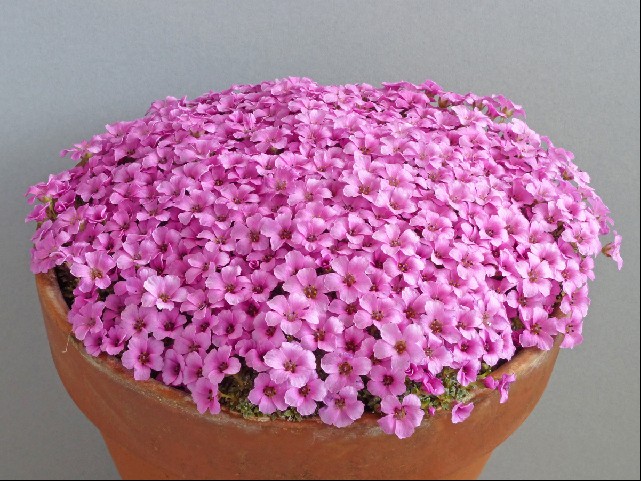 Saxifraga x boydilacina 'Pink Star' won Keith Blundell the R.A. Hodgson Trophy for the best plant in the Intermediate Section and would not have disgraced itself in the Open classes. Its grower had found it languishing at a commercial nursery, where it was clearly not enjoying its compost of pure peat. Since taking it home and repotting it into a mix of John Innes no. 3 with leaf-mould in the base of the pot, plus grit and a multi-purpose compost, the plant has not looked back. It is plunged in a frame and given light shade in the summer. The plant, representing the cross aretioides x burseriana x lilacina, was named by Ron McBeath. There were some other pleasing examples on the benches including large pots of S. 'Allendale Ghost', S. 'Tromsø' and S. 'Cumulus', all belonging to Tommy Anderson.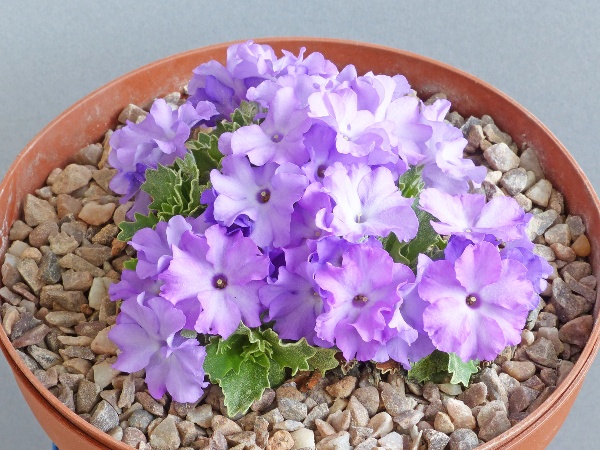 The Farrer Medal was won by a primula known in cultivation for over 40 years, whereas this raising, recreating the cross Primula allionii x marginata, was one of exhibitor Brian Burrow's earliest hybrids, dating from the 1980's, between a wild-sourced collected P. allionii and P. marginata 'Caerulea'. Small and rather shy flowering (hence the farina-touched, almost holly-like leaves provided a lovely foil), the slight crimping of the petal margins and its condensed habit made for a most attractive but apparently still unnamed plant. It responds to a lean well-drained mix (60% grit, 20% John Innes no. 2 and 20% composted bark).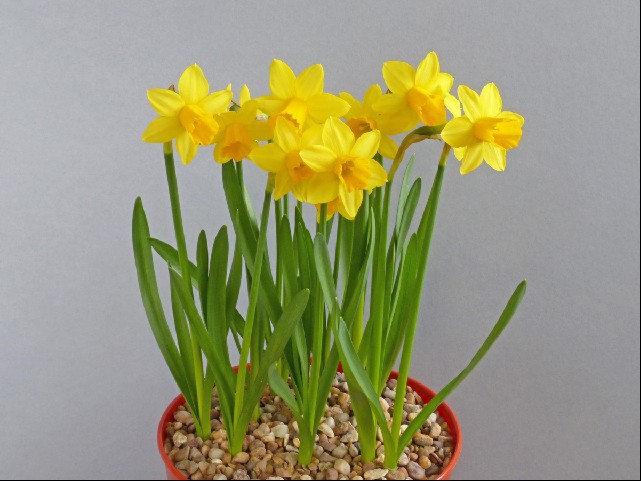 Primulas were much in evidence, although perhaps not as numerous as in some years. In the Intermediate Section there was a delightful example of P. 'Broadwell Chameleon', completely filling its 19cm pot. As the name suggests the flowers vary in colour, an inherent quality not the result of fading. This specimen won the North Riding Trophy for the best Primulaceae in its Section for Heather Barraclough. The same genus received the Crosthwaite Cup for the best plant in the Novice Section, in the shape of Vivien Self's well-flowered P. 'Lindum Whisper'. Vivien also won the Aileen Harness Memorial Cup for the best bulbous plant in the Novice Section, with an attractive, well-balanced pot of an unnamed dwarf daffodil that was surely Narcissus 'Tête-à-tête'. It had been lifted from the garden while well into growth, but gave no indication of resentment. Not content with winning two trophies Vivien also won the award for the most first prize points in this section.
Author: Dave Mountfort
Photographers: Don Peace and Robert Rolfe