Cleveland AGS Show, 2015
Renewal and refurbishment of schools used for this show has necessitated several shifts of venue, from one part of Stockton-on-Tees to another, over recent years. This year's show relocated to a sixth form college where (advantageously) exhibits, plant sales, catering and seating could all be accommodated in a single, two-tiered hall, making for an agreeable, if at times, crowded atmosphere.
Easter Saturday this year fell at the beginning of April, when numerous members of genera such as Dionysia, Saxifraga and Primula are in peak flower. Substantial entries of these plants were anticipated and duly obliged with their presence: in particular the large pans of Primula allionii and its hybrids were of vintage quality.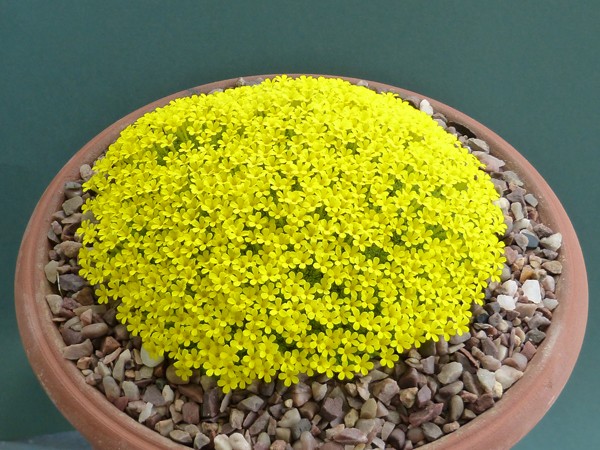 Two dionysias, both rare in cultivation and difficult to grow to the size presented on the show bench, were selected by the judges to compete for the premier award. Dionysia michauxii, shown by Derek Pickard, is a slow-growing, tiny yellow flowered Iranian (Fars Province) species that succumbs easily to Botrytis during autumn and winter but has nonetheless been in continuous cultivation almost 50 years. Geoff Rollinson's D. gaubae, with larger, much broader-lobed yellow flowers, is from Lorestan Province. Discovered in 1936, it was not brought into cultivation until 2000 and the following two years, but has proved itself one of the most attractive species, particularly when set off by a surround of limestone fragments, as here. A discussion on the challenges of cultivating these two species preceded the final vote, the Farrer Medal going to Derek's plant [right], a representative of the old JCA stock rather than the comparatively recent re-introductions.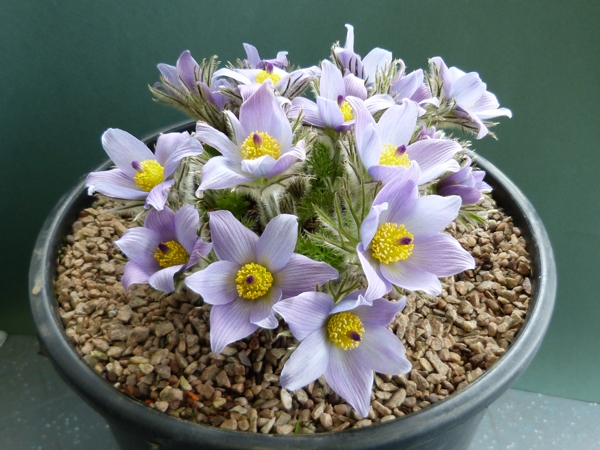 Exhibits considered good garden plants are now brought to the attention of show visitors by means of a card highlighting this attribute that is placed alongside the chosen plant. Anemone thalictroides (Tim Lever) is an excellent example for a woodland setting, for all that it takes time to increase. This consideration is certainly true of another woodlander, Trillium chloropetalum 'Val Mulvihill' (Fred and Pat Bundy), awarded the David Baker Vase for the best plant native to North America. A further North American plant, the widely distributed Pulsatilla patens subsp. nuttalliana (Lionel Clarkson) [left], exerts a powerful attraction when in bloom. Found from Alaska through to Missouri, it is often found growing, as Kit Grey-Wilson's recent book on the genus notes, in 'rather bleak terrain' and is resolutely hardy. This particular specimen, which lives permanently outside, was raised long ago from seed by the exhibitor and now annually produces many upturned, chalice-like flowers early in the year: it often comes before even P. grandis or P. vernalis. Freshly-sown seed from Lionel's plant has germinated reliably, the young plants flowering in their third year.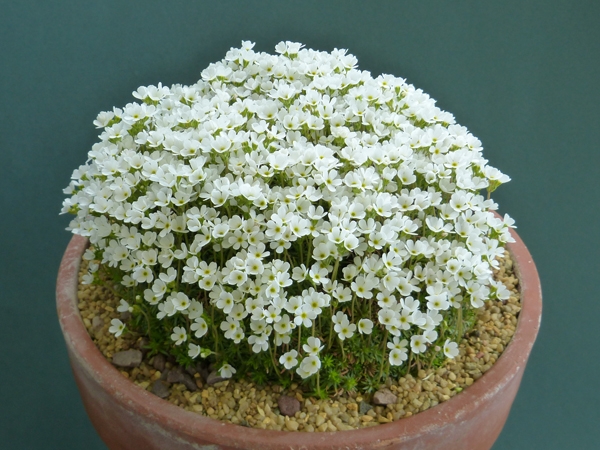 Frank & Barbara Hoyle too had an entry that they had raised from seed, in this case obtained from the AGS distribution just three years ago. Their Androsace carnea x pyrenaica certainly displayed flower power. Only three seedlings emerged, each different in flower size and shade, with this example selected for its floriferousness and for the quality of its white flowers. As their other entries amply testified, the Hoyles have sharply focussed, 'exhibitors' eyes when it comes to choosing show plants.
Four Certificates of Merit were awarded, the first two of them to Geoff Rollinson for his earlier-mentioned Dionysia, and another Farrer Medal contender, Primula allionii 'Crusader'. Geoff Mawson's Saxifraga columnaris was easily the best specimen of this exceptionally slow-growing Caucasian endemic seen on the show bench to date, and had been grown on in his Dronfield alpine house for the past 16 years, whereas a substantial, vibrantly red Corydalis solida (Tom Green) [left] was rumoured to have been dug up from an allotment!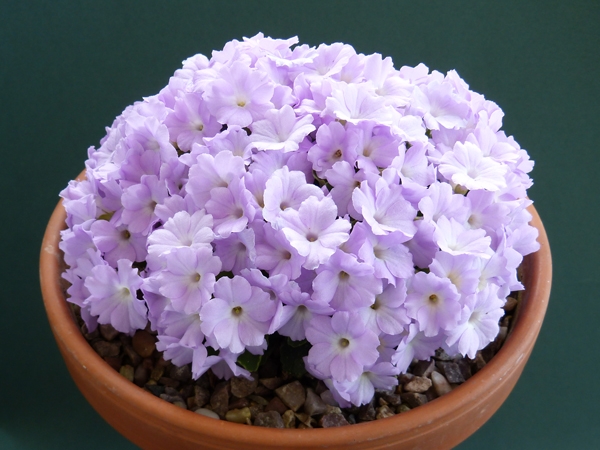 Many clones of Primula allionii were shown, some such as 'Mrs Dyas' of long-standing, others seen for the first time, as with a first-rate unnamed one shown by Ian Kidman. I have chosen two members of the genus that came close to disappearing from our gardens. The P. allionii hybrid 'Alice Evans' (Geoff Rollinson) [right] was rescued by Brian Burrow in the 1970's, who was given the last known plant by long-time Primula champion David Philbey. Brian's propagation skills have now seen this plant, named after the wife of the late Alf Evans from Edinburgh Botanical Gardens, widely distributed among specialist growers. A further 'Scottish' plant, Primula clusiana 'Murray Lyon' (Alan Furness), was also saved from extinction by Henry & Margaret Taylor and a handful of other enthusiasts. Thought to represent a cross with Primula minima, it has very dark flowers of a size (up to 4cm in diameter) that would be astonishing for that species pure and simple.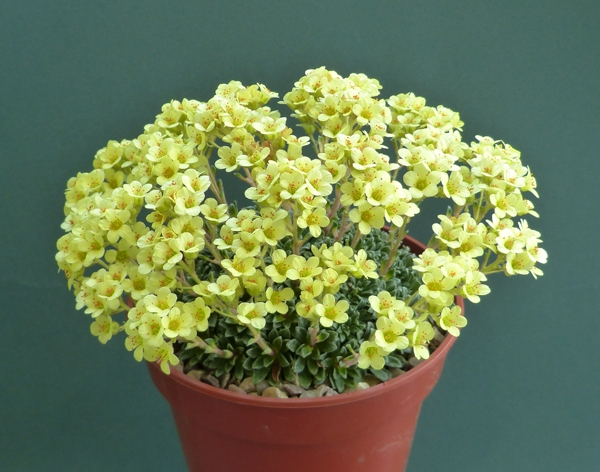 In the very well-entered small-pan Saxifraga class, a new variety bred in the Czech Republic was on display. Saxifraga 'Kotyz' (Dave Riley) was brought about by Karel Lang by crossing S. cinerea with S. kotschyi. Delicate light yellow, the clusters of flowers held on 5cm stems above particularly attractive, greyish rosettes of good size, it had been obtained four years ago as a cutting from the German nurseryman Gerd Stopp. John Mullaney, by contrast, raised some excellent hybrids of S. cinerea quite by accident 15 years ago, with S. dinnikii as the other parent. Very seldom exhibited, but well worth persevering with for the five years or more it takes to produce a showable plant, S. x concinna 'Beinn Eighe' (Edward Barraclough) is a slow growing kabschia with cerise flower buds, opening to clear pink when in full flower, but remaining cerise on the petal reverses.
Talking to exhibitors can at times be amusing as well as instructive. A mature Woodsia obtusa (Don Peace) constituted the epitome of a small fern. Don blithely commented 'scythe it down on the first of January and up it comes every year', also saying that he never re-pots this plant.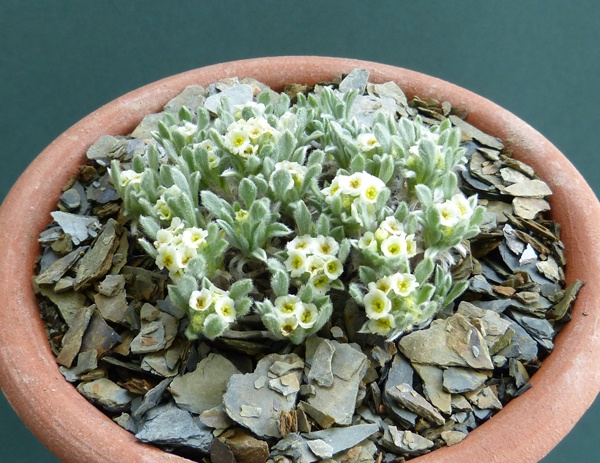 In the rare in cultivation class was a plant described by its owner as 'A Utah forget-me-not'. Cryptantha compacata (Alan Furness) was grown from Alplains seed collected at 1,738m, sown in January 2012. Surely the dwarfest in its genus, it typically forms small (4x9cm), silver-leaved cushions. Alan commented further 'Never over-water and no winter water'.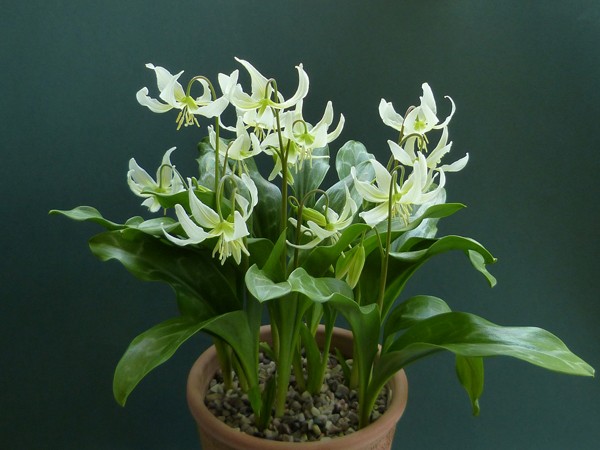 Bulbs took the plaudits for the best plants in both the Intermediate and the Novice Sections. Erythronium 'Margaret Mathew' (Bob Worsley) triumphed in the first of these, the owner also taking the most first prize points in this section and awarded the R.A. Hodgson Trophy. Hybridising erythroniums has become quite popular in the last couple of decades: 'Margaret Mathew' (named for the wife of bulb authority Brian) has a much longer history, for it dates from 1956, from seed sown by onetime AGS President E.B. Anderson.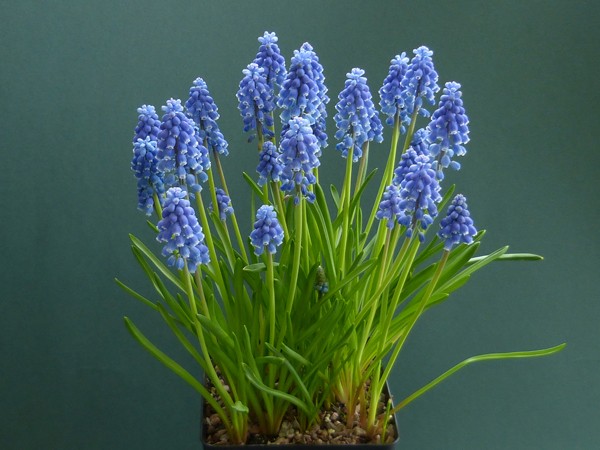 Muscari armeniacum (Janet Fielden), a good example of an easily-grown plant for well-drained good soil in sun, was adjudged the best plant in the Novice Section. Janet also received the Saunders Salver for most first prize points in this Section.
Author: Chris Lilley
Photographers: Don Peace and Robert Rolfe