Cleveland AGS Show, 2014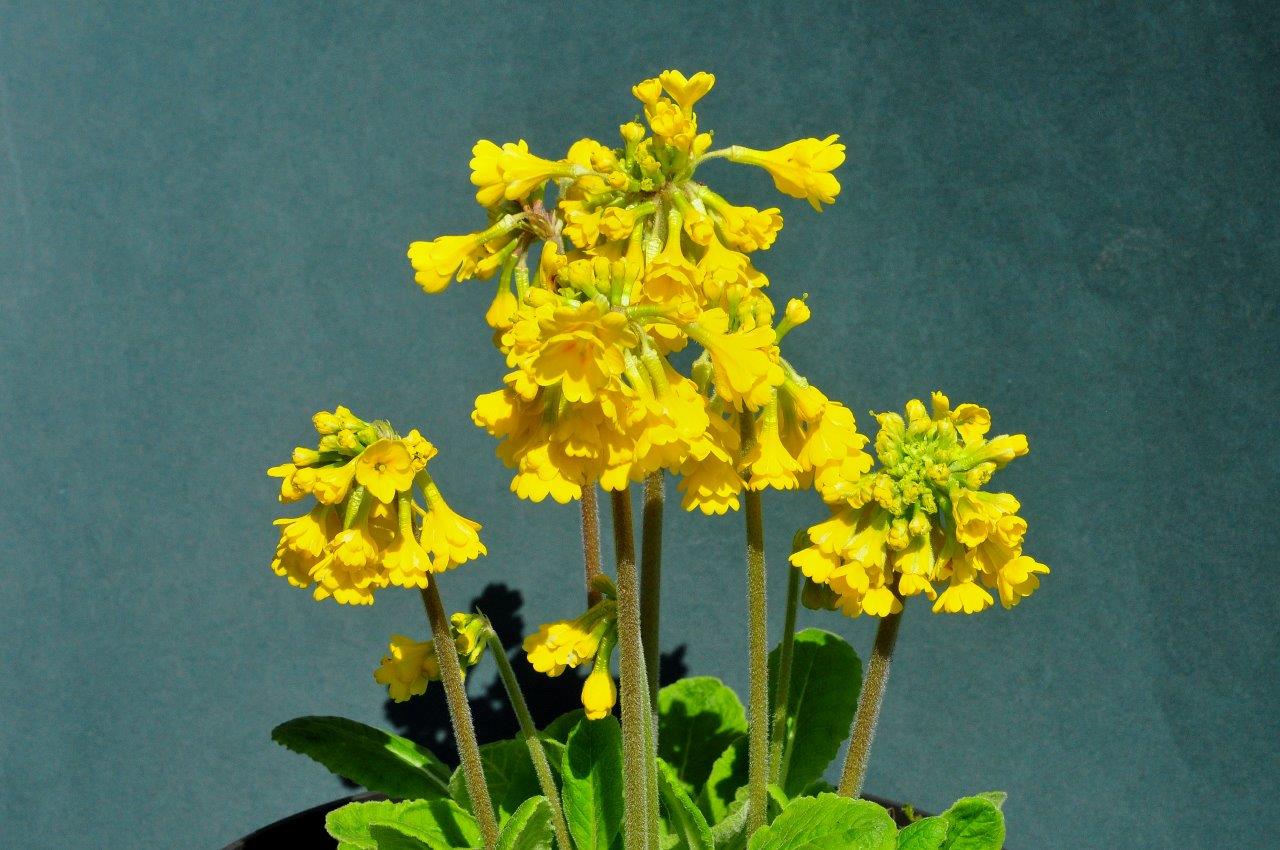 With Easter Saturday falling near its latest possible date this year, the range of plants included a number that peak in May and later – examples included several cypripediums, scores of lewisias, Tulbaghia cominsii, Daphne x whiteorum 'Beauworth' and Uvularia grandiflora. On the other hand, as confirmed by their massed presence on motorway embankments and in woodland en route to the Norton venue, it was prime time for cowslips and bluebells. Primula veris [left] was represented by a short, sturdy, hose-in-hose version that won Ivor Betteridge a first prize in the single pan class for members of the genus, while in the Intermediate Section, Christine Boulby entered an equally oddball, bracteate form of Hyancinthoides non-scripta. Versions of this were first recorded in the second half of the nineteenth century: exceptionally, white and also pink forms have been found.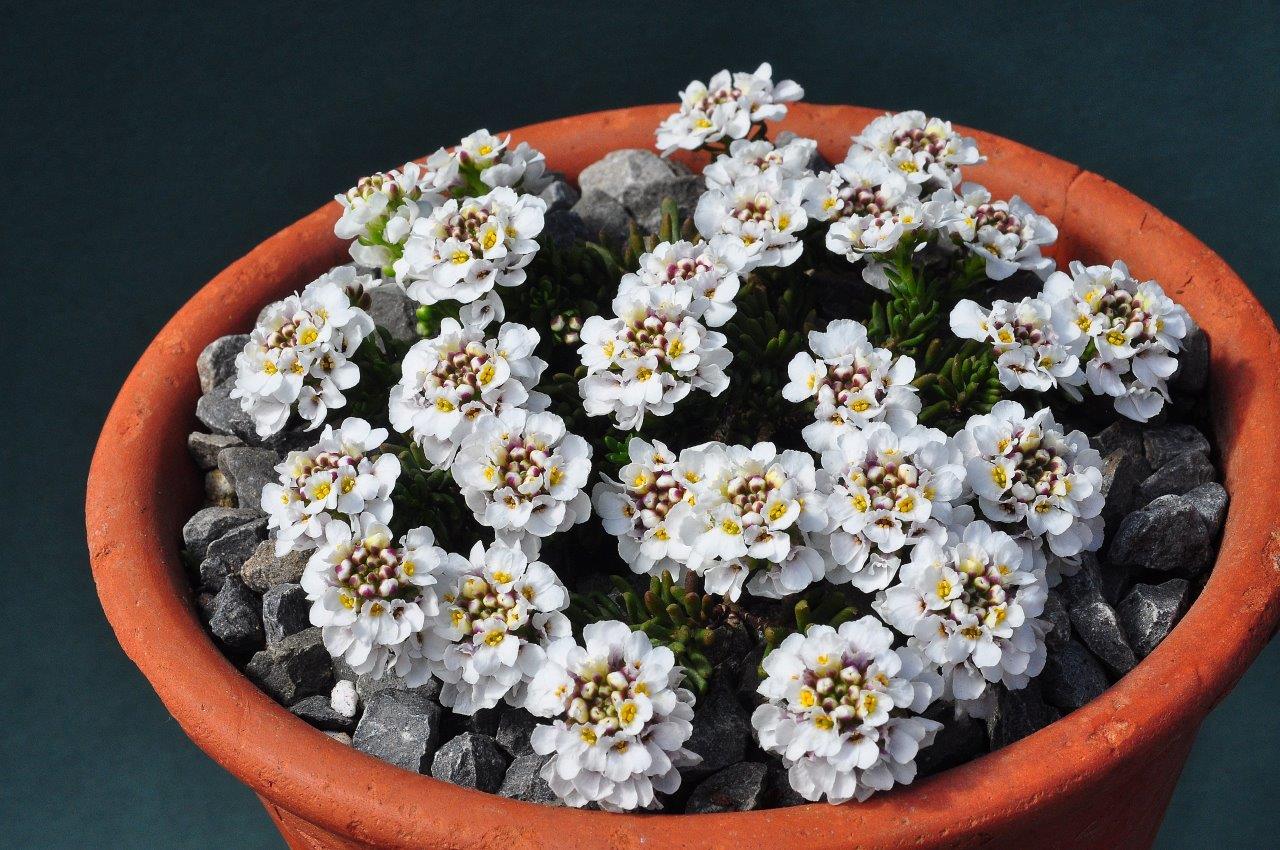 It's the first time I can recall the last-named appearing on an AGS show bench, a comment that could be repeated with regard to Ian Kidman's summer dormant Californian Viola bakeri, with lanceolate leaves and bright yellow flowers like a magnified version of the commonplace V. glabella, and to Alan Furness's much-admired, prostrate Iberis from Kaz Dağ in NW Turkey [right] (a mountain famed for endemics such as Armeria trojanus and Dianthus webbianus), introduced by Josef Jurášek in 2010. Shown as I. pygmaea, the validity of this name has been disputed, but if indeed it is best assigned to I. sempervirens (a glossy white, youngish plant of that recent garden centre staple clone 'Fischbeck' elsewhere worsted a lovely Gentiana acaulis with 12 short-stemmed flowers in another class), then it is a highly unusual microform, differing most obviously in its flattish heads of virginal candytuft flowers, and the incurved, clasping leaves that clothe the short stems top to bottom.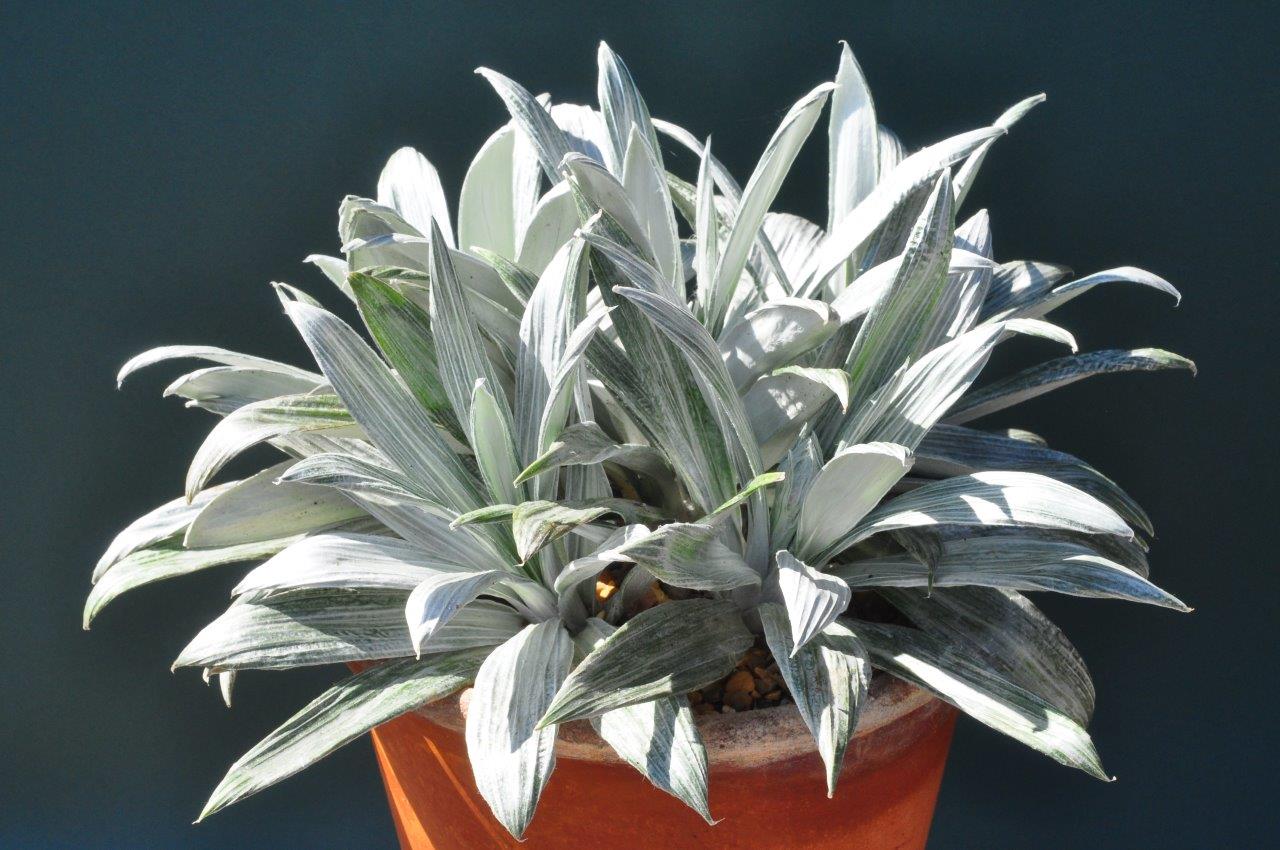 Alan's very creditable crucifer formed part of a three-pan from seed entry, along with a pleasingly compact, four-year old, white Lewisia tweedyi (those occasionally seen on the show bench must be grown in pure cow manure, and kept in a conservatory, given their grossly etiolated mien), and a gleaming silver Celmisia spedenii from a January 2009 sowing. Foliage effect classes come into their own at this time of the year, and in the large Open Section class for plants of this rank, the same exhibitor triumphed against the strongest of competition with a substantial, so matted with fine hair that it shone silvery-white C. semicordata [left]: a second bite at the cherry looks assured, for it was festooned with newly-emerged flower buds.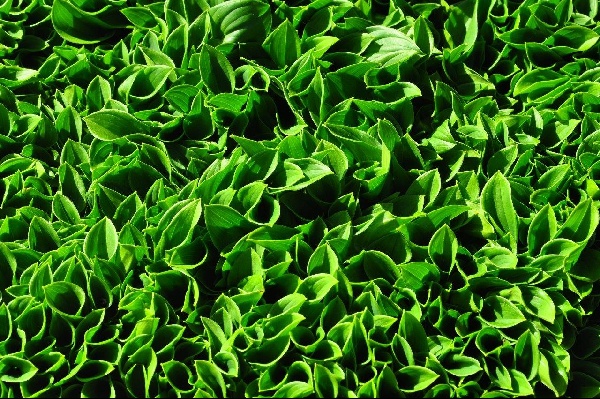 Meticulous removal of all sign of flowers meant that Ron & Hilary Price were able to show a large clump of Maianthemum bifolium [right] to dazzling effect in the same class: the tiny, turgid shoots, like those of a miniature Hosta but forming a densely packed, flat mat, formed a contoured, texture design that came as something of a revelation. Next door, in the three-pan class, Diane Clement's mix of a bona fide dwarf Hosta, a heavily spotted Dactylorhiza and Hepatica asiatica var. japonica had been neatly, cleverly topdressed so that the last of the trio had its fruiting heads buried temporarily: 'The seeds will drop any day, and I'm certainly not going to forfeit the crop', she explained.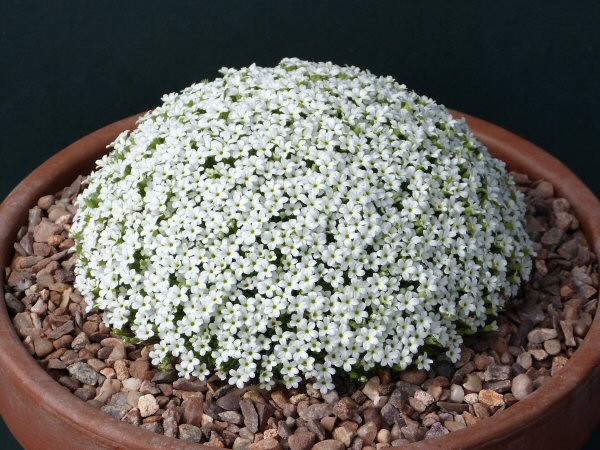 The Hepatica is just one of many plants that it pays to select rigorously from seed. 'If it's not good enough for you, it's not good enough for anyone else', Kath Dryden once counselled. She had a point, although one might add that while some are expert in appraising their raisings, others need help. Given that it is almost grown from seed (cuttings are feasible, but who bothers these days?), Androsace vandellii has few if any cultivar names – although the form distributed with six rather than the orthodox five petal lobes surely deserved one. Tony Stanley won two of the three trophies in the Intermediate Section with a small-flowered example of the species, the cushion almost the size of a tennis ball, but his best plant (the flowers had better substance, and were both broader-lobed and larger to boot) was in the small-pan Open Section, where in other classes a white rather than yellowish A. lehmanniana (Geoff Rollinson) and a mature A. elatior (Lionel Clarkson) with an abundance of pale pink flowers on proportionately tallish scapes formed the pick of the crop.
Clare Oates staged far and away the best of the large Androsace cushions, her nine-year old A. cylindrical x hirtella at its peak, and immaculate, which is why it claimed a victory over surely the best-bloomed x Jancaemonda x vandedemii (Peter Bland) exhibited since Stan Taylor's 1987 tour de force at the old East Cheshire Show. The presence of just one of two brown-tipped flowers was enough to scupper its chances, but it has nonetheless seldom been shown to this standard: a temporary water shortage was reckoned to have caused the very slight setback, although this had certainly been redressed subsequently, given the weight of the pot.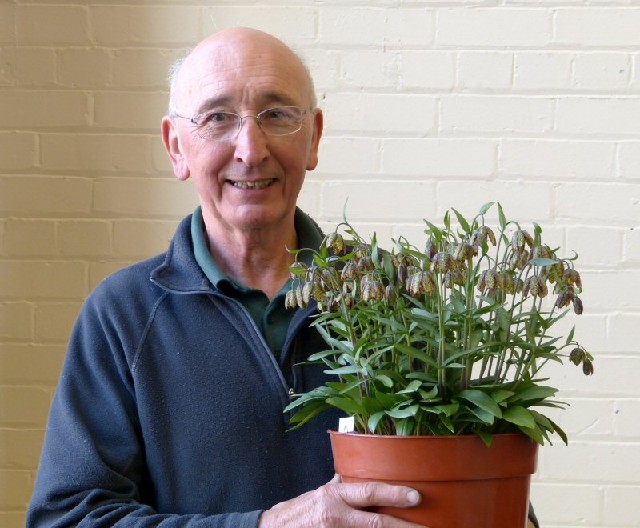 Another previous date that is worth mentioning: in all the years since Eric Jarrett took the Farrer Medal with Fritillaria affinis at the London Show in 1999 I haven't seen a clump to rival his multi-flowered, tallish selection of that fairly widespread NW American Skunk Lily. And nor, apparently, had anyone else, for George Young's entry was unanimously voted best in show, having first vanquished Chris Lilley's 50+ Trillium grandiflorum to win the David Baker Vase.
his was a less lofty, less speckled and less furled in tepal version than Eric's, with often one, occasionally two flowers on each of the plentiful, 30cm tall, brownish stems, but the same habit of increasing well from offsets, those bulbs set to flower the next year, or the one after that, sending up a particularly ample basal leaf by way of a promise. The origin of the stock is nebulous: other than recalling that the seed had been sown many years ago, the exhibitor was unable to specify its source and precise vintage.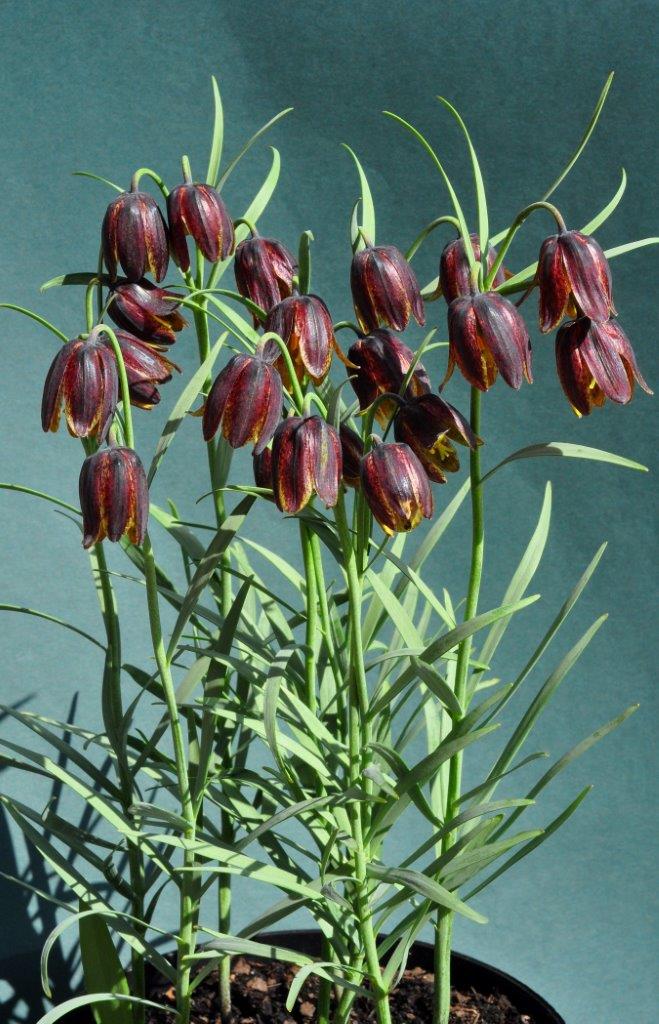 This spring has seen a notably diverse and accomplished representation of the genus on assorted benches (who has ever seen a grouping of F. stenanthera to rival that brought to Loughborough by another George (Elder) six weeks earlier?) and George Young has done much to bring this about, at the Northumberland, North Midland and presently under discussion shows. He had two pans of the narrow Greek endemic F. epirotica (which seldom increases vegetatively unless helped in this regard by pulling apart each two-chambered bulb in early summer), and in a three-pan class also brought along a taller plant, from a 2006 sowing, labelled as fellow Balkan F. messanensis subsp. gracilis [right], but unlike that broader-belled, non-glaucous division (which was appositely shown behind by Dave Mountfort in the six-pan cut flower class). Less coil-tipped and not as squarish-belled as F. ruthenica, though with the same yellowish, outer flange, it perhaps has something to do with F. montana, or might even represent an annexation with F. nigra: suggestions on a postcard.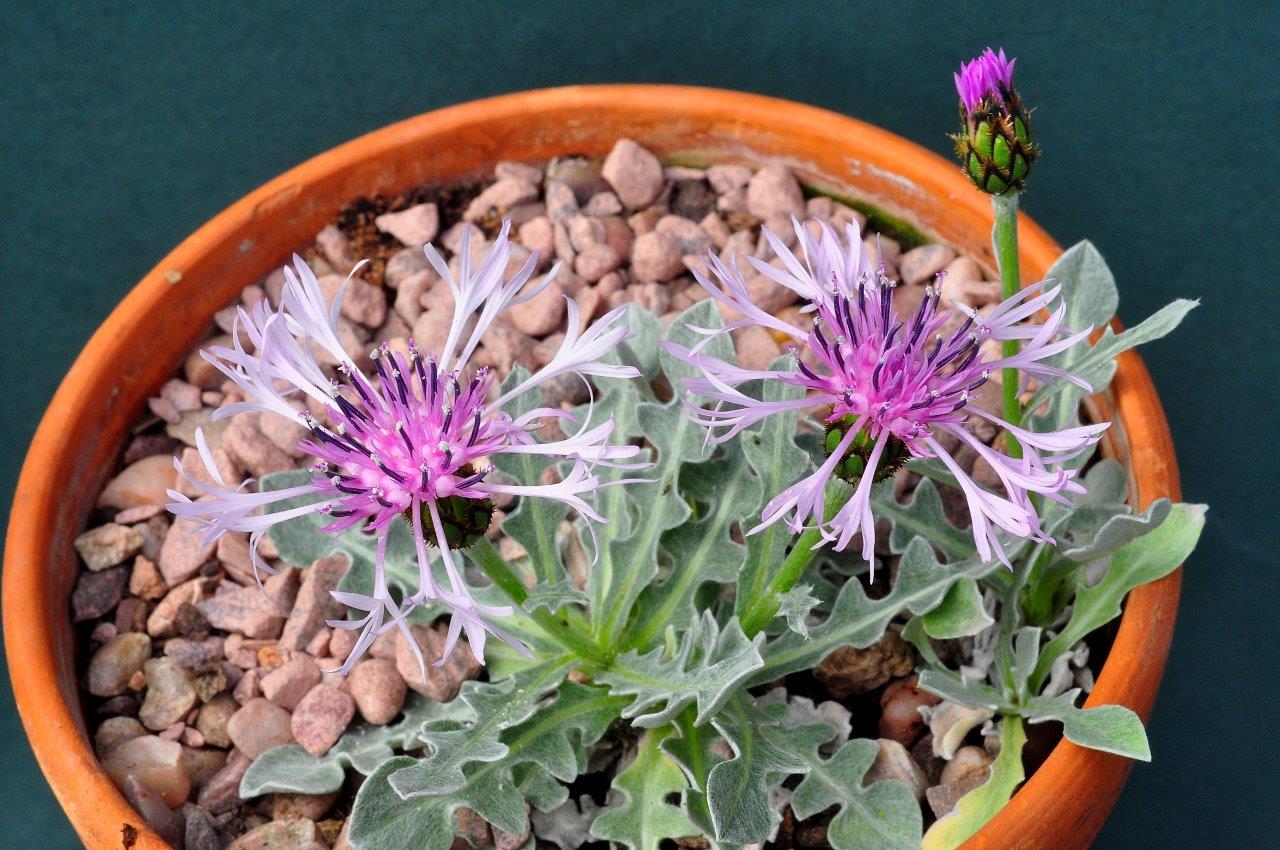 Doubt also surrounded the name of a very attractive Centaurea shown as C. triumfettii subsp. stricta (Brian & Shelagh Smethurst), since that Balkan and EC European species is ordinarily 30-70cm tall, and has flowers with violet inner florets and blue outer ones, whereas the exhibit was at most 10cm tall, and the flowers had pale pinkish flukes, with a pale mauve pincushion centre, interspersed with darker, fertile florets. Europe alone has over 200 species, quite apart from the complexity of others that can be found in Turkey and neighbouring countries: identification can be a ticklish business. Aside from its precise identity, its slowly-suckering habit guarantees its perennial nature (some are biennial). The Greek C. attica provides a reasonable match, but other candidates are legion.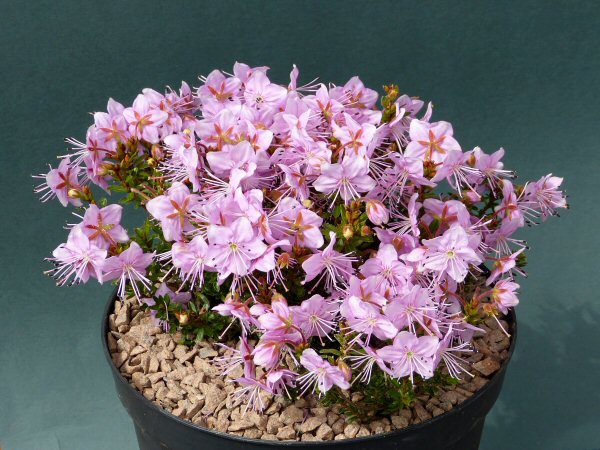 In the same three-pan exhibit, a neat Cassiope wardii x fastigiata was one of several good examples of the genus on show: Ericaceae exhibits were otherwise led by an excellent plant labelled Rhodothamnus chamaecistus [right] which earned its owner, Ian Leslie, a Certificate of Merit (the third such from different exhibitors this season: like buses, they apparently come all at once), although I noticed that it had been raised 14 years ago from seed distributed by Josef Halda, and on checking the relevant list for 2000, that collector was only offering the closely-allied Turkish R. sessilifolius that year.
Aside from these, I was delighted to see Trevor Harding's Phyllodoce nipponica var. oblong-ovata (shown under its pseudonym P. tsugifolia), compact and covered in tubby white, crinolined bells as could be, though a spot of stewarding was necessary to rescue it from a position eclipsed by towering Pieris japonica clones, far more robust fellow countrymen best planted out in the garden, given their ultimate height, and in need of radical pruning on the evidence supplied.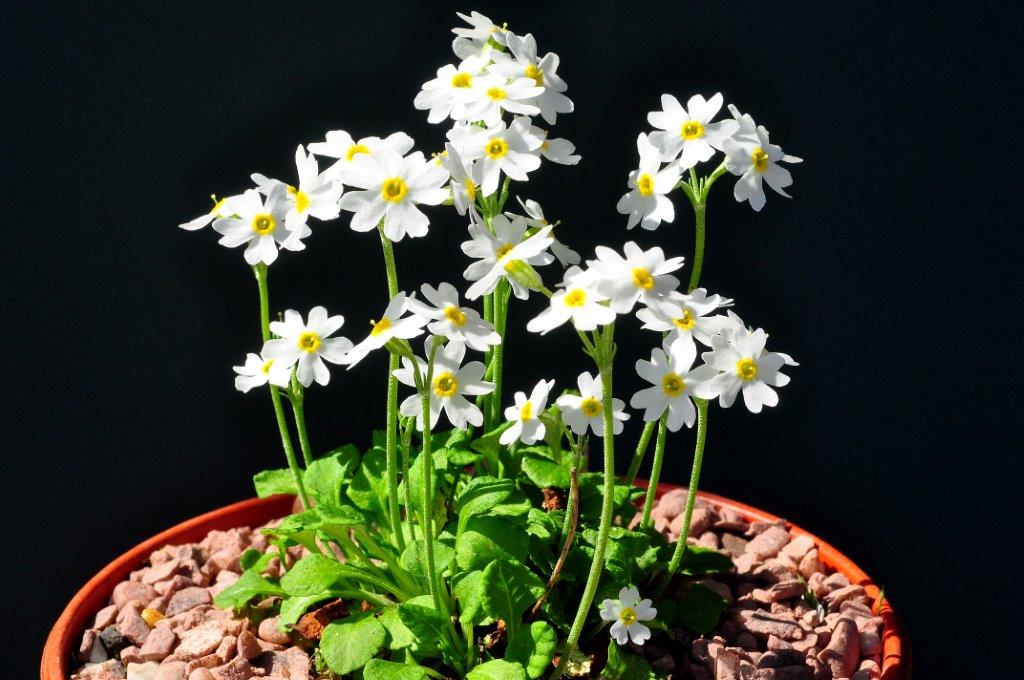 Another dwarf Japanese endemic came in the form of Alan Spenceley's albino form of Primula yuparensis, a far-flung P. farinosa relative Hokkaido's Mt Yubari, first introduced (in its more typical purplish-pink phase) just over a century ago. The whitish farina on the reverse of the small leaves, the sparse umbels of 2-3, flat-faced flowers per head, and their generous size (to 15mm) are all diagnostic. It is self-compatible, and breeds true, so stocks of this perennial but not tremendously long-lived elfin relative of P. modesta are reasonably straightforward to maintain. Given the size of the country when compared with the Himalayan and Chinese strongholds of the genus, it is impressive just how many distinguished representatives of the genus are native to Japan, although just one other, P. sieboldii, was present at Cleveland, and not at its best on this occasion, in truth.
At the near end of the first bench, Clare Oates' exhibit of the Greek Verbascum acaule (older members will remember it as Celsia acaulis) had flat to the gritty topdressing, deeply veined, deep green leaved, and short-stemmed, single and bearded yellow flowers and short, branching stems, so different from those of the mullein spires of its relatives. It was looked over by a stern colony of Arisaema amurense var. serratum, sometimes given forma status, or else considered a species in its own right, of Honshu provenance. The five eelgant hoods, in-turned to face one another, appeared almost in conversational mode, and had the inscrutable, sophisticated yet understated appearance typical of the genus. Other examples of A. amurense sensu lato present varied markedly in the boldness of their green on cream inner striping – some muted, even muddy, others vibrant.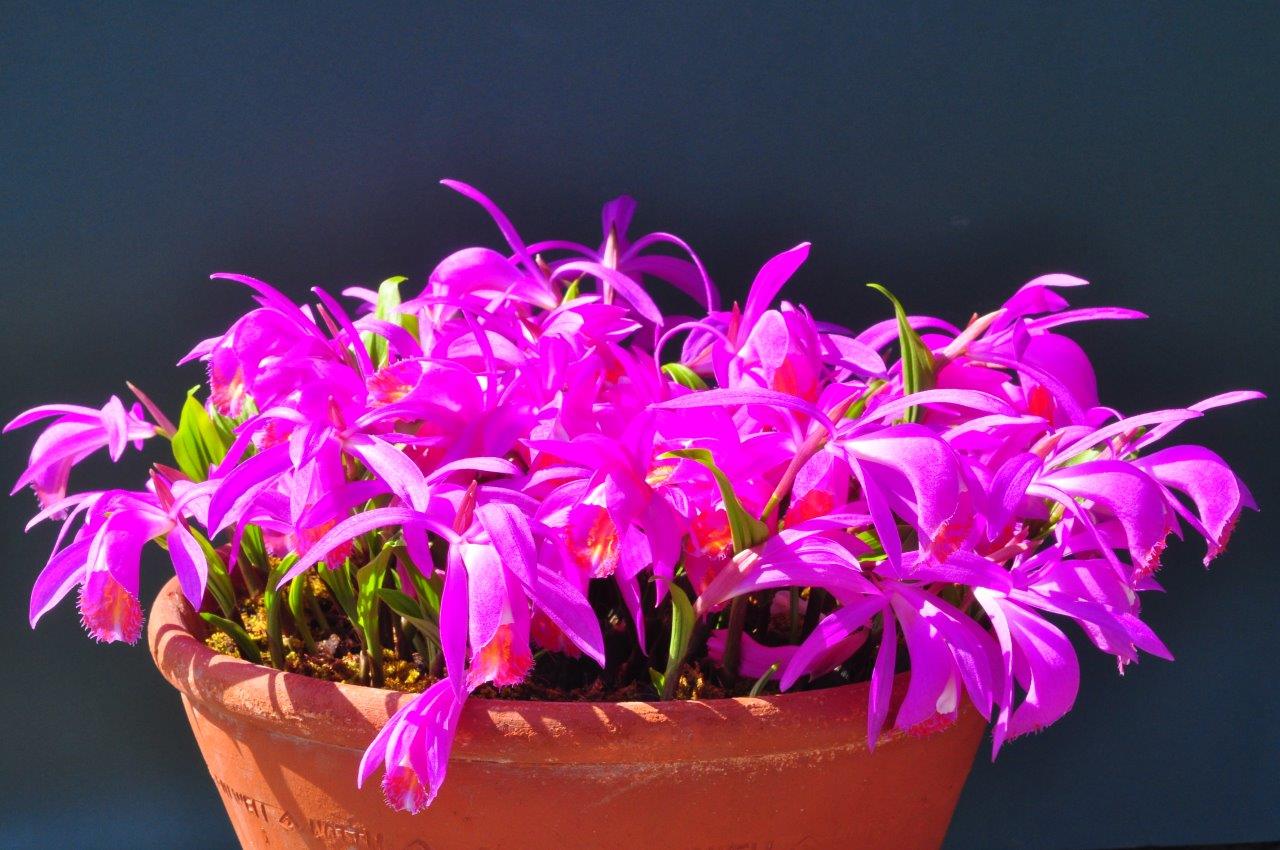 Orchids were hardly a mainstay of the show, but there were some seldom-exhibited examples of the family, including a pink Calanthe hybrid (expect to see many more of these soon) and a scattering of pleiones, far and away the best a large panful of Pleione pleionoides 'Reverend Blakeway-Phillips' (Wilf Lombard), referencing the man who once had a blackbird nest in one of his Pleione clumps, but let the eggs hatch and the nestlings fledge before rescuing the surviving pseudobulbs. This vibrant violet-pink clone, with narrow-lipped flowers nudging the 100 mark, showed one extreme of the genus, whereas at the other I was shown a print of the autumn-flowering P. maculata, white when it came to the narrow petals but with purple-striped on vibrant yellow lips, in my opinion the most distinguished of them all. Such chance exchanges of information, repeated up and down the show hall during the course of a typical day, form an invaluable component on such occasions: occasionally, when showgoers get into deep conversation, they pay scant attention (or, in extreme cases, none whatsoever), to the plants exhibited just a few feet away!
Author: Robert Rolfe
Photographers: Don Peace and Robert Rolfe