Cleveland AGS Show, 2013
Easter Saturday, whether it falls in March or in April, has unfailingly been Cleveland Show day for almost 30 years, from the fixture's 1985 inception. This year's event was held only a week earlier than the previous year, but what a contrast in the plants seen this time round, clearly influenced by the second coldest March since records began over a century ago.
The Cleveland Show schedule alters yearly, in accordance with its changing date, but with the recent unpredictable movement south of the jet stream and consequential cold weather, some class entries were sparse or non-existent. To compensate, various primulas and saxifrages took full advantage of this weather, alongside surprising entries for an Easter show such as Galanthus ikariae (a key component of Ian Kidman's harmonious small six-pan, AGS medal-winning entry) and Iris winogradowii that would ordinarily long since have finished flowering.
A new location was heartening, made even more pleasant by a sunny day, even though the biting east wind continued to blow. In all a well chosen site for exhibitors, trade stands, refreshments and the record number of 178 non-AGS visitors; however, disappointingly, the premises are scheduled for demolition.
Two members of the Cleveland Group, Morag Roberts and Sue Flanigan, fashioned a roughly semi-circular display garden measuring 150x240cm, somewhat optimistically entitled 'Spring at Last?', depicting woodland and scree habitats. Positioned in the trade stand hall, it gave visitors an idea of where and how to grow the wide variety of plants on show, and perhaps purchase them from the adjacent nursery stands! The constructors were delighted to receive a Gold Award for their efforts.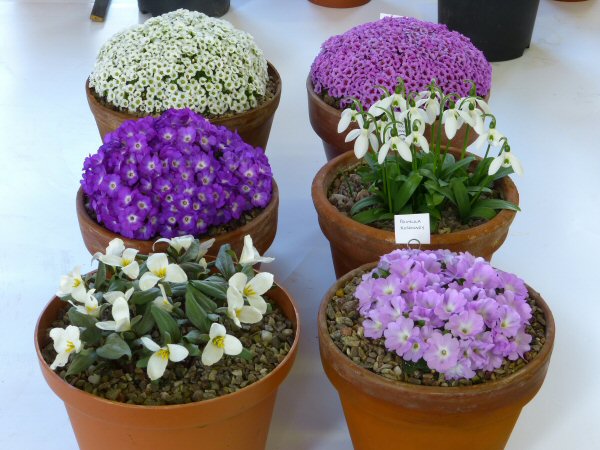 Ian Kidman's small six-pan set, with no more than two from any one genus, illustrated the effect of current weather patterns on plants. Two Saxifraga, two Primula, a single Trillium and a Galanthus, made a well proportioned, balanced and presented exhibit. Particular mention should be made of his Galanthus ikariae subsp. ikaririae, with flowering stems scarcely 10cm tall, and an excellent, richly-coloured and very floriferous plant of that long-championed hybrid Primula 'Joan Hughes'. Changing weather patterns may possibly assist exhibitors in choosing a greater variety of plants for multi-pan classes, demonstrating to our visitors the versatility and adaptability of alpine plants and bulbs, no matter what the weather!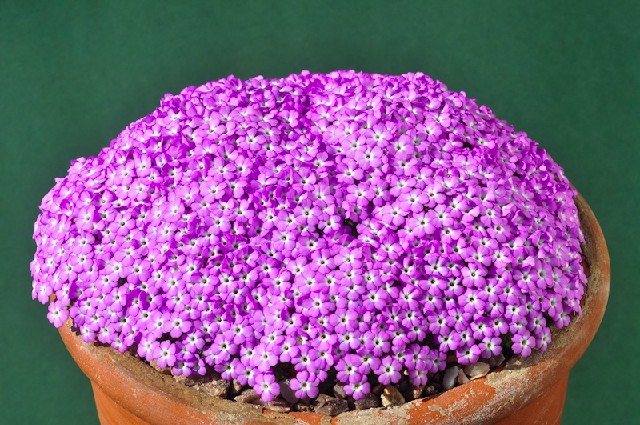 The extended period of cold weather gave a locally based exhibitor the opportunity to exhibit his dionysias in peak condition. Derek Pickard staged seven Dionysia bryoides, all grown over the years from his own seed and each gaining a first prize in their respective classes, with a richly-coloured, almost violet-pink exemplar awarded a Farrer Medal and another, with lighter-coloured flowers, a Certificate of Merit.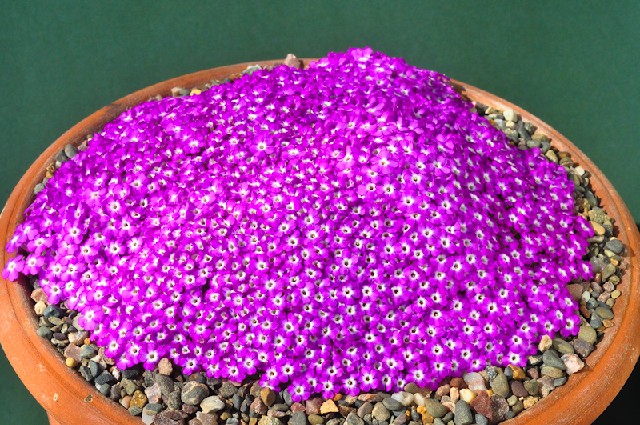 The Farrer recipient had been sown in November 1996, and was now in its final pot, a long tom. Derek believes the root system has reached the base, from where moisture can more readily be drawn, possibly fostering the longevity of the plant. He further commented on maintaining a strict, systematic approach when watering pots and plunge to maintain the health and vigour of the collection.
From the same genus, in a three-pan entry for plants from any one continent (in this case Asia), he teamed yet another Dionysia bryoides with D. microphylla and D. michauxii, both grown to a very high standard. The former [right], notoriously hard to flower evenly, had been obtained in 1995 from Ron Beeston, whose expertise in propagating this and other species is of long standing.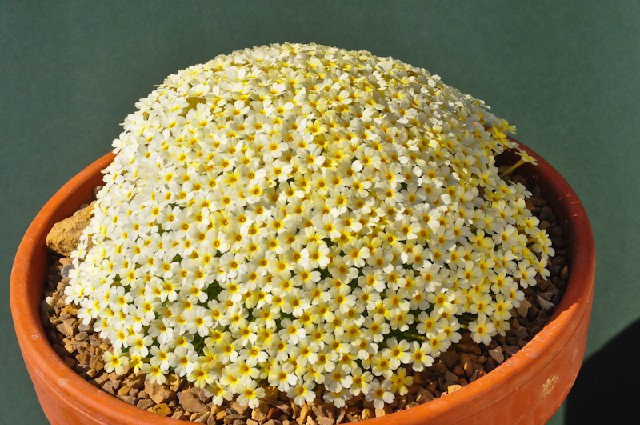 Dionysia 'Monika' in a six-pan entry jointly gained Sue Flanigan the R.A. Hodgson Trophy for the best plant in the Intermediate Section, and the North Riding Trophy for the best pan of Primulaceae therein. It is some 20 years since this early hybrid was first exhibited, during which it has held its own among the welter of others that have followed, the delicate primrose colour of the flowers having an enduring appeal.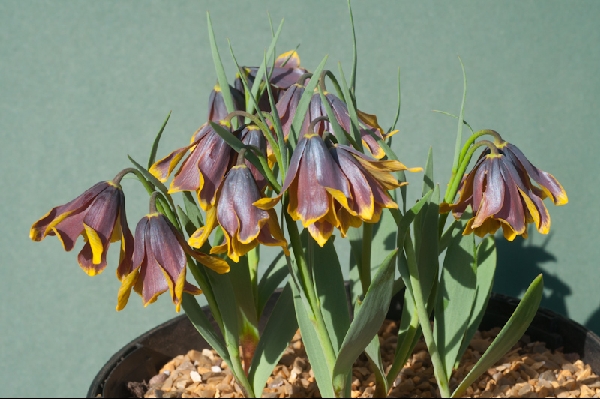 Flowering bulbs were mainly seen in the 19cm pan classes. Alan Newton presented Fritillaria pinardii in a large-flowered form associated with that latterday champion of the genus Ole Sønderhousen with six stalks, the elegantly furled flowers typically purplish with a grey bloom on their exteriors but yellow-green to orange inside.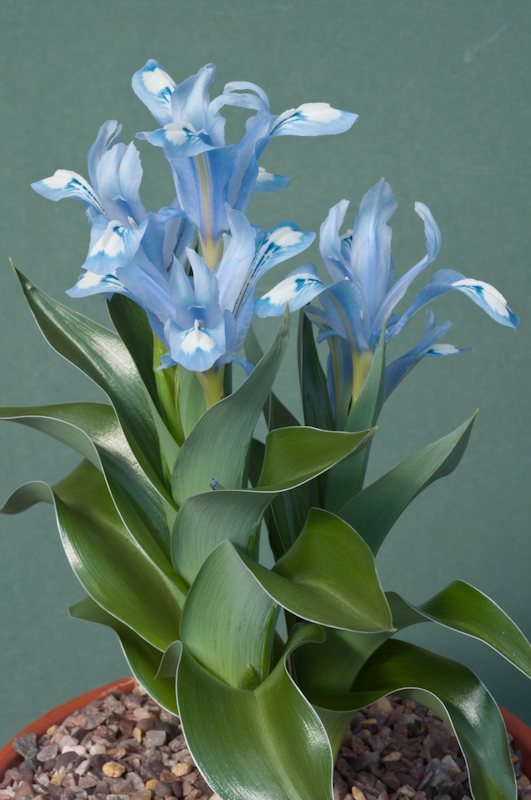 Iris willmottiana with five pale blue and handsome, pristine foliage, traceable to a Jânis Rukšâns introduction, was shown by Don Peace (at least two other plants were seen in the hall, one having developed into a substantial clump, though with smaller, darker blooms). Corydalis solida 'Beth Evans', shown by Ivor Betteridge, formed a compact, immaculate and very floriferous exhibit, characteristic of plants exhibited by this grower.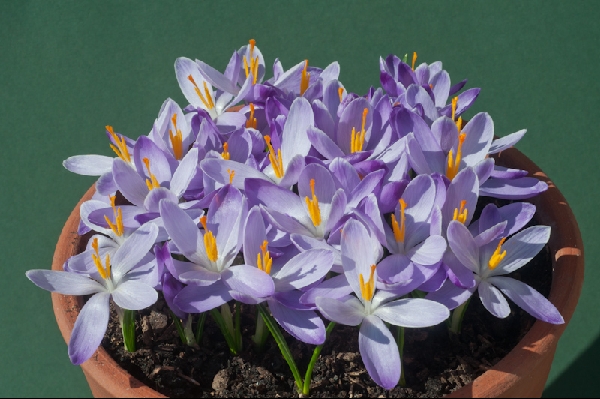 A delightful Crocus was shown by George Young as part of his 3 pan bulbous plants. Crocus 'Brian Duncan' filled a small pan with flowers not too widely open. Named for the well-known Omagh daffodil breeder by the aforementioned Jānis Rukšāns, in whose garden it occurred, it is considered to be of hybrid origin, with C. heuffelianus showing dominance, though with just a hint of C. x cultorum, the Dutch crocus. The petals were coloured lilac with varying stripes inside and out, the tips smudged purple on the outside. C. heuffelianus is widespread in the mountains of eastern Europe, preferring moist compost, and this late-flowering offspring similarly prefers a cool, relatively damp summer.
Several forms of Primula marginata were on display. Brian and Shelagh Smethurst presented a large pan captioned 'Oak Leaf Form', though probably ascribable to 'Laciniata'. This had typical violet to blue flowers and deeply incised, heavily farinose leaves, densely packed: removing the dead lower leaves early in the year had taken hours! Sometimes older plants become rather straggly, with the lower branches sprawling and exposed: a fairly ruthless cutting back early on is the answer, using the severed shoots as cuttings.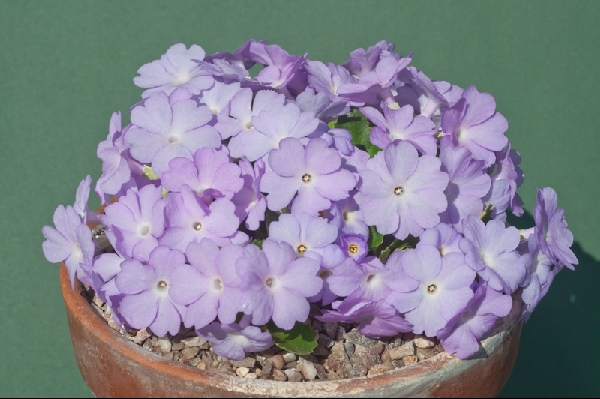 Primula marginata has been used extensively by Brian Burrow to cross with P. allionii to create further hybrids, adding to his never ending list of introductions. Primula 'Lois Parker' is a hybrid between the albino P. marginata 'Casterino' and the similarly white P. allionii 'Avalanche'. Despite this virgin parentage the large flowers are pale lilac to blue, while the leaves are lightly farinose and shallowly toothed.
Using the same two species, his as yet unnamed hybrid, entered in the raised from seed class under the number Primula BB08/25/4, had strikingly deep purple flowers and well illustrated the petal colour versatility of the parent plants.
Easily overlooked was a plant entered by Geoff Rollinson in the class for one pan native to the southern hemisphere. Haastia pulvinaris was grown from seed some six years ago by another exhibitor, Rod Johnson, and given to Geoff to develop. Known as a considerable challenge to keep in good health beyond its first few years, it has so far fashioned a 12cm cushion of densely tomentose rosettes, all of which had awakened from their winter slumber (quite often they don't, and famously some plants shown in years past have been stone dead). Grown in a mix of one part John Innes no. 3; one part leaf-mould and two parts grit, it is one of the few examples of this potentially extremely long-lived species currently in cultivation.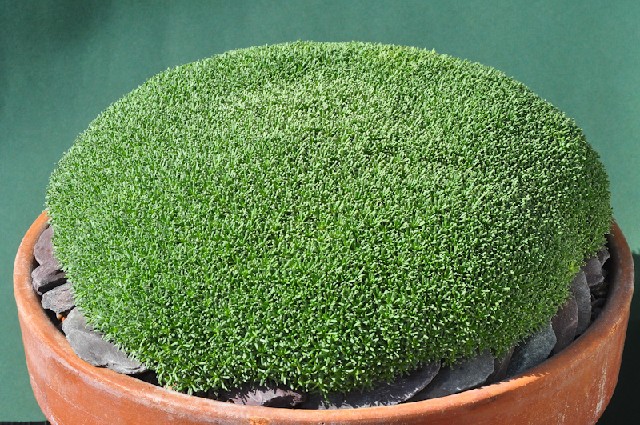 Further Certificates of Merit were awarded to Margaret Pickering for a large, tight green dome of Benthamiella patagonica; to Alan Spenceley for his venerable Trillium nivale [below left] with recurved white flowers covering the pan (several other good cumps of this species were on show, though none approached this one in size or age), and to Mark Childerhouse for a 32cm mound of the plant long grown as Saxifraga lilacina [below right], though the tag 'of horticulture' is usually applied nowadays to this version. This latter plant was placed on the show bench adjacent to S. 'Allendale Bravo', exhibited by Peter Hood. This plant was somewhat similar to Marks but with smaller, darker flowers whose petals were more rounded.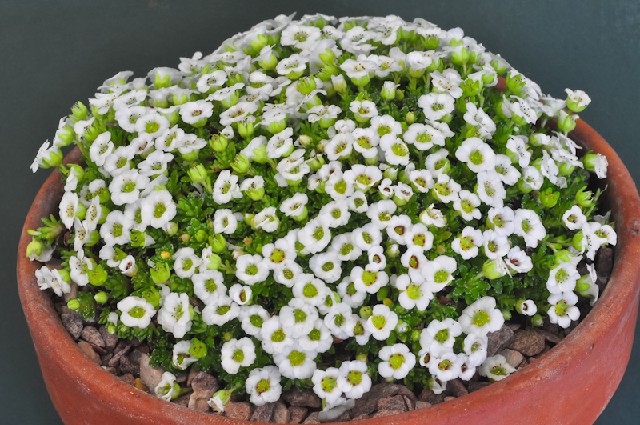 Many saxifragas on display were incompletely covered in bloom, whereas Mark's spectacular show-stopper could hardly have been better flowered – attributable in part, he believed, to the later formation and development of the buds in comparison to the earliest flowering members of the genus, meaning that these were less affected by the vicissitudes of the 2012-13 winter months. A sudden burst of spring-like warmth often coaxes the best performance, for stop/start or unduly mild winters seldom lead to vintage displays. Saxifraga 'Coolock Gem', exhibited by John Kirk, was adjudged the best plant in Novice Section.
Author: Chris Lilley
Photographers: Robert Rolfe and Don Peace