Cleveland AGS Show, 2011
Cleveland, like Easter which it tracks, is a moveable feast. Here we had an Easter, and a hot, sunny one to boot, which coincided with other feasts, those of our Monarch, Saint and Bard, nearly as late as it is possible for Easter to be. Two weeks or more of unseasonably warm, dry weather had transported the floral season well into a virtual May. Short of entries as late as the preceding Wednesday evening, it was no wonder that Show Secretary Norma Pagdin had been slightly anxious.
Her worries were needless. Members and their plants responded with a flourish, and if some classes more suited to an earlier season remained unfilled, there were goodly displays of trilliums, mossy saxifrages, lewisias, rhododendrons, androsaces and other subjects more typical of later spring displays to compensate. This was a very colourful Show, and one in which the plants could be enjoyed in their natural colours in this best-lit of all our Show Halls. Miraculously, keeping opposing doors wide open allowed the interior to remain blessedly cool, although it was too hot outside to sit in the sun for long.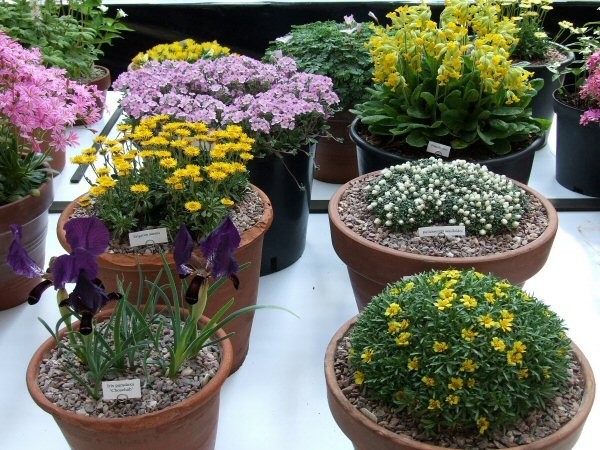 Many classes, some with 15-20 entries, were very hotly contested. At times, even a minor placing seemed to represent a triumphant outcome for those concerned. In this context, the achievements of George Young, who won both AGS medals (each challenged by worthwhile contestants), the first for 6 pans rock plants, distinct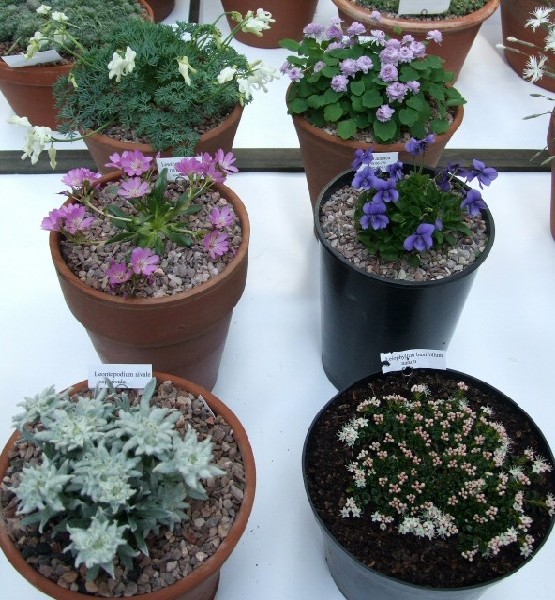 and the Woodward Challenge Cup, for 6 pans rock plants, distinct, not more than two of any one genus in the 19cm section, were magnified,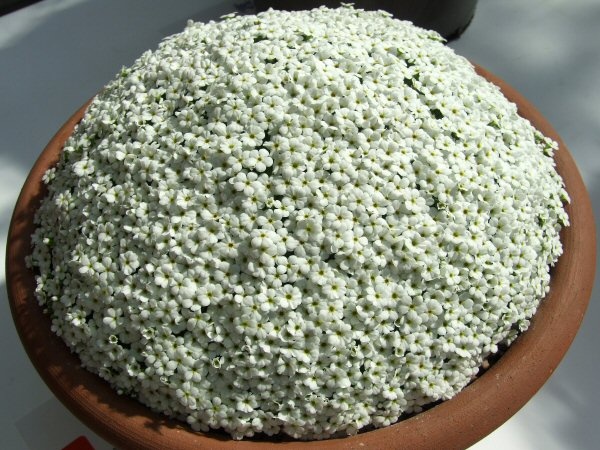 although it was Geoff Rollinson who added to his lengthy haul of Farrer Medals with a superb example of Androsace cylindrica x hirtella, demonstrating once again his renowned skill with aretian members of the genus.
The Open Section class for Primulaceae in which Primula, Androsace, Cyclamen and Dionysia are exempt, would seem a shoe-in for dodecatheons or soldanellas on this late date. Few would have predicted a charming exhibit of our demure native Trientalis europaea (Brian Burrow), particular in April (it flowers in June in locations not so far from, or much above, that of the Show Hall). Modern DNA studies would separate the Lysimachieae (loosely, loosestrifes) into a separate family, removing them from the more familiar Primuleae, but for the present Floras continue to validate the rather unlikely association of Trientalis with Primula. In cultivation, Trientalis is not the easiest plant to flower freely, and it is normally white-flowered rather than palest pink, as seen.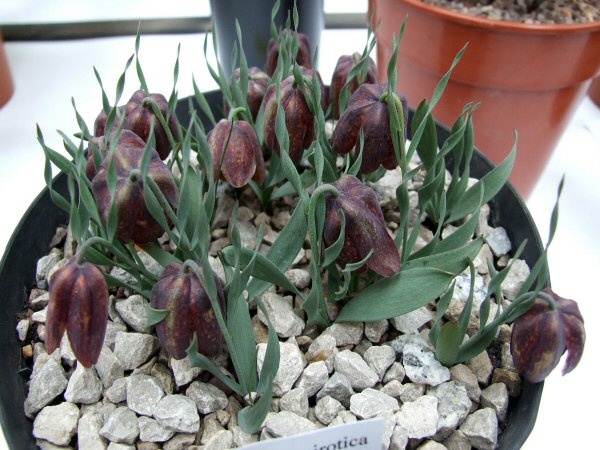 One of George Young's many splendid exhibits was the rarely seen white form of the Japanese and NE Asian volcanic scree-dweller, Dicentra peregrina. Increasingly this rather intractable species has been replaced by hybrid 'look-alikes' such as 'Ivory Hearts', several of which are very gardenworthy, but here the subject passed a fierce scrutiny, proving itself to be the genuine article, sourced from Edrom Nurseries as a young plant. It lives in a pot, spending the winters in an alpine house and the summers in a cool shady plunge.
George also received a well-deserved Certificate of Merit for Fritillaria epirotica (shown), a denizen of high serpentine screes in parts of Greece close to the Albanian border. Remarkably in this warm weather, which encourages many plants to bolt, the chins of the 15 dusky bells still rested on the topdressing. Grown from AGS seed sourced 15 years ago, it had overwintered in an Access frame, but was moved outside to a cool spot while still in bud. A duplicate pan which remained in the alpine house had been damaged by the severe winter, with many of the shoots blind in consequence.
That remarkable member of the Ericaceae, the Oregon endemic Kalmiopsis, whose removal to its very close European and Asian cousin genus Rhodothamnus would be resented by only the most chauvinistic Westerner, occurs in two disjunct localities, in one of which, Umpqua River, it is noticeably, and desirably, more compact. This vicariant has now been given specific rank as K. fragrans, although no odour reached the nostrils of this investigator. That expert in the cultivation of all things Ericaceous, Ian Leslie, had grown this from seed as recently as 2005, although this was the first time the flowers had all but hidden the foliage.
Daphne malayana (John Savage) provided another example of a worthwhile but rarely seen dwarf shrub. Indeed, this endemic relative of D. oleioides from limestone gorges, principally in northern Montenegro, but extending to eastern Croatia and southern Serbia, has been ignored by most commentators, although Brian Mathew (2001) says it was 'once grown by Blackthorn Nurseries' but 'has yet to be introduced to [general] cultivation'. Compared by some with D. jasminea, it resembles D. sokjae more, but has white buds and flowers. This lucky find at a local group plant sale has since been grown in a plastic pot, put in a cold frame for the winter and plunged outdoors in summer.
We were fortunate to see three rarely exhibited dwarf yellow flaxes. Linum boissieri from Turkish Kaz Dağ (and also, disjunctly, from Sandras Dağ, far to the south) was perhaps the pick of the trio (Geoff Rollinson). Grown from seed sourced by the enterprising Czech Mojmir Pavelka on screes at 1800 m, and grown in two parts grit to one each of leaf-mould and JI no 3, it stood all of 2 cm high. L. cariense (Jim Watson) is a more widespread Turkish species, also from limestone screes at altitude in the south-west. South-east Europe also hosts its share of yellow linums, and L. uninerve with 10 cm stems and narrow leaves appeared to be true to name (Lionel Clarkson). However, its origin remains something of a mystery as the supplier's label declared this to be a plant of the Bulgarian Rhodope, whereas Flora Europaea is adamant that this species is restricted to Romania.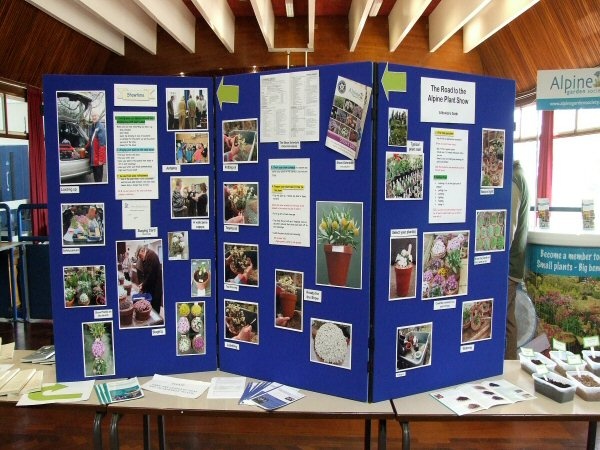 A Gold Award was presented to Linda Peace, Jo Scott and the AGS Cleveland Group for an educational display entitled ' The road to the Alpine Plant Show - a novices guide'
John Richards