Chesterfield AGS Show, 2015
[Additional photos to follow shortly]
Cold, blustery winds and rain greeted early exhibitors to the show but the warm welcome from Ju Bramley and John Savage restored good cheer immediately upon entering the hall. The wind through the open door played havoc with the plastic table covers and entry forms but this was soon sorted when the 683 plants from 79 exhibitors were in place.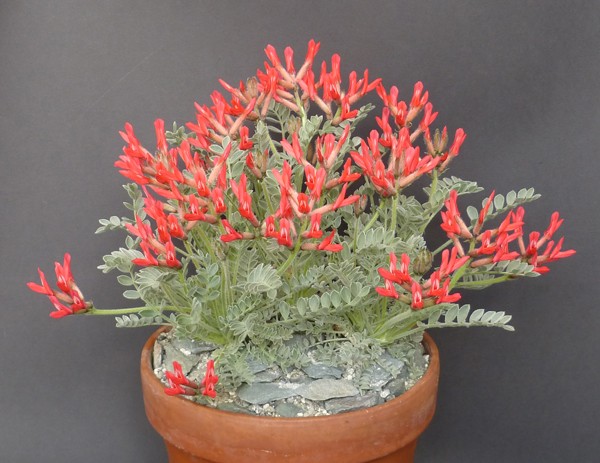 Some plants catch the eye even as they come through the door and this was certainly the case with the Farrer Medal plant. Astragalus coccineus, shown by Peter Farkasch, has surely never before been exhibited in such fine form. This six-year old specimen, grown the year round in an alpine house in full sun, benefits from a potting compost comprising some 80% grit. Peter makes an interesting point in observing that post-flowering, by the end of the day in good light, the plant flops, suggesting that it needs water. This is not the case: stay your hand it will soon revive, whereas further watering is likely lead to loss of the plant.
The season for porophyllum saxifrages, especially the hybrids, was coming towards a close this year but Robert Rolfe had a fine Saxifraga x concinna 'Ben Loyal' in excellent flower. This, the deepest-flowered, cherry pink selection of a spontaneous hybrid, deduced to represent Caucasian S. dinnikii crossed with Himalayan S. cinerea, appeared in the alpine house of John Mullaney: others have been named or else are still being evaluated. Robert has been instrumental in it becoming more widely available but points out that at least one other, light pink seedling has been distributed by others under this identity. The only downside is that the plant is very slow to increase: after 10 years, it barely fills a 19cm pot.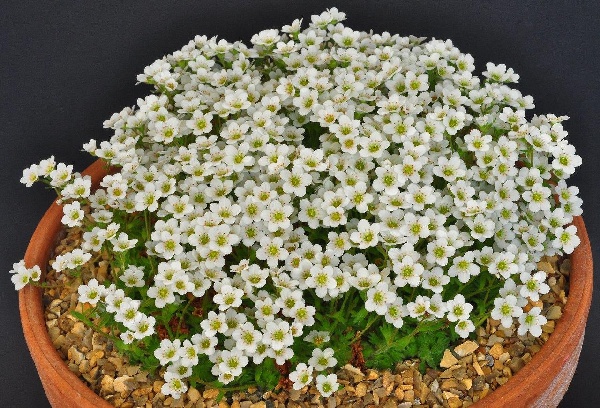 From the other side of the world, Saxifraga magellanica, the only member of the genus found in South America and one rarely seen on the show bench (coincidentally Chris Bowyer had a creamy-flowered, leafier example in the neighbouring class), was exhibited by Mark Childerhouse. Flowering for much of the year, intermittently, it was seen at Chesterfield in full flood, and received a Certificate of Merit. Mark, who has seen it in the Andes, says it must never be allowed to get too dry, relating that in its native land it grows in 'sludgy wet muck'. This was a very southerly representative from Tierra del Fuego, made by Ger van den Beuken: it also extends much further north, to Peru, Bolivia and Ecuador, varying in flower size and habit but generally cliff-dwelling.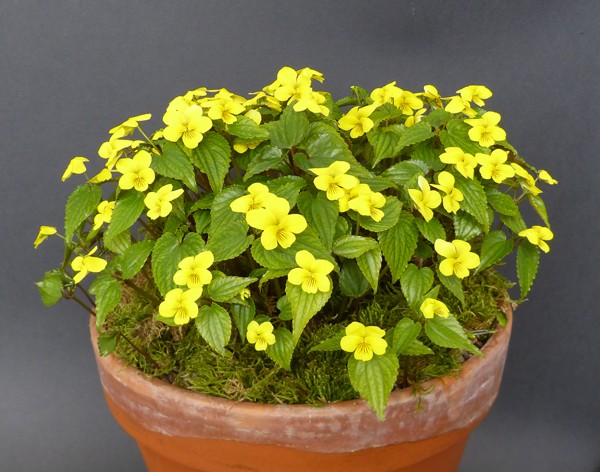 The lovely Viola brevistipulata var. hidakana was shown by several exhibitors, with a mature, moss-dressed potful from Ian Kidman awarded a further Certificate of Merit. Some 19 years since it won a Forrest Medal at Hexham (this was a large-flowered example that was crossed with other stocks before it faded away), it is again becoming more frequently seen following a welcome re-introduction courtesy of Edrom Nurseries a few years ago. A native of Hokkaido (Japan), growing on wooded slopes and part-shaded rocky ledges, it spreads slowly by underground runners and in cultivation benefits from frequent repotting. Some stocks are also cleistogamous, and self-sown seedlings can appear in consequence.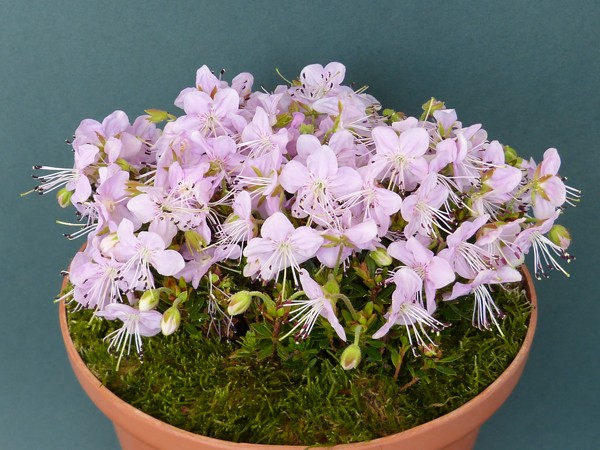 Rarely can the winner of a small six-pan class have been showered with so many accolades. Not only did Ian Kidman's entry win the AGS Medal but its prize element, Rhodothamnus chamaecistus, also won the John Saxton Memorial Trophy for the best plant native to Europe, the Chesterfield Vase (best pan of Ericaceae), and finally the Frances Hopkin Trophy for the best plant in a pan not exceeding 19cm. Quite a haul! The pIant in question, now some 10 years old, is cultivated in an ericaceous compost and grown the year round in an open plunge bed, where it receives the occasional liquid feed.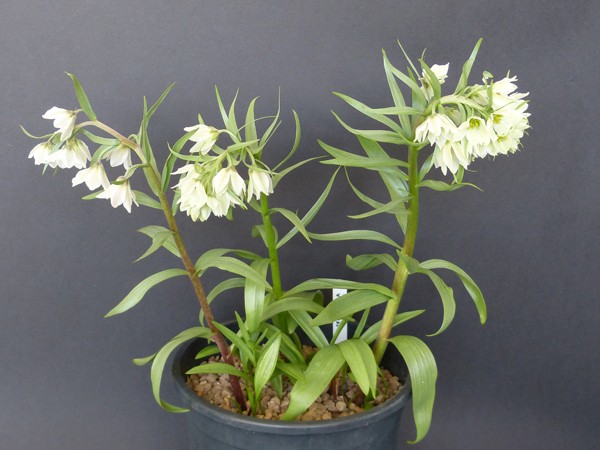 This show report would not be complete without reference to a plant exhibited by Don Peace, winner of the Gould Trophy for most first prize points in the Open Section. He had many excellent fritillarias at the show but the one that caught my eye was Fritillaria tuntasia, grown from seed sown in 1996. It is Don's opinion that most growers do not give species such as this enough water as they come into flower (he spends most of his time watering them at this stage in the season, then later on tries not to let them get too dry). Another member of the genus, F. bucharica [left] shown by Steve Spells, received the Donald Lowes Memorial Bowl for best plant in the Novice Section.
In contrast with this tall Fritillaria, Barry Tattersall's diminutive Ophrys speculum from Barry Tattersall repaid close attention with its fascinatingly patterned flowers. Part of his compost is well-washed cat litter of the clay granule type, to which are added John Innes no. 3 and leaf-mould plus soil collected from mole hills (in a calcareous area). This Mediterranean orchid is dormant in the summer, starting into growth by early October, and moved into the greenhouse in mid-November where it is plunged to the rim with water applied only via the plunge. He adds that shade is required in the spring.
The Bramley clan has been involved with Chesterfield for so long that they are part of the infrastructure. It was good to see Ju exhibit an eye-catching Dionysia 0102-5 x archibaldii 'Golden Yellow' as part of her winning three-pan. The accidental name sums up the plant exactly. The tale of this plant makes interesting reading: it was a gift from Michael Kammerlander in 2009, received out of flower, so he had added 'golden yellow' to the label as a reminder of what to expect and the name has stuck! It is grown in Michael's standard mix of one part small limestone chippings, one part pumice, one part Seramis, one part Bentonit (a German product name for a type of clay granule) and one part John Innes no. 3. A junior member of the clan, Joseph (14), intent on keeping up family standards, did so very ably with his Draba 'John Saxton' in the Intermediate Section, while Adam (11) entered the Novice Section to good effect. It looks as though the clan will be around for some time yet.
I am always drawn to new or rare classes, where three plants caught my attention. Brian Burrow had a dwarf form of Iris paradoxa under the collector's number JJMZ 238, from Iran, that is grown in 60% grit, 20% John Innes no. 1 and 20% composted bark. Repotting takes place in August and crucially the compost must never be allowed to dry out. He feeds it once late in the year and says that the plant has all its leaves fully developed by December. His friend Dave Riley had Mertensia alpina, grown from Alplains seed, its sprays of small flowers are fetching deep blue. He feels that the plant has two cycles of growth, dying down in the summer, then re-emerging in the manner of a bulb. It is a martyr to aphids: beware! Continuing his enthusiasm for American plants, Peter Farkasch had a fine small plant of Cryptantha humilis var. nana from the Great Basin of Nevada and Utah, where it grows on sparsely populated ridges and slopes.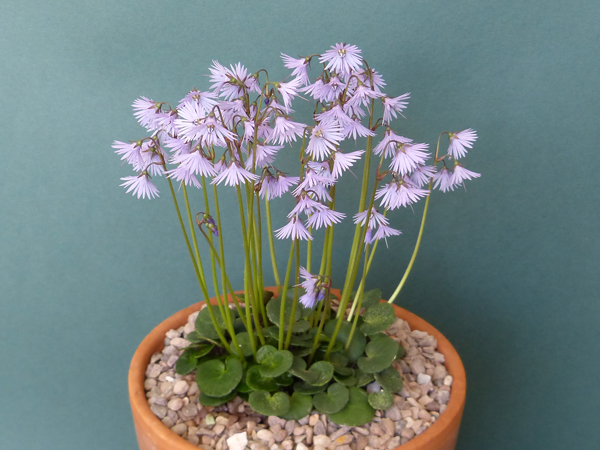 Finally, but by no means least, two plants that may induce a visitor to become interested in growing alpine plants were Soldanella carpatica from Clare Oates, delicate and pristine compared with the flower power of Iris suaveolens, also in exemplary condition, from Frank and Barbara Hoyle.
Author: George Young
Photographers: Don Peace and Robert Rolfe