Blackpool AGS/SRGC Show, 2013
Blackpool is a joint show, held in conjunction with the Scottish Rock Garden Club. In alternate years, as in 2013, it is held under Scottish rules, and a Forrest medal is awarded. As such it was especially good to see a fair gathering of Scottish exhibitors and their plants. Luckily for distant travellers, the show day proved to be one of the less unforgiving offerings of a to date dismal month. In most areas, plants had progressed little past the expectations of mid-February in a 'normal' year, so that snowdrops and crocuses were much in evidence, and large primulas, saxifrages and dionysias were decidedly lacking. There were no entries in either six-pan class, nor in the large three pan class.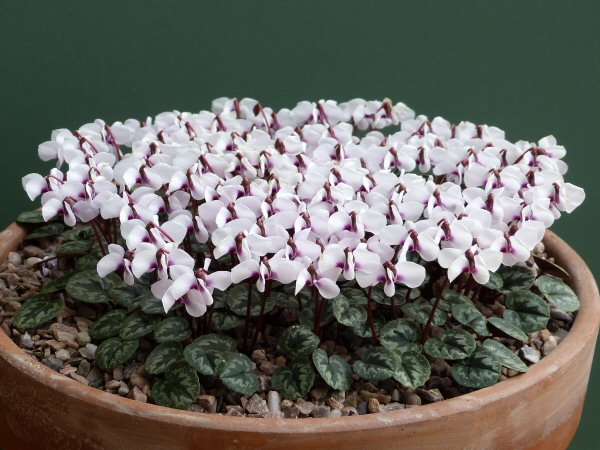 Nevertheless, given the early date, it was perhaps surprising that so few Cyclamen were benched. Nonetheless, the premier award went to as fine an example of C. alpinum as we have seen (Dave Riley). Grown in a 34 cm half-pot, the awardee had more than 100 flowers thickly and very evenly displayed only some 2cm proud of the top-dressing. In a species from woodland edges which can occasionally adopt quite a lanky disposition, this is clearly a splendid form whose compactness may well have been abetted by the freezing weather. Identified on the label as forma leucanthum, the flowers were certainly unusually pale for this species, albeit with a dark base, but quite distinct from 'Nettleton White'.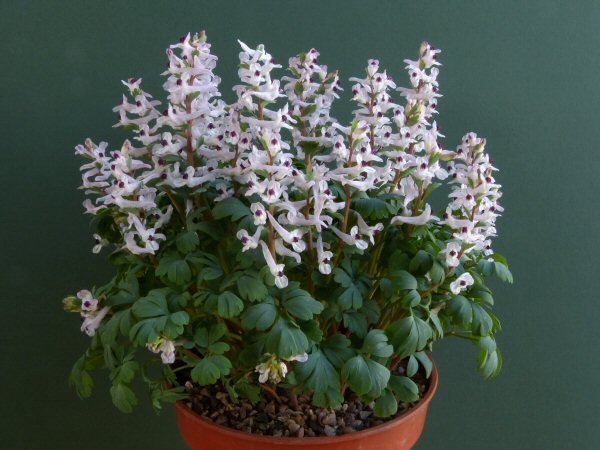 Several other notables shared this colour scheme of palest lilac contrasting with deepest indigo. A wonderful pan of Iris rosenbachiana in its excellent clone 'Harangon' (Sam Sutherland) with 13 flowers may well have challenged for the top prize more fiercely had the topmost flowers not been a few days past their first youth. However, Corydalis integra (Les Brown) was in prime condition. This delightfully delicate denizen of mountains bordering the northern and eastern shores of the Aegean (it is easily encountered on Greek Falakron) is a good garden plant, and the inner petals tips of the darkest purple lend an air of real refinement.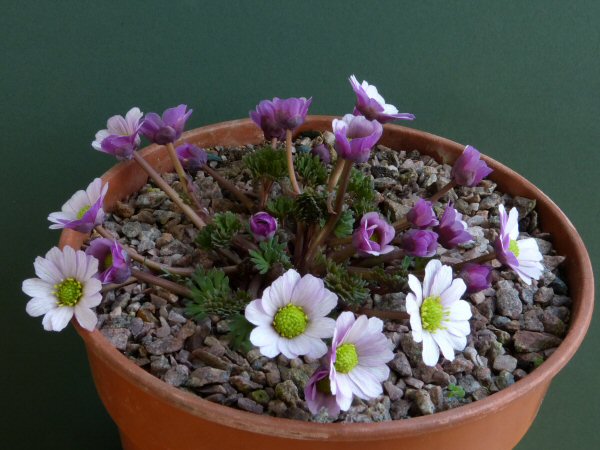 Do the populations of Callianthemum kernianum encountered on Monte Baldo ever achieve the almost indescribable imperial purple of the buds and flower exteriors of Brian Russ's distinguished form? (Its affinities were queried by several onlookers.) Callianthemums are potentially self-fertile, but seem not to set viable seed every year, so we might have to wait a while for offspring from this noble example.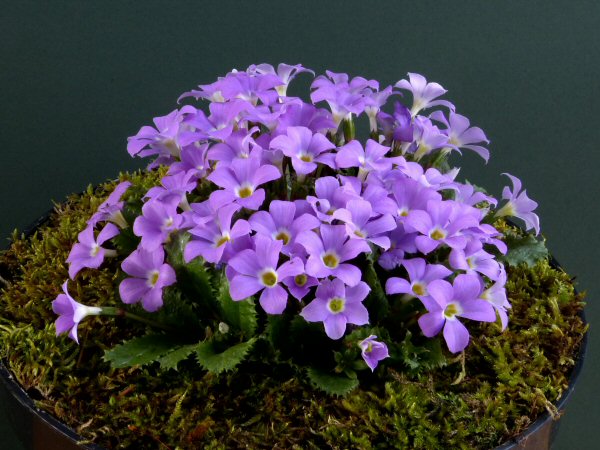 I have heard the Firth of Tay described as a warm enclave on the east coast of Scotland, and certainly the high altitude from of Primula sessilis was flowering for Invergowrie exhibitors Henry and Margaret Taylor several weeks ahead of my plant. When they found this generally low altitude western Himalayan petiolarid at 4,000m, the expectation was that it would prove much hardier than previous incarnations, and so it has proved.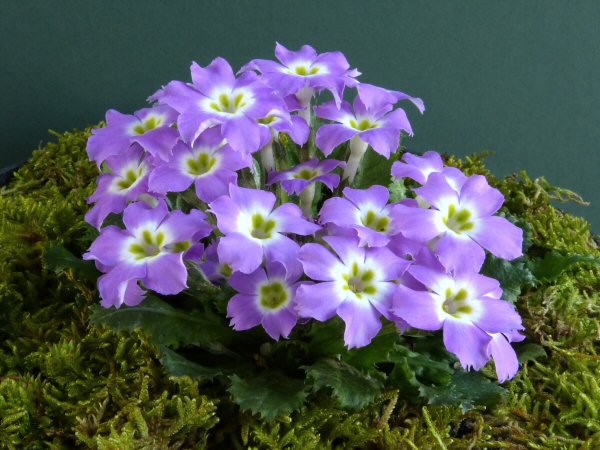 Its relative from a similar area, P. nana, has proved a willing source of fine hybrids, so it was good to see that the Taylors have for the first time promoted this alliance with P. sessilis. As might be expected, this promising plant is dwarfer in habit and pinker in flower than its half-sibling and stable-mate P. 'Tantallon' (still offered in quantity by one of the nurserymen present, and now midway through its thirties, yet still putting on fine performances, whereas many other petiolarid hybrids have failed to stay the course).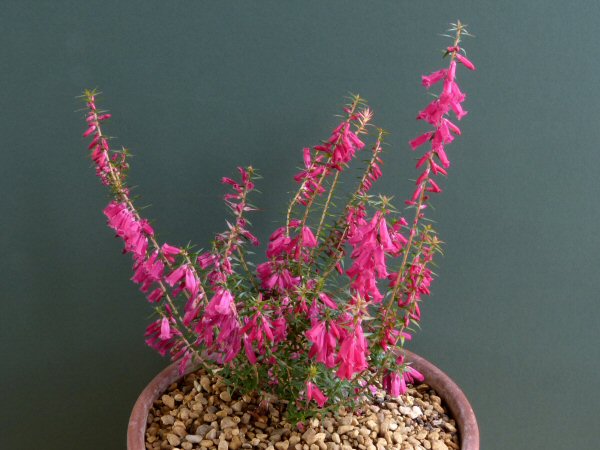 Barry Winter may well harbour a patriotic affection for his Tasmanian (though also from the south-eastern Australian mainland) Epacris impressa, perhaps best known in the British Isles from a Brian Halliwell introduction that is whitish, and merely pinkish in bud. Now legitimately entered in an Ericaceae class (the DNA does not support a separate classification for the Epacridaceae), this 15cm – as seen: it can be at least five times as tall − shrub with pendant crimson tubes has a distinctly alpine 'feel'. A slight tendency to untidiness was somewhat offset by Barry's unwitting tiny eight-legged assistant, the fastidious spider having tied in two errant twigs with silken strands.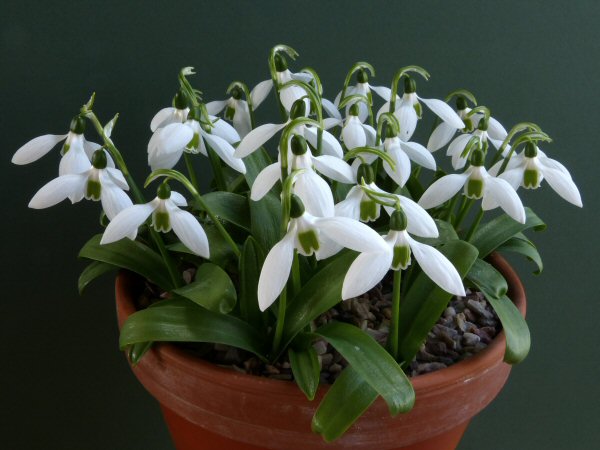 My favourite snowdrop among the score or so exhibited was Don Peace's fine form of Galanthus ikariae [right], which he had raised from seed, selecting the best of the crop then stead-fastly nurturing this by clonal division to produce a very handsome potful indeed. Another inhabitant of the northern Aegean, its close resemblance to the much more vigorous and hardy G. woronowii is belied by the large green mark on the 'inners' which extends to the sinus. Also, the broad green leaves are matt, not shiny. Once again, it seemed that the cool weather had helped this exhibit maintain a splendidly compact mien, as it had for another fine snowdrop from the same grower, G. 'Sophie North'.
Author: John Richards
Photographers: Jim Almond and Don Peace