Blackpool AGS Show, 2006 (with SRGC)
The day started off icy cold, patches of snow still evident on the motorway verges. It found shivering nurseryfolk and exhibitors huddling together outside the hall exchanging tales of the arctic weather throughout the country.
Shortages of plants in some classes and the continued presence of snowdrops, gave further evidence of the effects of the delayed spring. The exhibitors from Scotland in particular had taken the brunt of the snow. However there were still plenty of flowers and foliage to greet visitors.
Apart from some perfect domes of Primula allionii 'Anna Griffith', a plant that particularly impressed was a pan containing a three and a half inch cushion of Androsace ochotensis. Over 50 deep pink, yellow-eyed flowers covered the close, tight, plum flushed cushion of this arctic alpine, which in cultivation is often shy flowering. The plant originates from Eastern Siberia, Northern Alaska and the Yukon, so the unseasonably cold weather might have contributed to this unusual and enviable display of floriferousness, along with the inch of well-rotted manure the exhibitor used to line the base of the pot.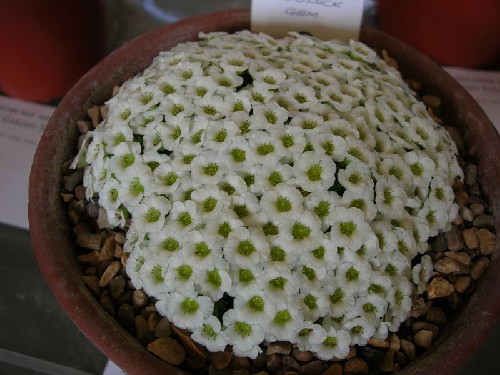 Saxifraga 'Cumulus' and Saxifraga 'Coolock Gem'  (right) were both attractive winners. However, I found a well grown plant of Saxifraga 'Allendale Charm', entered in section B, with its cushion of white flowers tinged with pale pink, to be the most appealing. This recent first generation cross between Saxifraga wendelboi and S. poluniniana combines the best qualities of both parents. Even before its flowers open, it makes an eye-catching plant with its small pink buds within red calyces. In our garden its flowers have stood up well to the bad weather this March, persisting through multiple coverings of snow with no protection. Like so many of the best alpine plants it makes a good display in the garden as well as on the show bench.
Fortunately the day gradually warmed up and the sun began to shine so that anyone of a more optimistic frame of mind would have though spring had finally arrived.
Farrer Medal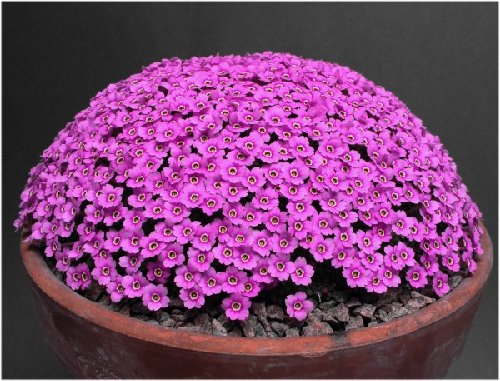 The Farrar Medal went to a plant of Dionysia freitagii.
Tim Lever