Blackpool AGS Show (with SRGC), 2011
The early season AGS shows are always at the mercy of the weather and a weather front sitting just below the border wreaked havoc. The resulting thick blanket of snow, meant that the normally strong Scottish contingent at Blackpool was reduced to the few intrepid travellers who had opted for an overnight stay the previous evening. The rest were either snowed in or quite wisely unwilling to apply snowchains for travel by car! Nevertheless, 68 exhibitors, no doubt oblivious to this were there, assembling an impressive display of alpine colour with nearly 400 plants on show!
The show was held under Scottish rules this year with a Forrest Medal awarded for the best plant in show. After the uncertainty of elimination voting, the only certainty was that a Dionysia grown by Paul and Gill Ranson would be the winning recipient! Eventually and by the narrowest of margins, Dionysia Goteborg' took the honours. This hybrid was raised by Henrik Zetterlung of Gothenburg Botanic Garden from seed received from Michael Kammerlander of Wurzburg. It is a seedling of D. freitagii and the pollen parent is believed to be D. viscidula. The Forrest medal plant is eight years old, starting life as a cutting from the plant which received a PC from Joint Rock in 2005.
The other Forrest contender, Dionysia 'Manuela' (D. microphylla x archibaldii MK9225/4) which earned a Certificate of Merit, was part of an eyecatching large six pan AGS medal exhibit. Paul and Gill grow all their show Dionyias in clay pots plunged in a small well ventilated greenhouse. The potting mix is a mix of 60% 1-3mm grit, 20% loam based compost, 10% seramis and 10% vermiculite.
A newly named hybrid raised from seed (Dionysia 'Adrastea') was singled out as another Certificate of Merit plant from the small six pan class which rewarded Paul and Gill with another AGS medal. Seed came from Josef Mayr of Munich, harvested from an f2 seedling of D. 'Andreas'. This plant is 9 years old and the flowers routinely give a delightful even coverage, without creasing or bunching over the cushion. With two six pans and other first prizes on the day, it will surely come as no surprise to learn that they emerged as clear winners of the Hollett Trophy for the most first prize points in the Open section!
The Primulaceae classes were keenly contested, providing two more Certificate of Merit plants and a dark flowered exhibit of Dionysia bryoides proved there is still room for another good form where the species are concerned! Primula allionii 'Pinkie' is devilishly slow and Geoff Rollinson had nurtured a plant raised from a cutting for the past 12 years which was only just now advancing towards the edges of it's 19cm wide home. Slow growing cushion plants need regular repotting as with any other alpine plant yet can look somewhat out of proportion in a oversized pot. Geoff remedies this by simply removing and replacing some of the topmost growing medium and repotting in a pot of the same size. This procedure, carried out annually keeps the plant happy and is repeated for two to three years, an increase in pot size is only indicated when the cushion size permits.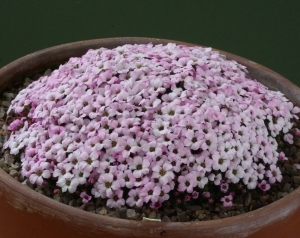 Geoff also brought along the largest specimen of Saxifraga 'Coolock Jean', benched to date? This is the best of a batch of open pollinated S. 'Coolock Kate' seedlings. The parental influence of copious bloom is coupled with a dazzling multicoloured effect as the flowers open and develop. The flowers were not quite at their peak and another show beckons for an even bolder display methinks?
Geoff doesn't do mediocrity and when given a bulb of Fritillaria alburyana back in 1997 (from Duncan Lowe), he began the long haul of creating a panful to award winning standard. Breaking mature bulbs in two every few years, he has painstakingly created a wonderful display of this rare Turkish endemic. After an initial watering during late autumn, the pan is placed in a refrigerator until eventually by February it is transferred to a plunge as the foliage and subsequently flowers emerge. This avoids the species habit of opening it's flowers during very mild spells before they emerge from the top dressing!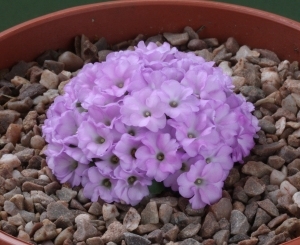 Brian Burrow brought his customary consigment of self raised classy Primula allionii forms and hybrids. I could wax lyrical over most of them but simply single out a small and clearly very slow growing form with pale pin eyed flowers which courted many an admiring glance. Primula 'Duncan Lowe', is of uncertain parentage but was selected by Duncan's wife Audrey from over 100 seedlings in flower and will live on his memory.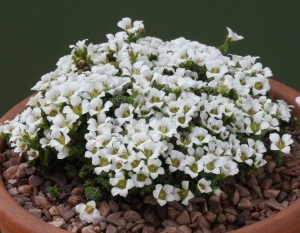 Duncan raised many a fine plant from seed and by crossing Saxifraga oppositifolia alba with Saxifraga oppositifolia 'Corrie Fee' created the white flowered 'perfection' he was looking for. It is slow and exquisitely well flowered and Dave Riley has been growing Saxifraga oppositifolia 'Duncan Lowe' outside now for a number of years. The plant forms a neat dome rather than a mat, it also tolerates disturbance and was lifted prior to gracing the showbench.
The Duncan Lowe award or at this show, a 'mini Forrest' is awarded here to the best plant in a 19cm pot. There was no shortage of contenders either but eventually the symmetry, flower power and sheer quality of Alan Furness's stunning Saxifraga dinninaris was simply too good to ignore. This hybrid of Saxifraga dinnikii and Saxifraga columnaris has been admired on the bench for a few years now but surely never seen as good as this!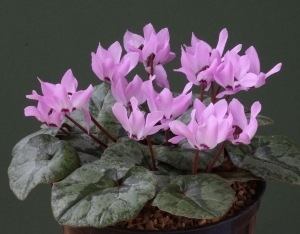 We have become accustomed to Cyclamen exhibits being almost overwhelmed by their coverage of flowers but the emphasis here and there was on delicacy and a plant being in delightful character. Cyclamen libanoticum is not the easiest of species for exhibition but Ray Drew's plant attracted more than a few admiring glances. Whether it was down to the weather or the depth of the tuber, the flowers were held centrally on upright stems rather than sprawling over the side of the pot. Regarding effect, less certainly created 'more', where this plant was concerned.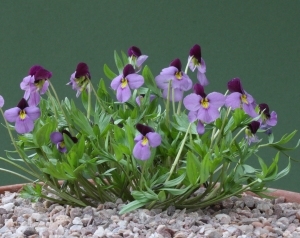 Dry rocky scablands with sunbaked clay soils are not most ideal habitat to collect seed for easy going garden cultivation so George Young knew he was in for a challenge when obtaining seed of Viola trinervata from Northwest Native Seeds in 1998. The seed germinated the following year and after a five year wait, the first flower appeared. A long tom clay pot plunged to half it's depth ensure the long thong like roots can be accommodated whilst keeping upper parts of the plant fairly dry when dormant. Water is applied liberally when in active growth. Thirteen years on, it has never looked so good and with seed having been set the previous season, overcoming the extreme difficulty in cultivating this gorgeous Viola can certainly (in George's hands) be claimed.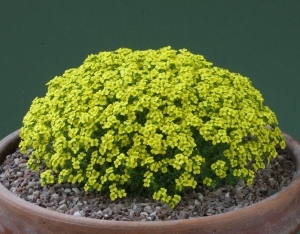 Whilst some plants have suffered during the long hard winter, others have benefited. Draba rosularis grown by Frank and Barbara Hoyle has benefited form the weather. A solid even covering of short stemmed flowers (pleasantly scented too) have lasted longer than Frank can remember and he puts it down to the lack of flies which pollinate and set flowers to seed which brings the display to an early conclusion!
The Kirby Cup for the best foliage plant in the show was awarded to Brian and Shelagh Smethurst for a striking plant of Celmisia longifolia. Who needs flowers when you have pristine silver foliage like this? The long arching silver leaves, more robust than many species exhibited, makes this a worthwhile foliage plant for show after show.
Thirteen exhibitors contested the Intermediate section and Jim Watson took home the Michael Roberts Memorial trophy for most first prize points. Amongst his red stickered plants, I found this delightful Hepatica japonica 'Shirayuki'. What a lovely plant in true miniature character, well flowered and with more on the way
John Fitzpatrick celebrated his second aggregate award of the season, lifting the Reginald Kaye Trophy for most first prize points in the novice section. Conifers seldom get a mention but his Chamaecyparis nana lutea formed an attractive display of neat foliage.
Report and images - Jim Almond