Blackpool AGS Show, 2008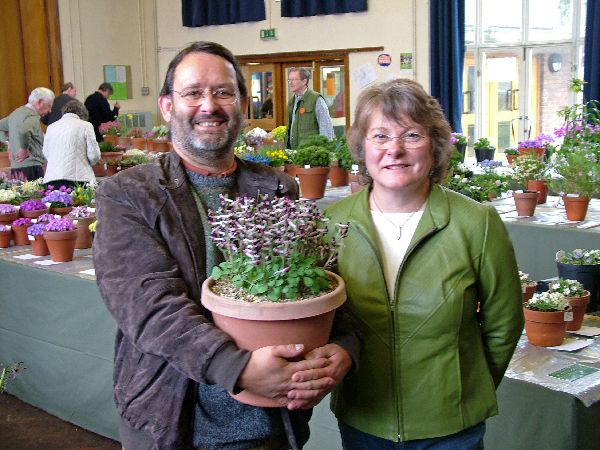 One of the pleasures of the Blackpool Show for those of us with friends across the border in Scotland is that this is one of the joint Alpine Garden Society /Scottish Rock Garden Club Shows, which brings together fellow enthusiasts in what is always a very friendly gathering. This year was no exception and, it being an 'even' year the premier award on offer was an AGS Farrer Medal; in 'odd' years it is an SRGC George Forrest Memorial Medal. How fitting that the Farrer (their first) should be won by a husband and wife team, Carol and Ian Bainbridge, who are SRGC stalwarts, and that their winning entry should be judged by many of the aficionados present as the best example of the lovely Corydalis popovii they had ever seen. This plant comes from the Pamir Altai in Central Asia and is easy to grow and long-lived in a well-drained compost in a pot, and can be grown in the open garden in full sun and freely drained soil in areas where the summer rainfall is not too high.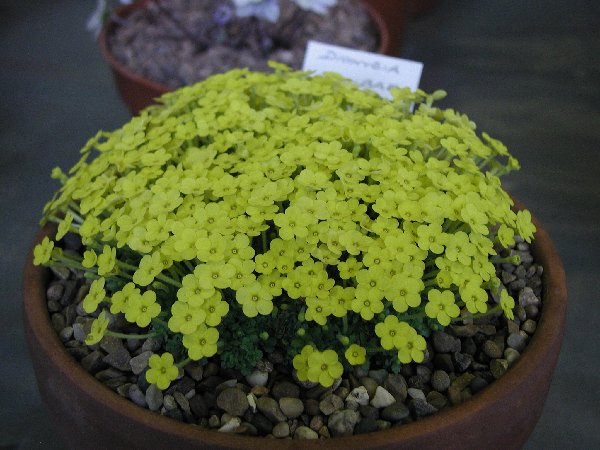 Sadly there were no entries in the six pan classes and overall the number of entries was down on some previous years, but the quality was excellent with strong competition in many classes, not least for the best plant in a small pan (<19 cm outside diameter), the winner by a narrow margin being a fine specimen of Dionysia gaubae (Geoff Rollinson), smothered in bright yellow flowers. This is a scarce dionysia both in the wild and in cultivation, but is said by those in the know to be easier than some to cultivate, although such statements are always worth taking with a pinch of salt by the rest of us mortals! There were many other fine Dionysias on display including several impeccable specimens of the decidedly difficult D. bryoides.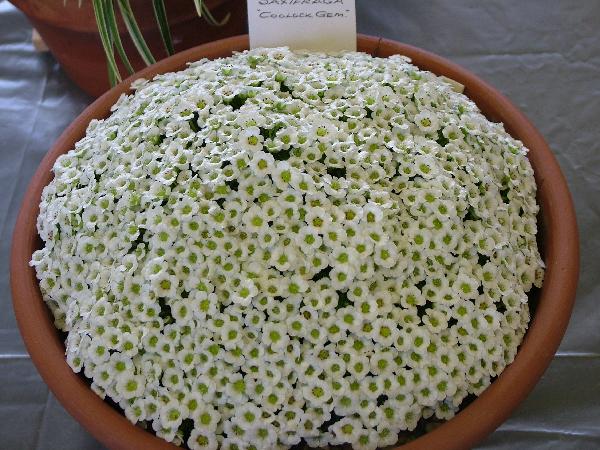 Saxifrages aplenty were to be seen, a superb 25cm dome of S. 'Coolock Gem' (Geoff Rollinson) particularly taking your reporter's eye.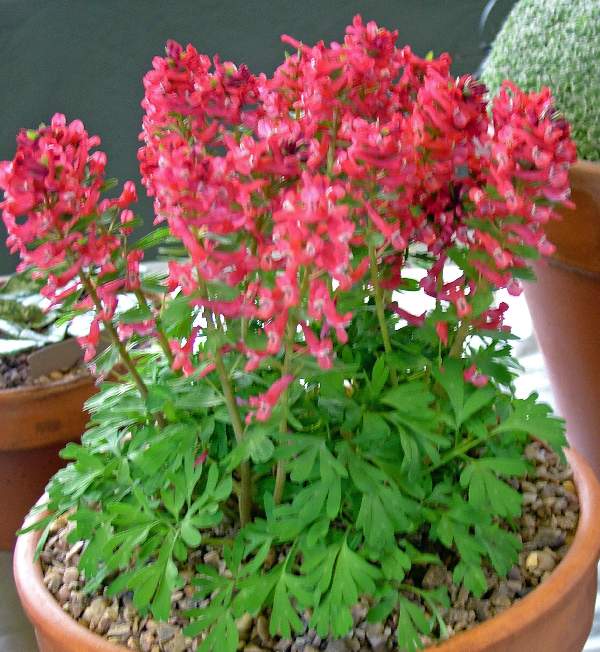 We expect to see fine pans of Corydalis at the early shows and Blackpool was no exception, and it is difficult to choose a couple to talk about here. However, I particularly liked C. solida 'Craigton Red' (Don Peace), which was raised by Ian Young from Aberdeen, and which bears long racemes of bright red flowers on strong erect stems. This, like other cultivars of C. solida is simplicity itself to grow in a sunny or semi-shady spot in the open garden and will come up year after year without any particular attention.. Also very nice was a white form of this species, C. solida ssp. incisa 'Alba' (Ivor Betteridge) which was smaller than many and should be equally easy to grow – these are good garden as well as show plants.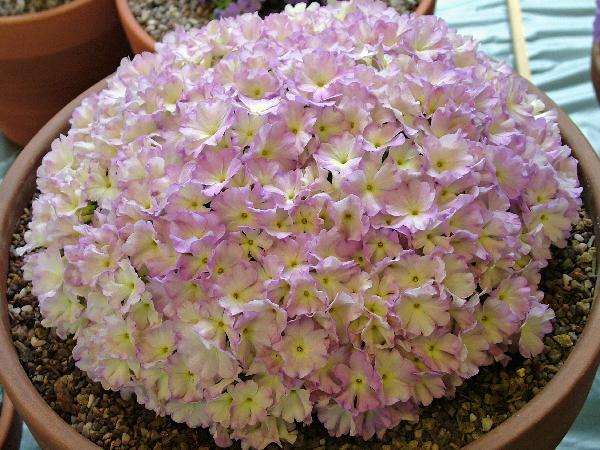 There were so many excellent plants of a plethora of forms of Primula allionii on show that it is almost impossible to choose which to show you, but if biggest is best then P. allionii 'Pink Aire' in its 30 cm pot won hands down. We have got used to seeing perfectly grown examples of these plants on the show benches but make no mistake about it, plants of this size covered with flawless flowers represent many years of skilled cultivation.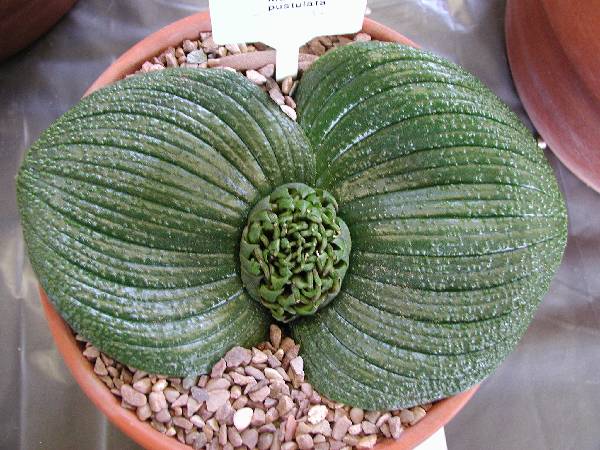 There were many good bulbous plants on display, although crocuses and narcissi were perhaps fewer in number than usual. The weirdest plant in the show, which raised quite strong feelings both 'for' and 'against' among the judges, was a bulb in the hyacinth family, Massonia punctulata (Darren Sleep). This hails from semi-desert regions in S. W. Africa and in cultivation in Britain is winter growing, summer dormant, watering being withheld from April until after re-potting in the autumn. The grower tells me that the large leaves pressed hard against the ground seem to act as condensers, as their under-surfaces are always damp even when the air, and compost in the pot are dry. When it does rain in nature the water will be funnelled into the centre of the plant by the 'tramlines of deeply incised veins on the upper leaf surfaces. The structure in the middle of the plant in the photograph is a group of seed capsules which replaces a 'shaving'brush'-like flowering head that appears earlier in the winter.
John Good