Blackpool AGS Show, 2007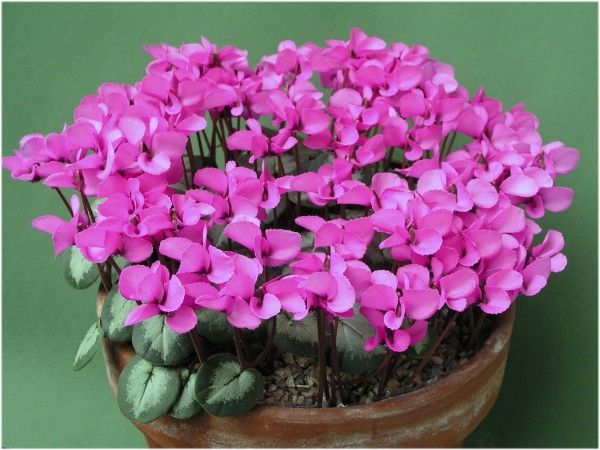 The perceptibly quickening pace of an already forward spring denied this venue some of its accustomed show-stoppers; early-flowering species flouting this generalization were those whose displays last for week upon week, rather than just a few days. As such, an excellent 19 cm pan of Cyclamen coum (Dr & Mrs M. Brown) with silvery-centered, green-bordered leaves and large, mid-pink flowers whose overall appearance was more suggestive of C. alpinum, appeared in prime condition,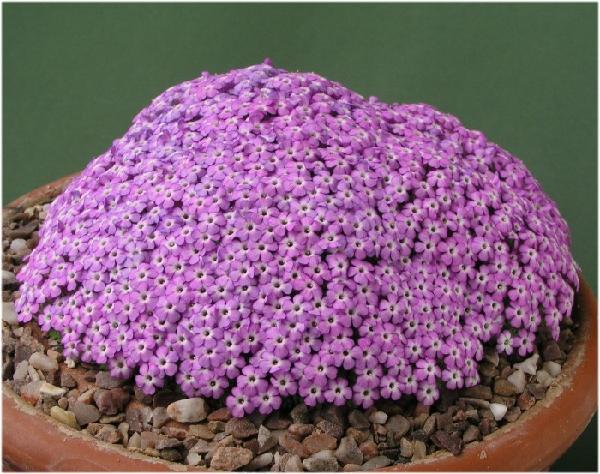 as did several specimens of the generally very difficult to maintain Dionysia bryoides (D. Pickard), all raised from home-saved seed sown upwards of five years ago, and unfailingly covering their slow-growing cushions with a mantle of sessile, violet-pink, white eyed flowers.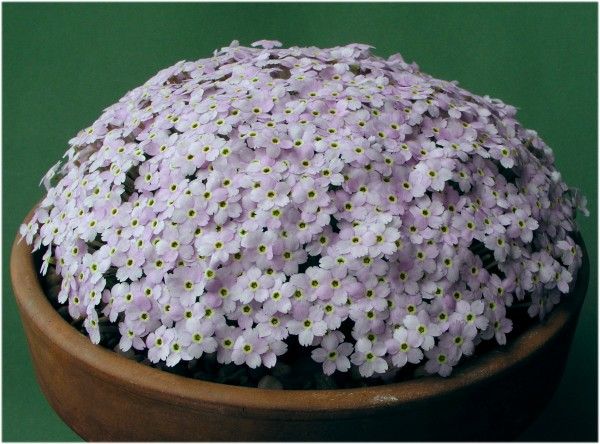 Dionysias figured in several of the Show's finest multiple-pan displays, with a three pan Primulaceae entry (G. Rollinson) yoking the first of the year's fully-open Primula 'Broadwell Milkmaid' with a densely-flowered, thrum-eyed Dionysia freitagii and a palish D. microphylla x freitagii (picture on right) (winner of the Duncan Lowe award for the best plant in a 19 cm pot) raised by Ron Beeston from seed supplied by Michael Kammerlander.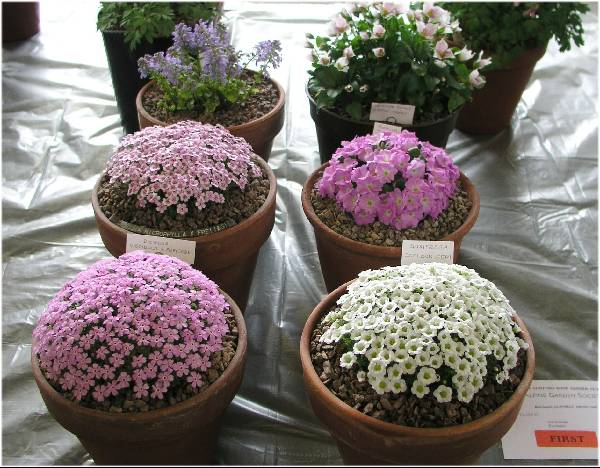 Another pretty, rather deeper coloured version of this cross was a key component in a predominantly white and pink themed six pan entry (I. Kidman) which also included a promising specimen of Saxifraga Coolock Gem' (a mature cushion won Geoff Rollinson the Forrest Medal for best plant in Show) and a rarely-seen but readily-grown North American, the delicate blue Synthyris missurica.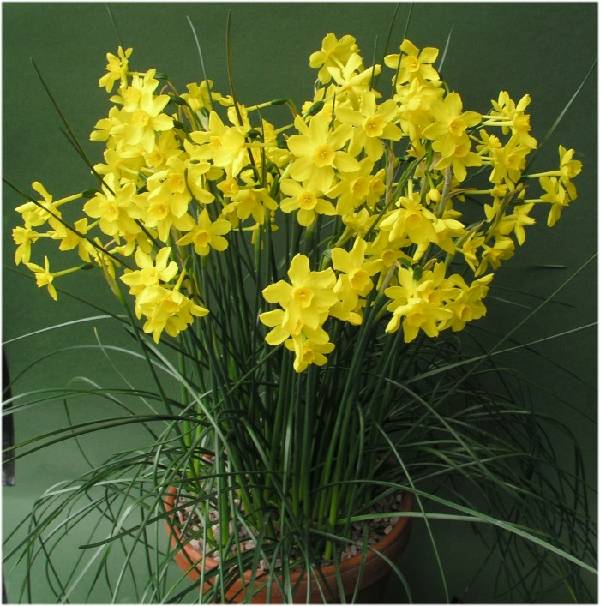 Exhibits of first-rate European terrestrial orchids were a feature of all the early spring Shows; on the count of rarity, Anacamptis israelitica (Mrs J. Bramley) was unequalled. Restricted to northern Israel and Palestine, where it forms rather sparse colonies (unlike the closely-related, much more widespread A. boryi), the rather chubby flowers were creamy white with darkest violet dots, giving the impression of a cartoon-like face, framed by a hood of green-veined sepals – all in all a most distinctive species, though one almost impossible to acquire, for all that the stand shown resulted (as is happily so often the case with hardy orchids nowadays) from seedlings raised in cultivation. A native of open pine woodland and seasonally-damp meadowland at 350-400 m, it needs only cold glass protection to get it through an average winter – a comment that also applies to a Certificate of Merit-winning stand of Narcissus jonquilla var. henriquesii (picture right), staged by the same exhibitor, that triumphed in the strongly-entered miniature /dwarf Narcissus species or natural hybrid class. The bright-yellow, long-tubed flowers are borne in abundance, two or three per stem, at a height of around 25-30 cm, and in this case the narrow, somewhat spreading, dark green complement of foliage was immaculate, though less kempt displays are all too commonplace.
Only over the last few years has that most distinguished of rhinopetalum fritillaries, Fritillaria gibbosa, reappeared at AGS Shows, following seed collections made in Iran over the past decade. The raisings differ in intensity of colour, size of flower and height, with a spike 20 cm tall, bearing an exceptional count of 17 deepest pink, heavily spotted flowers above spiralled, greyish leaves (I. Betteridge). Grown in a gritty, sandy, loam-based compost, under glass, with the standard summer 'rest' given to many of the dryland representatives of the genus, it has proved encouragingly reliable, refuting its long-standing xenophobic reputation. A fellow Iranian, F. reuteri (R. Pickering), is much more narrowly distributed in upland rocky meadows close to the ancient city of Esfahan; it is altogether a less exotic affair, though its purple-pink, yellow tipped flowers, somewhat intermediate in appearance between those of F. michailovskyi and F. uva-vulpis, have a quiet appeal. Neither species is reliably listed in bulb catalogues, whereas the Turkish F. aurea is more easily acquired, though you would have to dig deep in your pocket to buy outright enough bulbs to rival the several well-filled pots on display at Blackpool, one of them with several twin-flowered specimens, though generally the black-flecked, ample, deep yellow bells are solitary.
Robert Rolfe