Blackpool AGS Show, 2012
The spring momentum in abundant evidence at Loughborough Show continued apace at Blackpool seven days later, although at 493 , the number of entries was slightly lower in comparison. Lionel Clarkson has now chalked up 24 years in the post of show secretary, and is one of several unsung heroes nationally who mastermind our shows for the pleasure of the membership. The Show was also framed by two non-competitive exhibits, both of which were awarded Silver Awards. Diane Clements staged a colourful display of hepaticas, while local member Syd Cumbus put together a photographic display depicting the flora of the Spanish Pyrenees.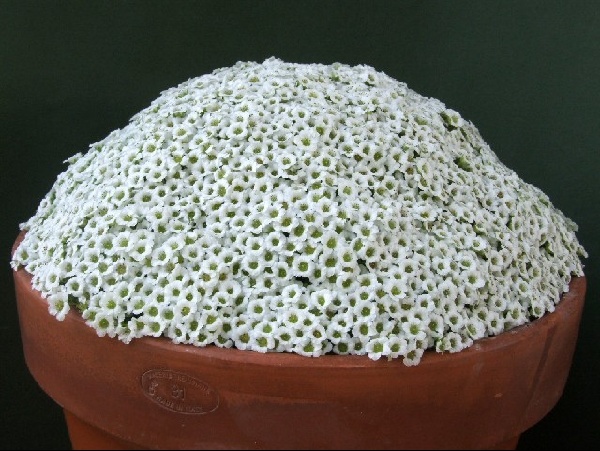 Slightly ahead of Lionel in mathematical terms, Geoff Rollinson notched up a remarkable 37th Farrer Medal with his Saxifraga 'Coolock Gem' (which at the end of the show he promptly handed over to a nurseryman: the potential number of cuttings will run into the high hundreds). This particular specimen has an immaculate show pedigree - a Certificate of Merit in 2010, the Saxifraga Group Salver in 2009 and a Forrest Medal the same year. The Coolock clan also includes pink variants ('Coolock Kate' and the larger-flowered but paler 'Coolock Jean'), both also grown by Geoff, so watch this space for potential future Farrer Medal contenders!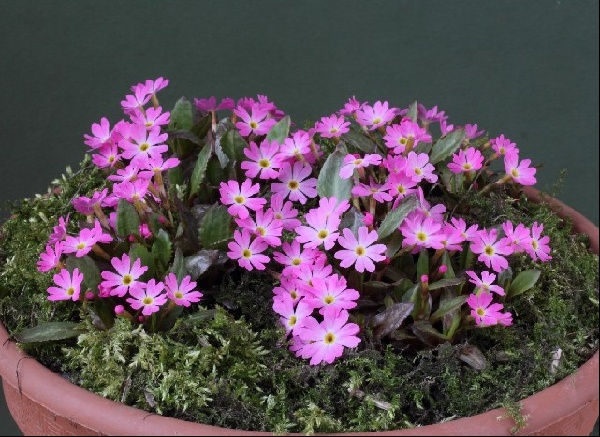 Stan de Prato had a large pan of Primula warshenewskiana, an all too seldom exhibited species from NW Afghanistan, N Pakistan and Tadjikistan which is best described as a very short-stemmed Primula rosea relative, though with singly-produced flowers that are freely produced in some gardens. The key to its cultivation lies in appreciating that it is a plant of wet grassland and stream beds between 1,800m-4,500m, as such benefitting from a humus-rich, friable soil and frequent watering in the summer. It also has quite an appetite: frequent division is recommended.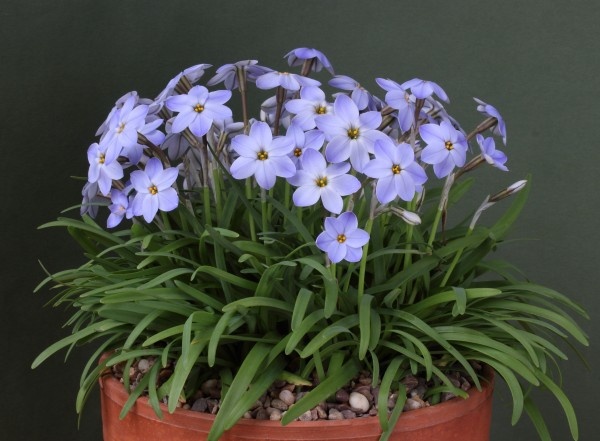 Ivor Betteridge regularly brings along plants that make you wonder, 'Why am I not growing that?' His Ipheion 'Rolf Fiedler', which received a Certificate of Merit and was grown to perfection, is named for the man who regularly sent seed from the southern Andes, in the 1970s and early 1980s especially, at a time when these mountains were little-visited by foreign, plant-hunting tourists. He also distributed material from much further east, originating in the Argentinian Pampas, and the areas north of Buenos Aires, where the land seldom rises above 500m.
Onion-scented, this native of Uruguay was for a long time known only two hilltops, although recent reports suggest further sites have been discovered. Ivor considers that keeping the bulbs pot-bound promotes better flowering. Tony Hall raised a seedling from 'Rolf Fiedler' with darker blue flowers which he named 'Jessie'. (Both are commercially available, though you will have to search harder for the latter.) Ivor also was awarded the Hollett Trophy for the Open Section aggregate.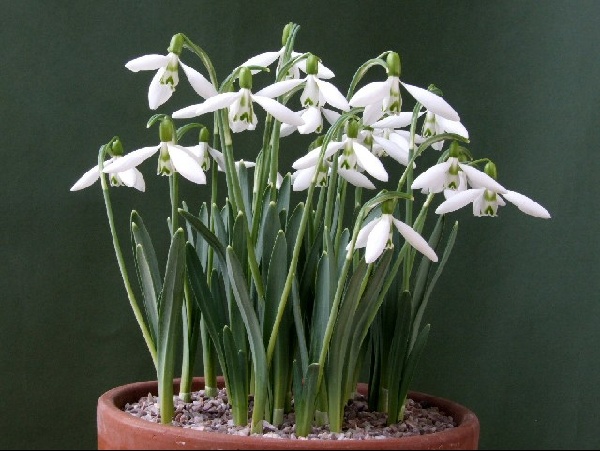 Snowdrops, so abundant just a few weeks ago, were reduced to just one entry, but a notable one. Those expert cultivators Mike and Christine Brown brought along Galanthus elwesii 'David Shackleton', a notably late-flowering and worthwhile representative. Attributed to David Shackleton, who gardened at Beech Park, Clonsilla in County Dublin, he emphatically denied having reared it or supplied it from his garden.
Some variation in the green basal markings of the inner tepals, which may have indicated that subtly different seedlings had infiltrated the clump (which had been lifted as a gift for the Browns some years ago by a friend), or might simply have demonstrated that not all snowdrop markings are consistent and of a standard sizing.
On much the same theme, the classes for seed-raised primulas are always well-entered. But several judges have requested that exhibitors make it clear when entering plants raised from seed that any plant bearing a clonal name is what the label says it is, and not a second generation (F2) seedling from it, which should not bear the same name. How many plants shown as Primula allionii 'Crowsley Variety', for example, conform to the original description?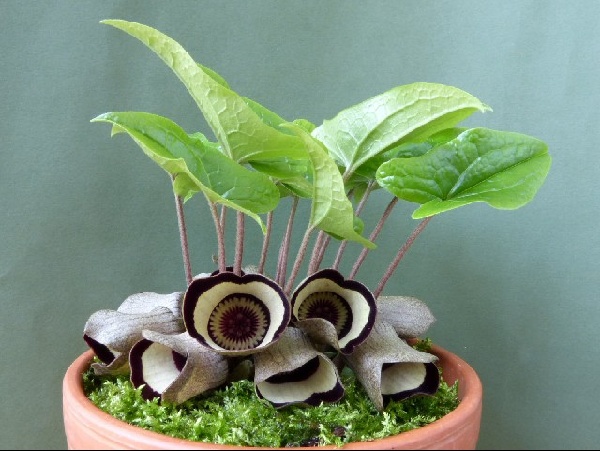 Asarum campaniforme is known in Japan as 'the flower resembling the kiwi fruit'. Wilma and Jim Wright grow this plant in light shade in a humus-rich, woodland mix containing some grit. Obtained in 2005, it has not been repotted to date but has steadily increased: dilute liquid feeding is beneficial.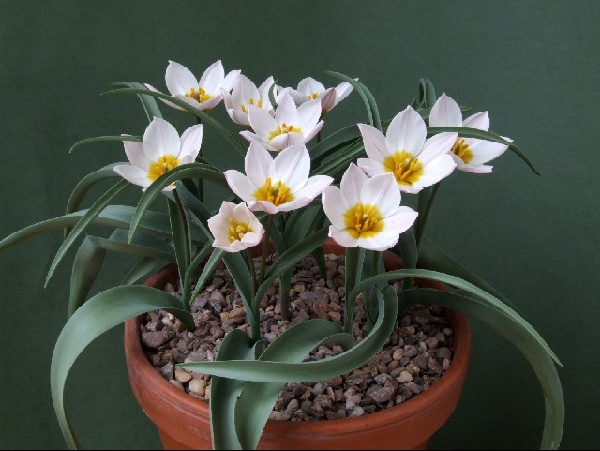 Two forms of Tulipa cretica were on show, the larger of them entered by Don Peace and grown in two parts John Innes no. 3 and one part grit. Repotted annually in late summer, in some years the bulbs are left in situ, and only the compost above the base of the bulbs is replaced. Neither variant appeared to be stoloniferous, though the species can increase well from 'droppers' in some cases, whereas in others, vegetative increase is minimal, and seed is the only ready means of increasing stock.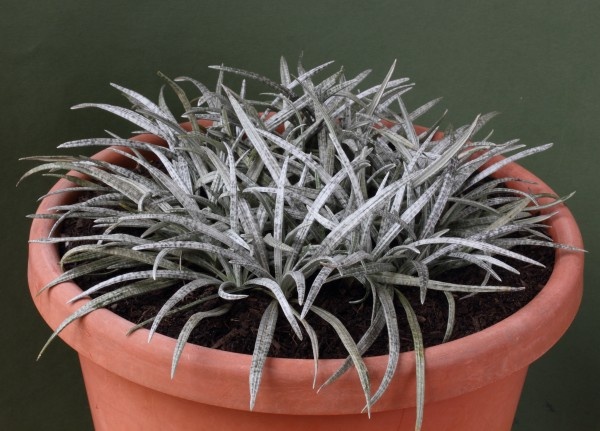 The winning silver /grey entry, Celmisia aff. gracilenta, also received the Kirby Cup for the best foliage plant in the show. Alan Furness had sown seed in January 2001, and added this distinctive plant to an already large collection of the genus. The leaves, an intoxicating mix of silver and dark markings, were clean and neatly presented.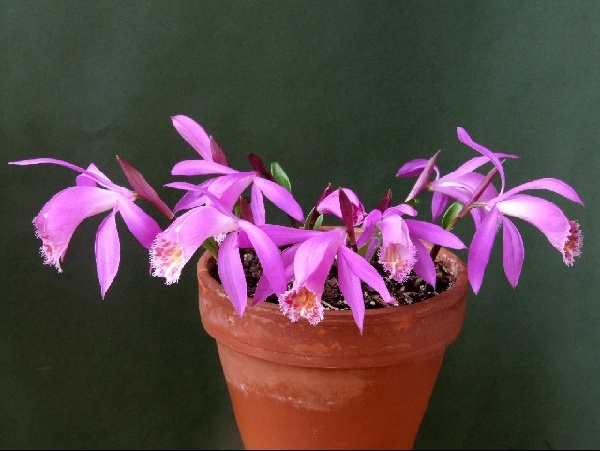 Local member George Jaworski had a good day, winning the Donald Lowndes Memorial Bowl with Pleione Tongariro gx, a fascinating combination of salmon pink and orange with white and yellow lip markings. It is named after a National Park in New Zealand and was raised by Ian Butterfield from a cross between P. Versailles gx x pleionoides. George continued his winning ways by also taking the Reginald Kaye Trophy for the most first prize points in the Novice Section.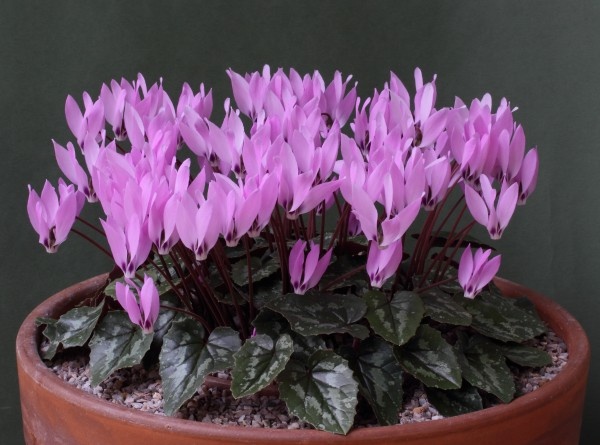 Other successes of note included Tony Stanley winning the Michael Roberts Memorial Trophy, Ian Kidman taking the AGS Medal in the Open section small six-pan class, Derek Pickard taking both the Duncan Lowe Award and a Certificate of Merit for his Dionysia bryoides and finally another Certificate of Merit for Mike and Christine Brown with a large but very delicate, light pink Cyclamen pseudibericum, which is a particular favourite of theirs.
Dave Riley