Blackpool AGS Show, 2010
With winter still in the air it was bound to have an effect on the show benches. As with the previous two shows the number of entries seemed down on previous years. However the cold weather does have a few advantages and we were still seeing lots of winter bulbs on display including many fine Narcissus, Galanthus and Crocus, things that in the past few years have been few and far between by this show. Other noteworthy genera included the saxifrages which have just started to come into their own in the last week and primulae which were present in notably higher numbers than in Loughborough the previous week. Another symptom of the cold weather was the serious competition going on for the Kirby Cup for best foliage plant in the show. This was finally won by Geoff Rollinson with a plant of Anisotome imbricata var. imbricata.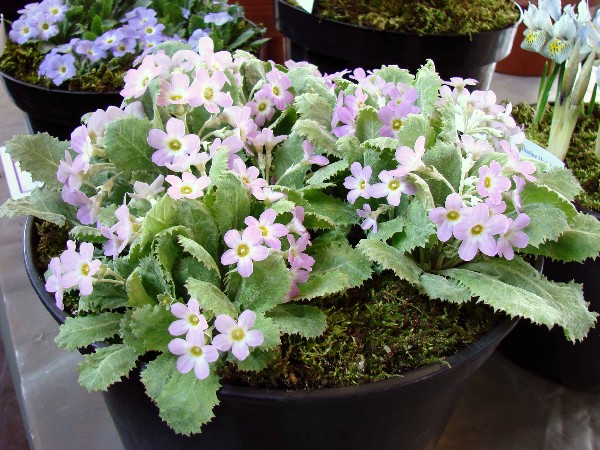 As part of a six pan class this plant of Primula moupinensis var. moupinensis helped gain its exhibitor, John Richards, an AGS Medal. It gained a PC in 2008. The original plant material came from a collection by Compton, D'Arcy and Rix (CD&R) and thrives in Johns garden in Northumberland. Primula moupinensis has a bit of a confused history with the original plant material in cultivation turning out to be the closely related P. hoffmanniana. Primula moupinensis var moupinensis is reputedly a much more garden worthy plant than P. moupinensis var. barkamensis.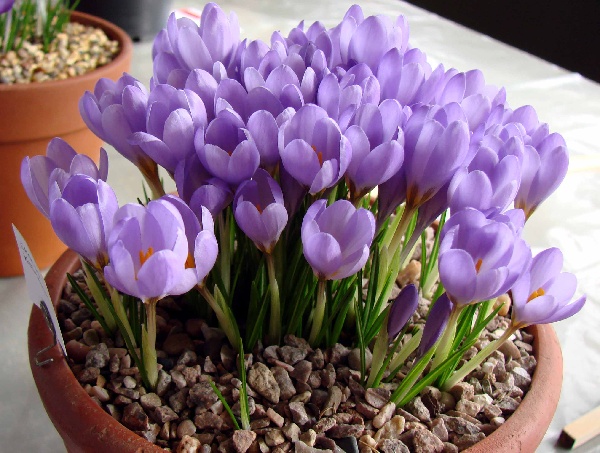 This beautiful species crocus with its delicate crystalline flowers stood out in the show and despite only coming runner up to an Iris in its class walked away with the Crocus Spoon for best pan of Crocus. Crocus kosaninii hails from Serbia and is one of the most northerly species in the Sieberi Group. Ian Kidman obtained this plant from Eric Watson around the turn of the century and from a few bulbs it has multiplied to fill the current pot. As with all crocus seen on the show bench the trick is to get all the bulbs flowering at the same time, not an easy task!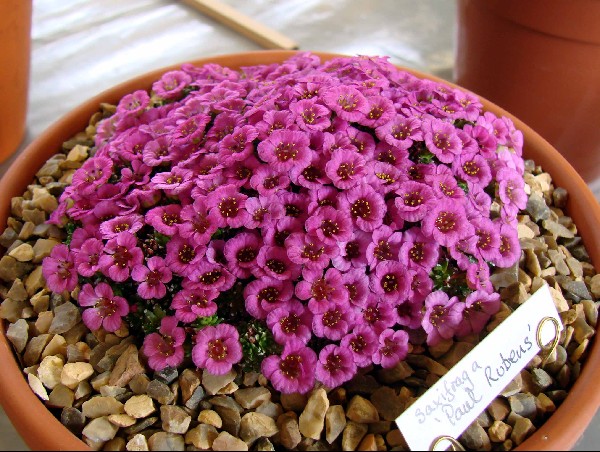 Of the many good pans of Saxifrage on the show bench this example of Saxifraga 'Paul Rubens' from Mark Childerhouse was the best. Its cushion was almost completely covered in deep red flowers (the photograph doesn't do it full justice). This plant is about four years old and comes from the stable of Karel Lang. Raised from seed produced from S. SEP22 x S. 'Winifred'. It came a close runner up to a pan of Cyclamen coum for the Duncan Lowe Award for best plant in a 19cm pot.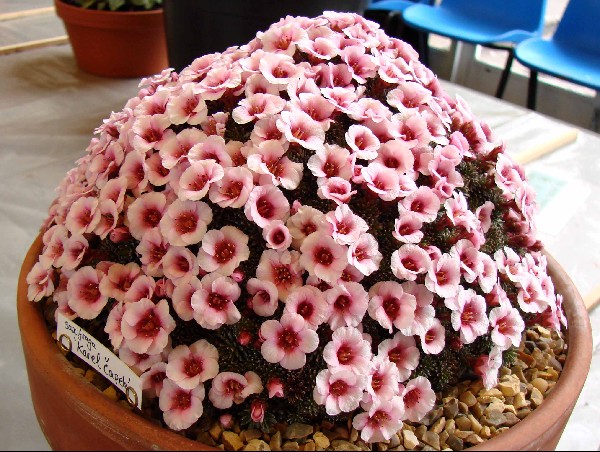 This exceptionally well-flowered plant of Saxifraga 'Karel Capek' was also exhibited by Mark who has had it for over 15 years. I have always liked the large flowers on this variety. It is so slow growing it takes time to build up a showable plant. It's also tough in the garden. This plant was also raised by Karel Lang in the Czech Republic where he reports it as a firm favourite with its flower colour resembling the colour of ham! I would call it soft apricot.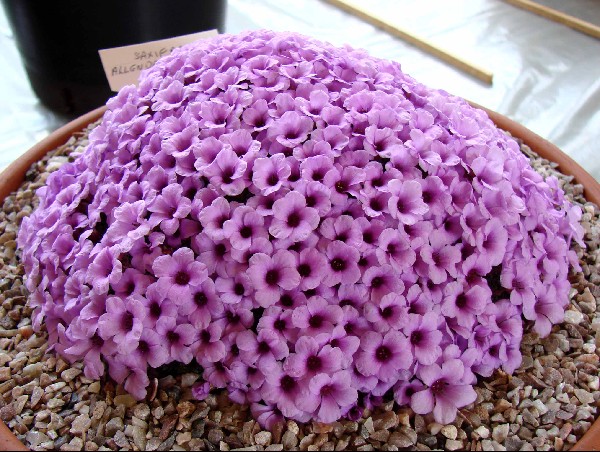 Another fantastic cushion of saxifrage was this fully flowered dome of Saxifraga 'Allendale Grace' exhibited by Tommy Anderson. The exhibitor received this plant from Ray Fairbairn soon after it's naming in 2002. It is a hybrid between S. lilacina x S. columnaris. This plant won a Certificate of Merit. Back at home we find it a reliable performer with an excellent habit.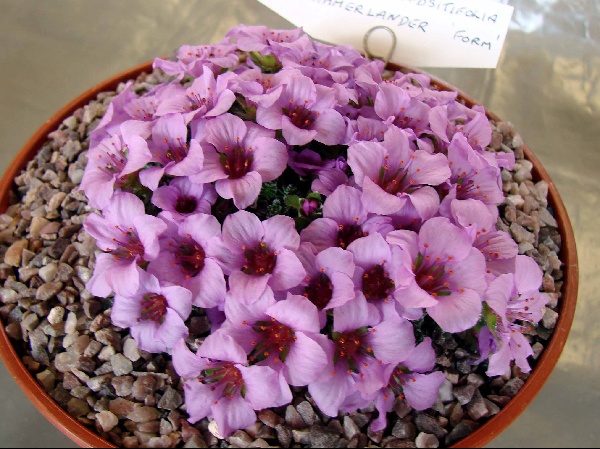 Yet another saxifrage that caused some comment was this plant of Saxifraga oppositifolia. The flower size was at least two or three times as large as that commonly seen on our own native purple saxifrage. The origins of the material are cloudy although it certainly came from the continent, possibly from seed from Gothenburg Botanic Gardens. The flowers were particularly attractive with deep corrugations on each of the petals. It is notoriously hard to get a plant of S. oppositifolia onto the bench because of its naturally sprawling form something not noticed when it is seen growing on a vertical cliff face in the wild.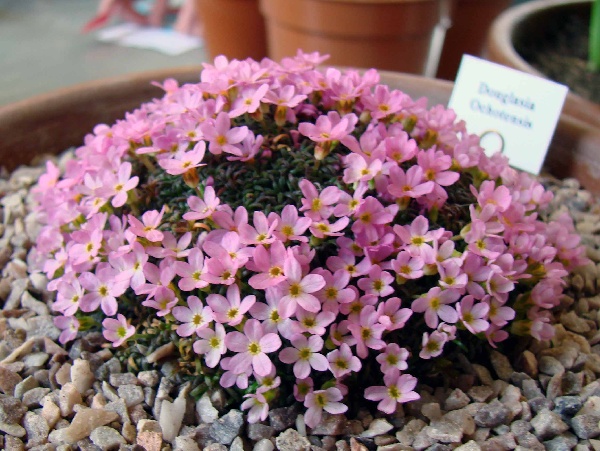 This long cold winter seems to have brought out a number of good examples of well-flowered plants of the beautiful Siberian/Alaskan Androsace ochotensis. Its plum coloured foliage always contrasts well with the pure pink of the flowers. I suppose its not too surprising that it responds well to cold winters. Perhaps we'll have a record seed set this year.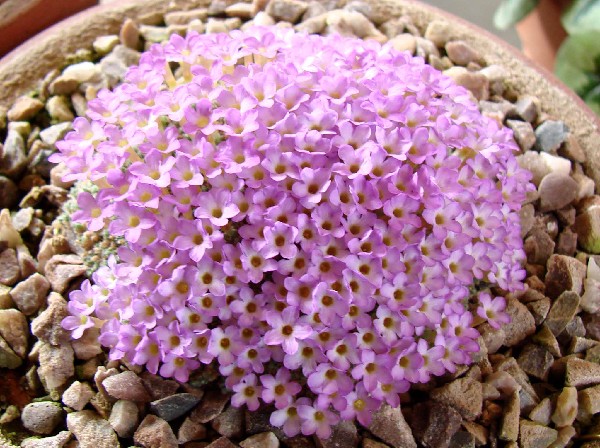 As my particular interest is in the genus Dionysia it was impossible not to mention several in this report. The first is Dionysia iransharii, a plant I have always liked and which is rarely seen as well flowered as this example from Derek Pickard. The flowers have a pure, translucent like quality almost seeming to posses an internal crystalline glow in a good light. The plant itself is not amongst the 'easier' of this genus and has the distressing habit of going though the autumn with few problems until dormancy sets in and it tends to gradually get browner and browner until it is dead, or at least that's what it does for me.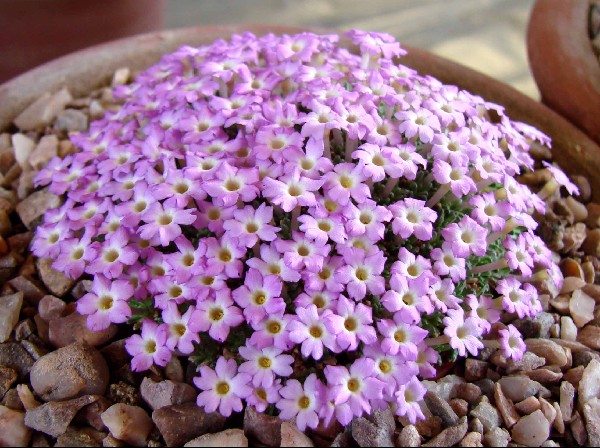 The second dionysia is a form of Dionysia zschummelii that has started to appear on the benches in the last year. The flowers are a crisp pink with a white eye compared with the more usual clone in cultivation which is deep purple. This is an easier plant to grow that D. iransharii, although propagation results vary a great deal from year to year for me.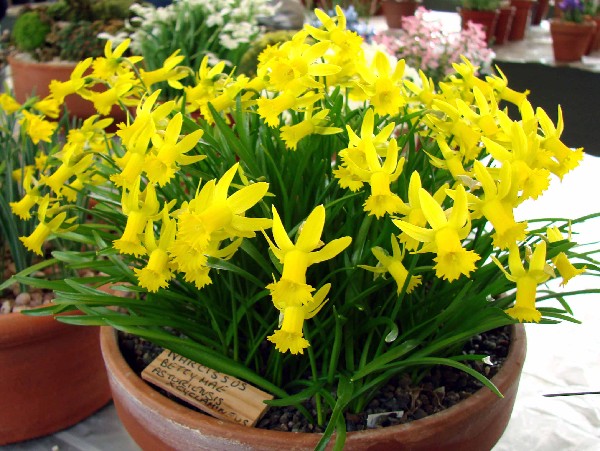 This plant of Narcissus 'Betty Mae' caused much comment. It was acquired as a single bulb by the exhibitor, Jean Wyllie, in 1999 after visiting New Zealand. In its first autumn it flowered with a single flower and followed this with two the following spring. Since then the bulbs have almost doubled up yearly to around 140 bulbs. The cultivar arose as a chance seedling in Jean Whillans garden in New Zealand (a hybrid between N. cyclamineus and N. asturiensis). It first flowered in the 1980s, but has been little known in this country until recently. Jean Wyllie has experimented with back crossing this plant onto both it parents and the results of this were on display just along the table. This plant won a Certificate of Merit and was put forward for the Farrer Medal where it was eventually beaten by an outstanding plant of Cyclamen coum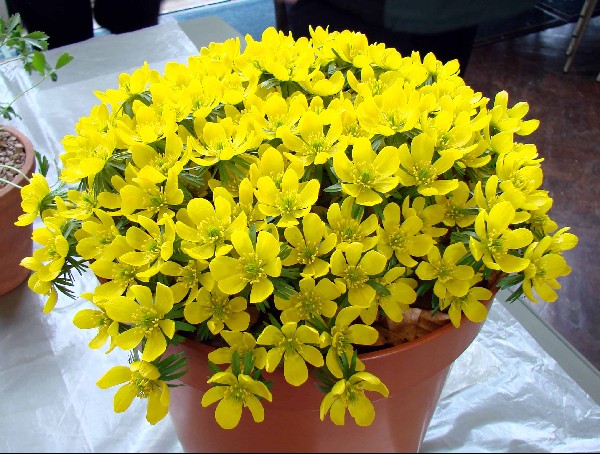 This large pan of Eranthis 'Guinnea Gold' was a mass of colour with the flowers just starting to show the signs of the warming up in the weather. It always brightens up the spring garden here as do the other clones of E. x tubergenii.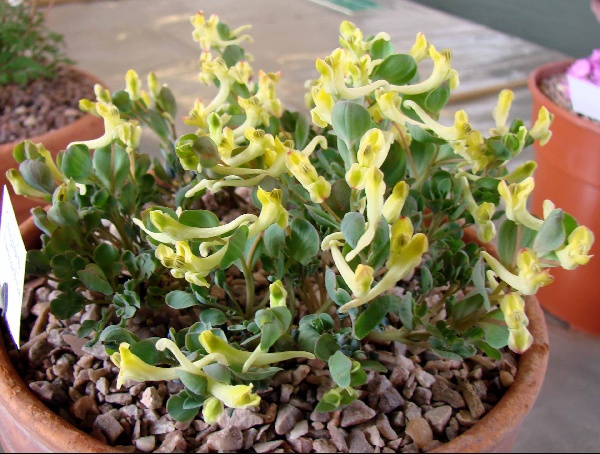 A lovely pot of Corydalis maracandica with its fine flowers, was shown by Les Brown. This plant originates from Central Asia and north-eastern Afghanistan, usually found growing next to C. ledebouriana in rocky ground.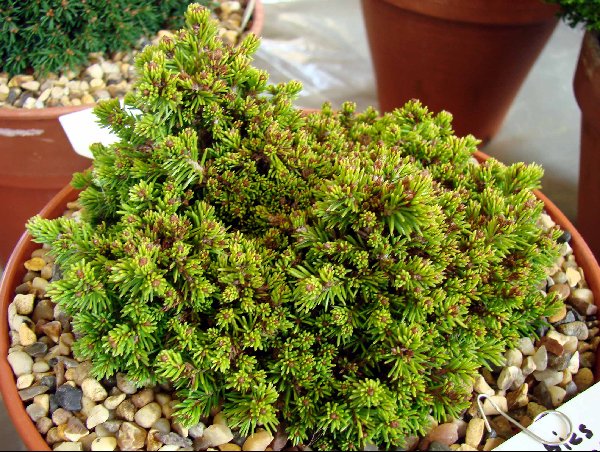 Finally this little dwarf confier, Picea abies 'Mariae Orffiae' shown by Dave Riley caught my father's eye. This specimen was less than six inches each way and of considerable age. This is arguably the slowest growing minature form of the Norway Spruce. It is very rare in cultivation although there used to be a specimen in my grandfathers garden back in the 1960's!
Tim Lever - report and images