Bakewell AGS Show, 2015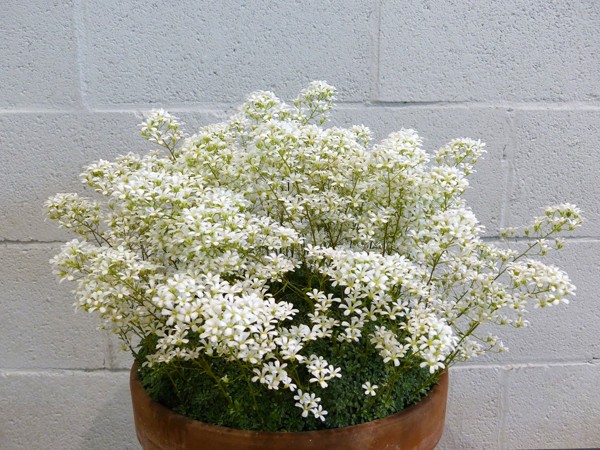 This was the second show at this venue, much improved on last year because of the enhanced lighting and a realignment of the benches, laid out to provide more space for the plants and visitors. There was a good variety and number of high quality plants on the benches in all but the Novice Section − this had very few entries, but at least there were three new exhibitors: last year there had been none. Clearly still more encouragement and gentle cajoling is required locally, to develop this trickle into a flow.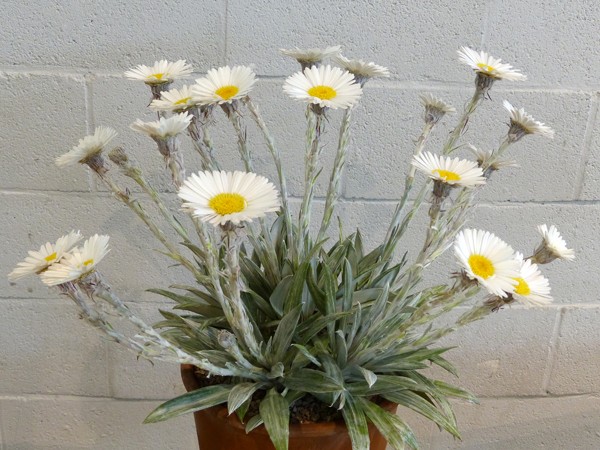 There were several contenders for the Farrer Medal, although it did not take the judges long to narrow down their choice to two, a magnificent Saxifraga cochlearis 'Probynii' shown by Alan and Janet Cook [above], that received this award at the Summer Show South last year, and was awarded a Certificate of Merit here, and the eventual winner, Celmisia semi-cordata, shown by that doyen of the genus, Alan Furness. This provided a perfect example for the less experienced exhibitor of how to prepare a plant for exhibition, for not a trace of disfigured or damaged foliage was allowed to detract from a good crop of perfect flowers rising majestically above the silvery rosettes. For those of us who admire celmisias and grow them as well as we are able, it was a particular pleasure to see the Farrer Medal given to a member of this genius that rarely receives the premier award.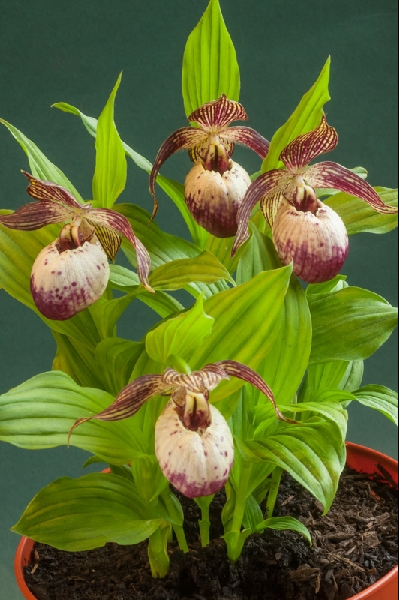 One of the most eye-catching plants exhibited by Diane Clement, which helped her to win the Ridings Salver for the most points in the Open Section, was a compact and well grown potful of Cypripedium tibeticum x kentuckiense which in the form shown had creamy pouches strongly marked with crimson and boldly striped petals of a similar colour combination. It is grown in a plastic pot plunged in a frame all winter and is kept shaded in spring and summer. The compost is a free-draining mix of leaf-mould, bark and perlite. Division (if you have the nerve!) is the best means of increase, removing rooted rhizomes either just as the plant is coming into growth or after growth has died down in autumn.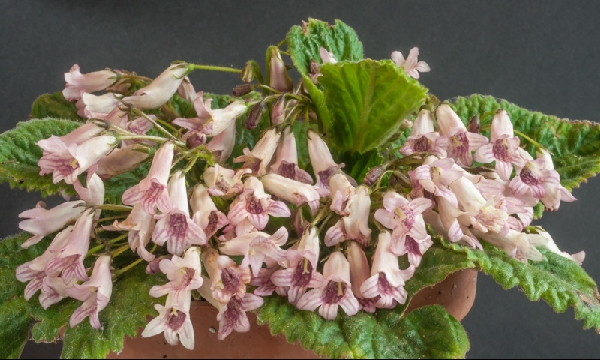 Requiring very similar conditions is X Brigandra calliantha 'Tinney's Rose', shown by Brian Russ who had obtained it long ago from its raiser, the late Gerry Mundey. (He produced many good new plants, including some fine Asiatic primula selections and hybrids as well as interesting additions to the Gesneriaceae at his Aladdin's cave of a nursery in Wiltshire.) The hybrid between Briggsia aurantiaca and Opithandra primuloides had originally been made by Otto Schwarz in 1974 and was repeated by Gerry c. 1982. Brian received a P.C. for 'Tinney's Rose' in 1999 and it was nice to see that he still grows it to show standard.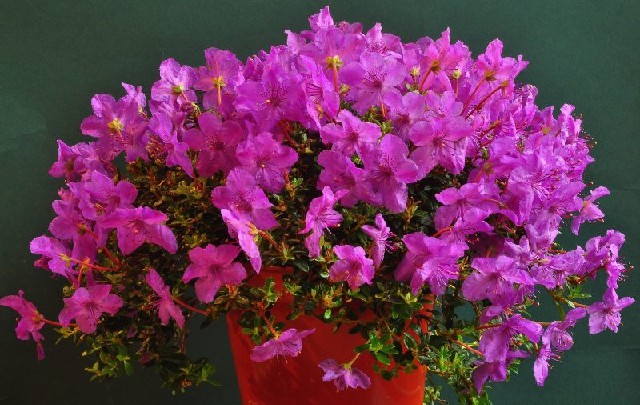 The Charles Graham Trophy for the most points in the Intermediate Section was won by Norman Davies from Bacup who showed many good plants including the best plant in the section, a very well-flowered Rhododendron calostrotum subsp. keleticum. This is an easy and long-lived plant in the garden which can easily grow to a metre across in ten years if given the peat-rich soil it craves. If you want something smaller that will only grow to half the size and at most 5cm tall, select Rhododendron calostrotum subsp. keleticum var. radicans. Cuttings generally root readily and you may well be able to detach rooted pieces from an established plant.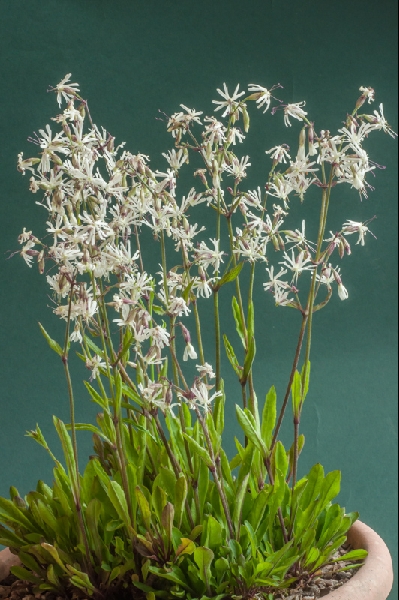 Always on the lookout for unusual plants at an AGS Show I spotted a very well-grown plant of the native Nottingham catchfly (Silene nutans) shown by Georgina Instone. The Online Atlas of the British Flora informs us that 'The coastal habitats of this long-lived perennial herb are grassy cliffs, sand dunes and shingle. Inland, it grows on limestone rock outcrops and cliff ledges. S. nutans is mainly a plant of shallow, drought-prone, calcareous soils on chalk and limestone, but it also occurs on acidic soil overlying shingle. It has occurred as a casual at ports and on railway banks. Reproduction is usually by seed, but can be vegetative by procumbent stems rooting at the nodes'. The common name Nottingham catchfly commemorates the former occurrence of S. nutans on the walls of Nottingham Castle, and the species was chosen to represent the unitary authority of Nottingham as its county flower. Despite this association, Nottingham catchflies apparently no longer occur wild in either the city of Nottingham or the wider county of Nottinghamshire, but to my certain knowledge it is cultivated in at least one private Nottingham garden.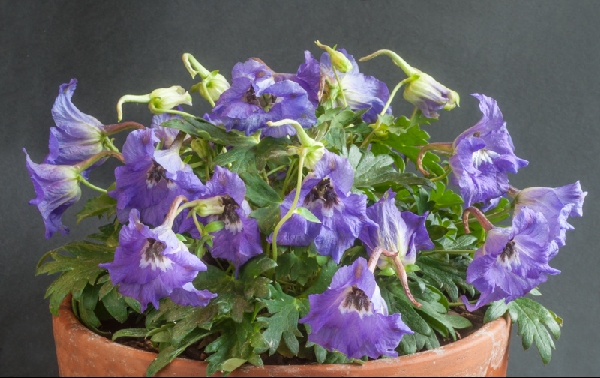 An unusual Sino-Himalayan delphinium was shown by Peter Farkasch. D. beesianum is a true alpine found growing (according to the indispensable Online Flora of China) on grassy or gravelly slopes and in alpine meadows between 3500--4800m in W Sichuan, E Xizang and NW Yunnan. The plate in the aforesaid flora shows it can be a tallish perennial with quite open inflorescences so I can only assume that the very compact flower spikes on the plant shown will extend as they mature. If this plant has similar requirements to D. brunonianum from the same sorts of habitats but often at even higher elevations in Xizang province (and also much wider afield), it will be easy to grow in the open garden in a range of reasonably well drained soils. Seed will be freely set but be aware that if other delphiniums are nearby, miscegenation is likely to complicate matters!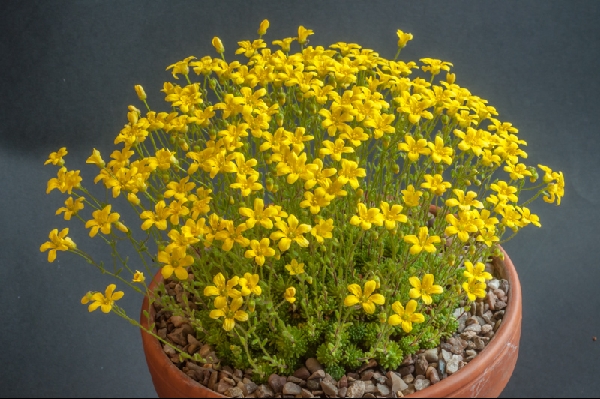 Also from similar altitudes in E Xizang as well as in many other locations throughout the Himalayas, inhabiting (again see the Online Flora of China) rock crevices in Picea forests, is a relatively recent and very desirable addition to the late-flowering cushion saxifrages, S. llonakhensis, of which an excellent specimen was exhibited by Edward Spencer. I have found it easy to grow in a crevice in a trough: it should not present any undue difficulties in a pot given reasonable drainage and plenty of water when in active growth.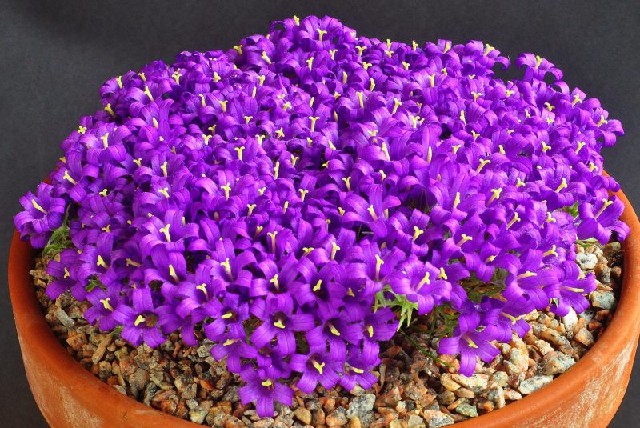 There are several very similar cushion Edraianthus, particularly difficult to tell apart when, as in the case of E. dinaricus shown by John and Clare Dower, they are literally covered in flower, so that the distinguishing foliar characteristics cannot be easily discerned. Whatever the name, this was a superb plant, fully 20 cm across and with every one of the several hundred purple flowers in perfect condition, hence the rapid conferral of a Certificate of Merit. Seed is the best means of propagation but if you can find some unspent rosettes after the flowers have shrivelled, these can be rooted in pure gritty sand.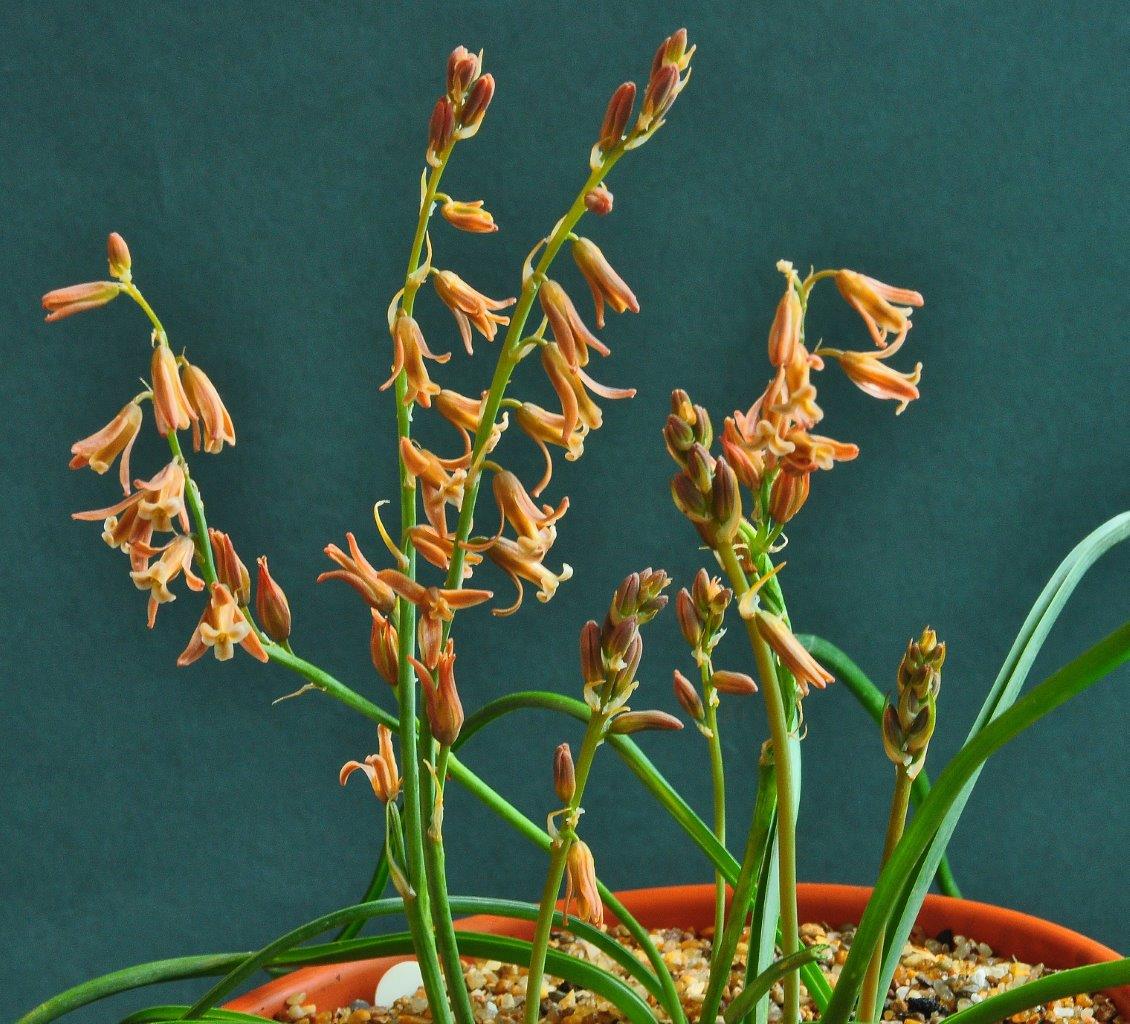 Two plants that caught my attention in the Intermediate Section, one because of its oddity (at least at first sight!), the other because it was an excellent example of a very good plant, were Dipcadi serotinum 'ex. Morocco' shown by Pauline Carless [left] and Lewisia nevadensis 'Rosea' (Lawrence Peet). The oddity of the former arose from the fact that a cursory glance at the flowers suggested that they were well past their best and that the plant should not have been on the bench! Why? Because they were of a fleshy biscuit colour rarely seen in any flower, but in fact they were in pristine condition. Dipcadi is a genus of c. 40 species of bulbous plants in the family Asparagaceae, subfamily Scilloideae (also treated as the family Hyacinthaceae), widely distributed in southern Europe, much of Africa and the Middle East through to the Indian subcontinent. D. serotinum occurs in dry habitats in south-west Europe and N. Africa, the form exhibited being of Moroccan origin. It will not be easy to grow outside in places with wet summers and is best grown in a pot in the bulb frame or alpine house in well-drained compost and kept dry until growth appears in late spring. Seed is set freely and this is the best source of new plants.
Lewisia nevadensis and its rarer form 'Rosea' are easily grown in a sunny position in a gritty soil in a scree, trough or crevice garden. This species is also ideal for pot cultivation where it should be grown in free-draining compost that is allowed to dry out almost completely when the plant is dormant but can be watered freely when in growth. As with all lewisias it is always a good idea to make sure that the crown of the plant is protected from rot by encasing it in a good top dressing of coarse gravel or stone chippings. Propagation is easy from seed, usually set freely even on single plants.
Author: John Good
Photographers: Robert Rolfe and Don Peace