Autumn South AGS Show, 2012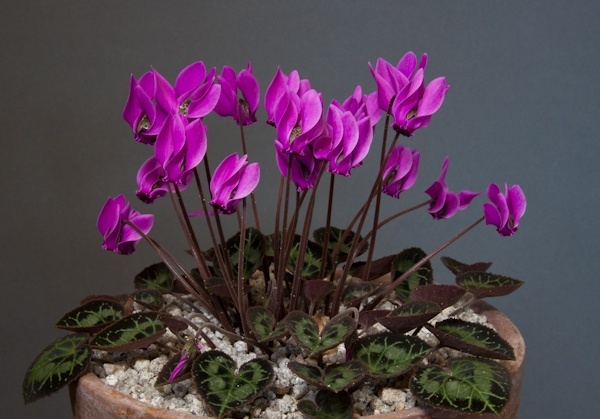 Following a very changeable sequence of weather fronts over the summer, the sun shone on a surprisingly colourful autumn show. The Cyclamen (in particular C. graecum) at the show were predominated, providing a first-rate display of flowers on the benches and making up for any spaces on the benches elsewhere, since many of the bulbs were running late, and in many cases were barely through the ground in exhibitors' gardens countrywide.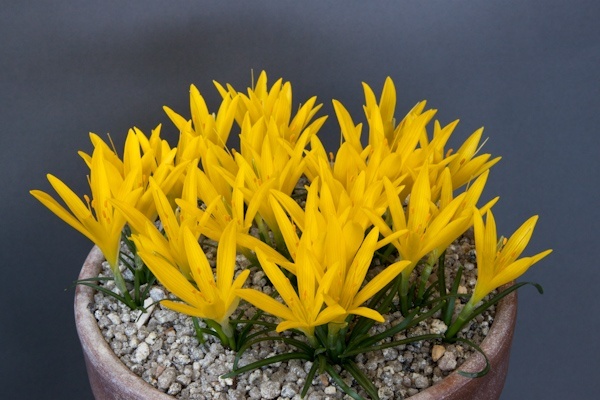 Ian Robertson once again had a particularly successful show, winning four awards in total. His fine pan of a rather dwarf, starburst-effect Sternbergia sicula won the Keith Moorhouse Trophy for the best plant in a 19cm pot, and a Certificate of Merit to boot. Far less leafy than any of the other examples shown, it had been worked up from a single bulb acquired from Rannveig Wallis' nursery 'Buried Treasures' some five years ago. Grown in a 1:1:1 mix of peat, John Innes no. 2 and grit, it had readily multiplied to form a truly outstanding clump.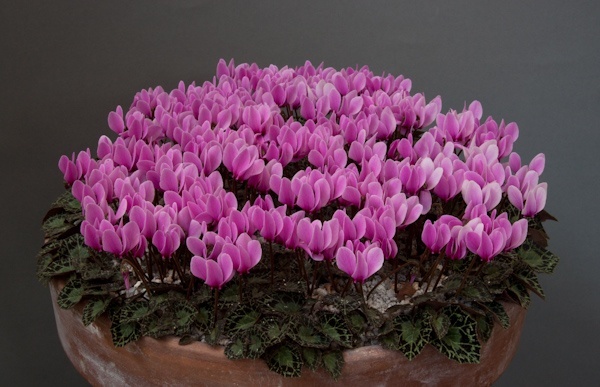 Ian also won the Saunders Spoon for the third year running, and the Farrer Medal for good measure, with a large pan of Cyclamen graecum subsp. anatolicum. Seed acquired and sown in 1998 from the Cyclamen Society had been nurtured in a 1:1:1 mix of chopped beech leaves (instead of peat), John Innes no. 2 and an unusual blend of equal parts Perlite and cat litter. On the day its mass of strong pink flowers was unbeatable, the low (c. 5cm tall), markedly even nature of the flower heads prompting one judge to comment: 'You could measure it with a set square'. Ian put this down to the flowers emerging simultaneously at just the right time. Had he not been successful with this, two other variants of the same species would surely have secured him the same trophies.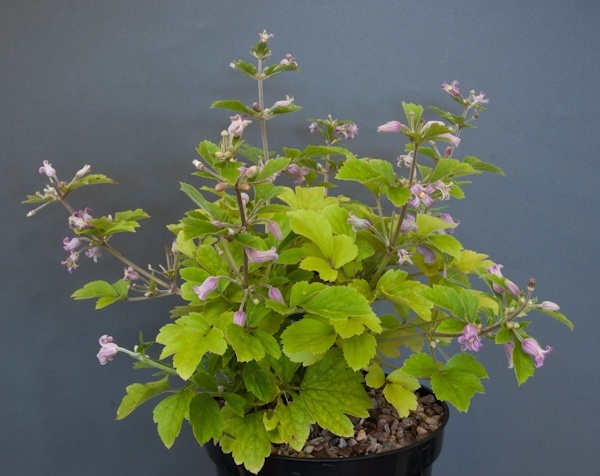 A slightly unconventional visitor to the benches was Clematis heracleifolia' Pink Dwarf', grown by Keith and Rachel Lever of Aberconwy Nursery. An easy to grow, much reduced form of this bushy, sometimes 1m tall bluish through to pale-ish pink or purple species, it came originally from Mike Smith. This plant had been grown from a cutting at the nursery and after four years provided a subtle contrast of pale pink, bell-shaped flowers against lime green leaves.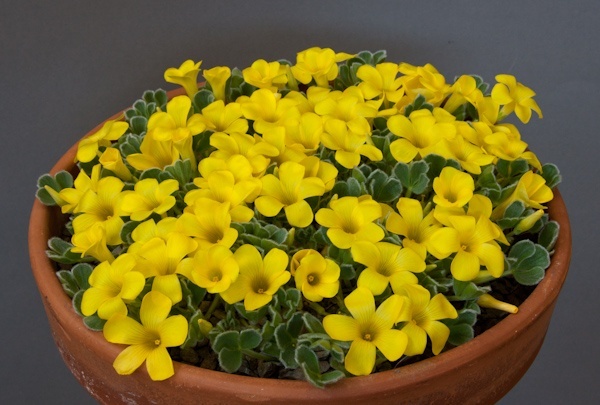 Bob and Rannveig Wallis as usual brought a number of excellent bulbs, including a stand-out pan of Oxalis purpurea (syn. O. speciosa) that was awarded a Certificate of Merit. This South African native, purchased forty years ago from Percy Picton, had been grown in 50/50 JI2 and grit sand with a JI fertiliser dusting. It grows in a cold greenhouse in a sand plunge, like the majority of the Wallis' bulbs and enjoys full sun and a dry dormant period. It is repotted every two years and the best bulbs make up the pan. Many judges praised the exhibit for its low, even, full of flower display.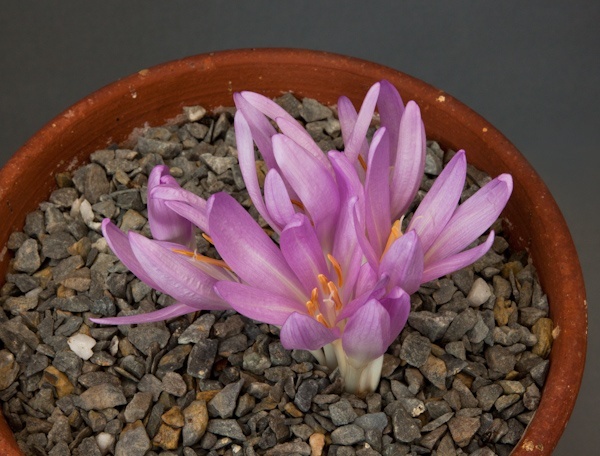 Another plant from the aforementioned growers that drew comment was a flourish of Colchicum dolicantherum which had not been seen in flower in cultivation before, even by an acknowledged authority on the genus. Native to eastern Turkey and northern Syria, it prefers a friable soil and is sometimes encountered in olive groves and vineyards. The clusters of flowers that erupt from the corm are similar to many other colchicums, albeit in miniature: C. dolicantherum is in part distinguished by is relatively narrow leaves, which come in springtime.
Another plant that caught my eye was the Greek native Colchicum bivonae, from the same exhibitors. The large, goblet-like, checked purple flowers are in juxtaposition with the cream tubes that support them. Repotted with the consideration that they do not like to be disturbed, all such species have the soil tipped off until the corm is uncovered. Fresh compost is then added above the level of the corms, which are left undisturbed.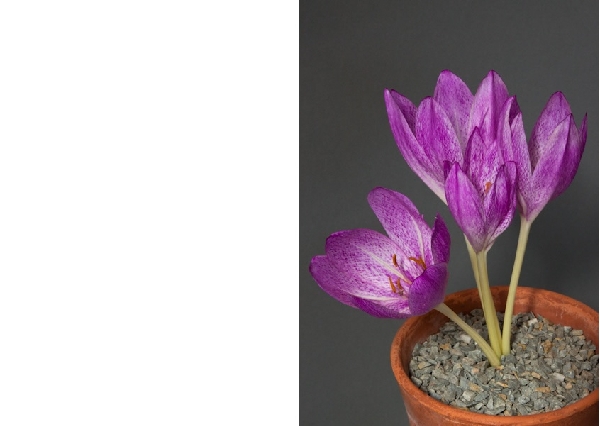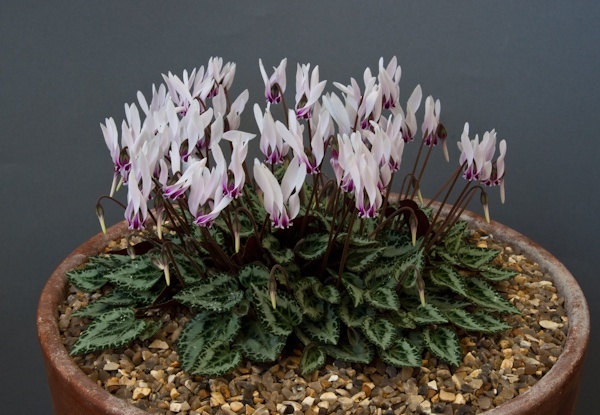 An impressive pan of Cyclamen graecum subsp. candicum was staged by Pat Nicholls; it had been inherited fifteen years ago from John Lonsdale when he moved to America. Its porcelain-white, twisted petals, pink-tinged at their centres, created an impressive display that provided a contender for the Saunders Spoon. Repotting every three-four years in a very gritty mix and housed in a damp sand plunge over the summer but kept dry within the pot ensures it flowers to its maximum potential.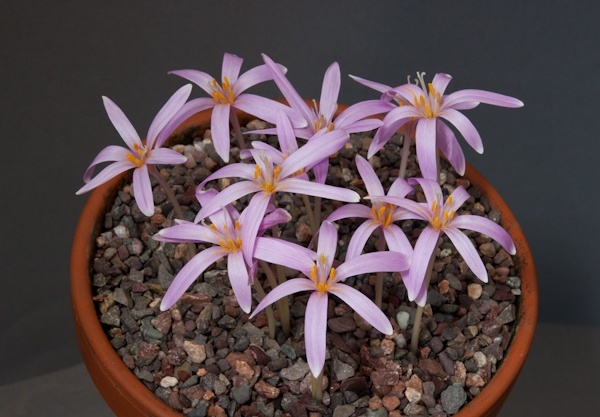 The winner of the Halsted Trophy for the best plant in seed raised classes was George Elder with a pan of Colchicum aff. umbrosum. Sown in 1994 from AGS seed, a pan of delicate narrow petalled lilac flowers with bright yellow stamens had resulted. Others are grown in the exhibitors' garden but the winning pan spends the rest of the year in an uncovered sand plunge and receives a light Tomorite feed once a year and, occasionally, a potassium feed to supplement the bulb mix of John Innes no. 3, Perlite and sand in which it is grown.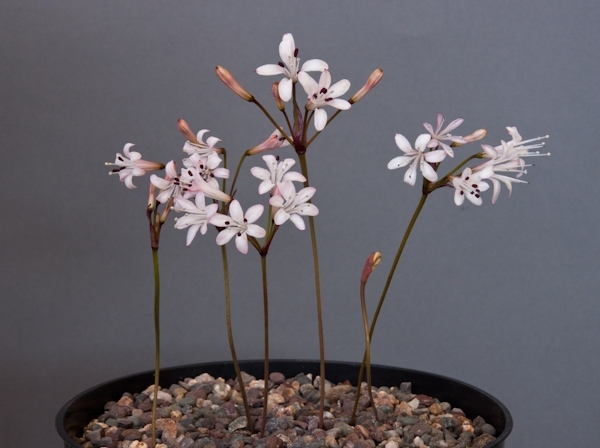 George also received a Certificate of Merit for an accomplished pan of Strumaria watermeyeri. This had been grown from fresh seed in 2005 and first flowered two years ago, its sprays of tiny flowers rather Nerine-like, and emerging at much the same time. The dark brown stamens provide an effective contrast against the white-striped tepals. Kept very dry when dormant (as you would expect of a South African native) and only cautiously watered when in growth, but stood on damp sand, it responds to a dilute feed of Tomorite once a year in order to to keep it looking at its best.
Brendan Wade