Autumn South AGS Show 2011
The first of the autumn shows was blessed by the sun shining brightly throughout the day, bringing welcome light to both plant and photographic exhibits. This was a show which relied fairly heavily on the 'background' foliage plants and the well supported bulbous classes.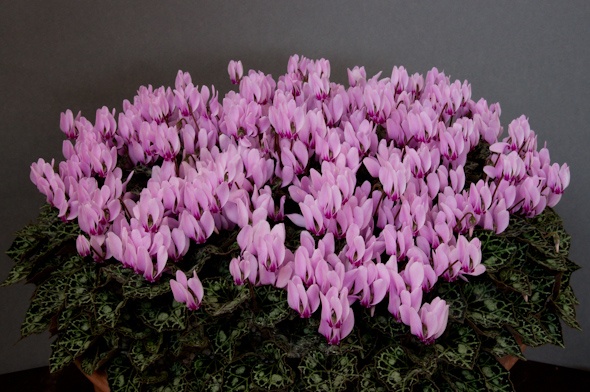 Several exhibitors commented that the season had been very difficult for both gentians and cyclamen, although looking at Ian Robertson's excellent specimens of the latter one would not have known. His fine Cyclamen graecum subsp. anatolicum, a Farrer Medal contender, was awarded the Saunders Spoon for the best of its genus.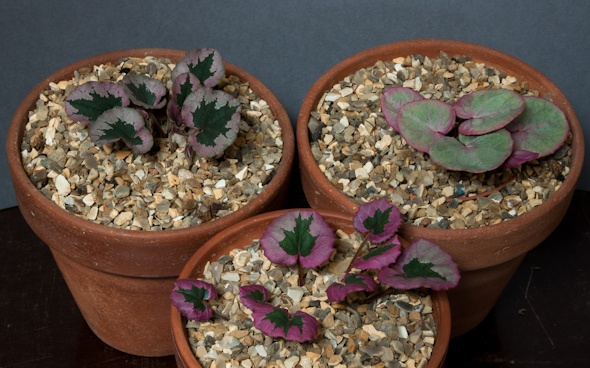 In the small Open seed class, meanwhile, a trio of C. mirabile, grown by Cecilia Coller, displayed entrancing mixtures of greens and contrasting rose-pink edgings on one plant. Bob and Rannveig Wallis staged an eye-catching variant of C. graecum subsp. graecum, dervied from a Melvyn Jope collection (MELJ 9056) made near Rhodopou, Crete, with chubby, mid-pink flowers and heart-shaped leaves with little or not internal markings but thinly outlined with a deep reddish margin.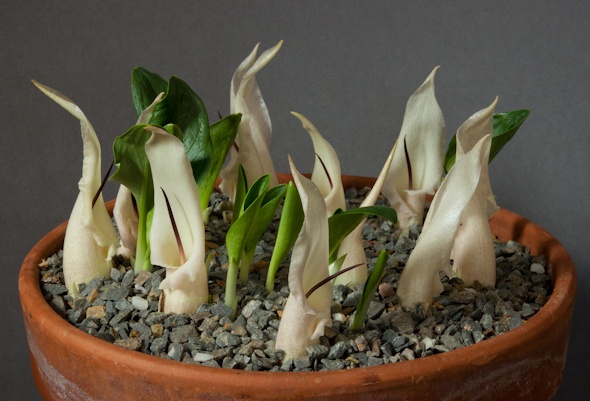 The last-named showed their usual eclectic mix of interesting bulbous material, including a Certificate of Merit awarded huddle of Biarum marmarisense. Each dwarf, creamy, candle-like spathe had a brown wick within the throat. This species has pleasantly scented flowers whereas close by, growing brilliantly in the sunshine, were the rich velvety maroon, much longer floral fantasies of B. pyrami, fortunately too far away for their fairly vile smell to be noticeable.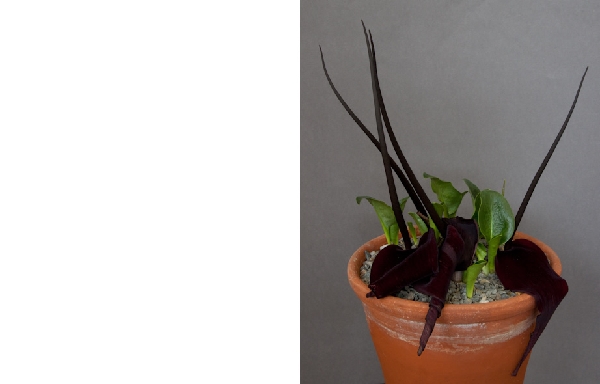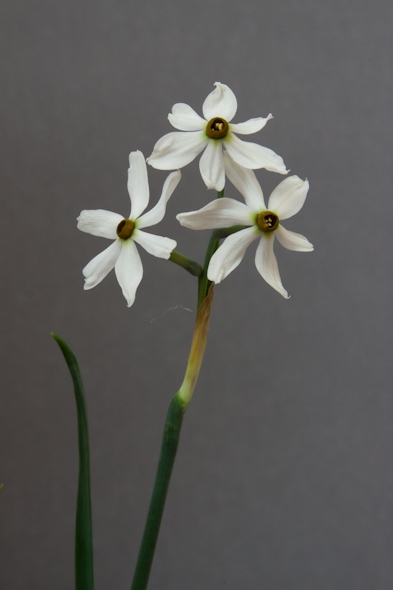 In marked contrast, elsewhere, was the same exhibitors' pot of Narcissus elegans, elegant by name and elegant by nature. The almost snowy-white petals, slightly green streaked at the centre, surrounded light khaki coronas. This North African endemic is often very shy-flowering and is best disturbed as little as possible. Rarely repotted, instead the top layer of compost is just gently knocked off down to the bulb tops and replaced. Unsurprisingly, a warm, dry summer suits it best.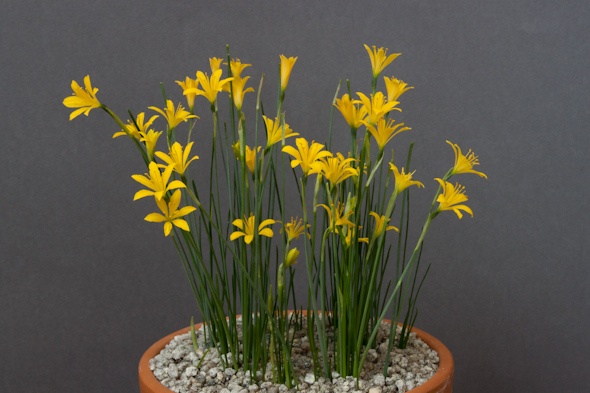 The Keith Moorhouse Trophy was won by Ian Robertson's beautiful pan of another dwarf daffodil from the same general region, Narcissus cavanillesii. This was not the same one shown last year, rather a dozen or so bulbs separated from that clump had burgeoned spectacularly in the meantime and were flowering more generously still. It was part of a small six pan entry that also included a remarkably even group of Crocus mathewii seedlings, from a sowing six years ago, all with that pleasing contrast between the vibrant violet throat and white perianth segments, though they had 'peaked' the day before. For display purposes, many species are only at their best for a few days, even if you 'cheat' and put them in the refridgerator when the buds are on the point of opening.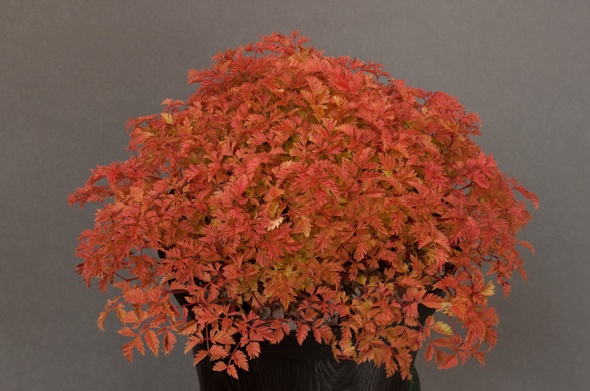 Truly applicable to any autumn show were the entries in the class for a plant "in cone, seed, fruit or showing autumn-coloured foliage", several of them excelling in the last of these categories. The winner was a delicate, multi-hued but predominately reddish Aruncus dioicus 'Noble Spirit', brought from the Isle of Wight by Ivan Pinnick.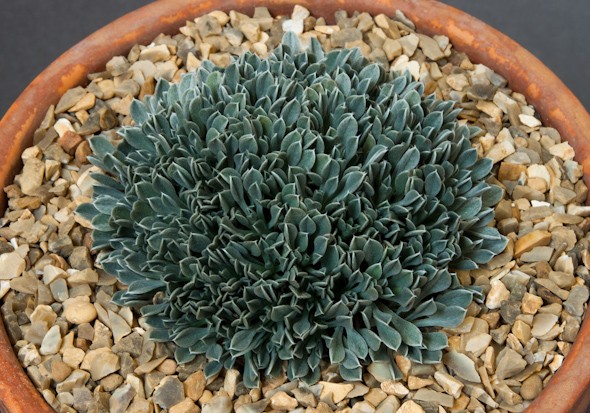 In a keenly contested three pan class, Paul and Gill Ranson exhibited a plant of Myosotis albosericea, showing softly silver-tipped, grey-green leaves. Rather unusually for this species it appeared in a cushion class, the exhibitors observing that they had never before grown such a condensed, immacuately hemispherical specimen. A rarity from the Dunstan Mountains of Central Otago, New Zealand, it produces lemon yellow flowers in May/June, but like most of the genus is relatively short-lived, with a tendency to collapse after three or four years. Collecting the frugal amount of seed typically set is imperative. Fortunately, this germinates both readily and quickly and is grown on in the sort of extremely gritty mixture these expert growers use for the numerous dionysias for which they are better known. Kept in a drier part of the alpine house, it is nearly as striking in foliage as in flower.
Staying with the plants out of flower, show secretary David Hoare received his just reward for a last minute three pan entry in the educational class, in which the emphasis is on providing notes to help inform the public and junior exhibitors about the needs of the plants displayed. He entered three silver saxifrages, one if which, S. longifolia var. aitana, comes not from the Pyrenees, but from an outpost, the Sierra Aitana near Alicante in south-eastern Spain. Unusually for S. longifolia this plant had fashioned a multi-rosetted clump, rather than the dinner plate sized, flat-faced, single spans typically associated with the Franco/Iberian and Moroccan species throughout its range.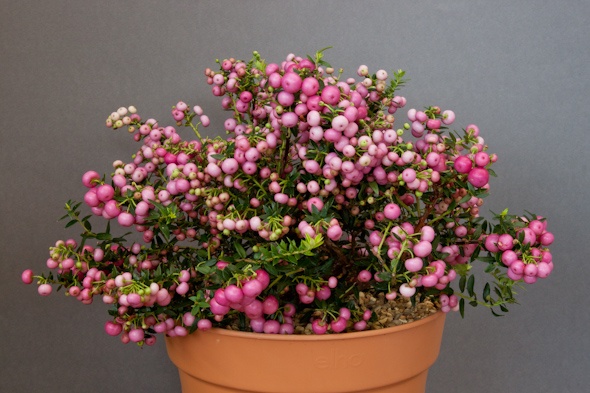 Gaultheria mucronata 'Mulberry Wine' is an RHS Award of Garden Merit plant and Clive Dart's beautifully furnished specimen fully endorsed this recommendation by covering itself in fruits of all sizes. The newly formed berries were tiny green dots, gradually and changing hue from pale to deeper rose pink. Grown in a straightforward mix of equal parts of fine grit, perlite, John Innes No. 2 and leaf-mould, it is a plant that needs to be grown outdoors (perhaps with slight shade in southern England) rather than under glass and better lifted for exhibition rather than pot-grown from year to year.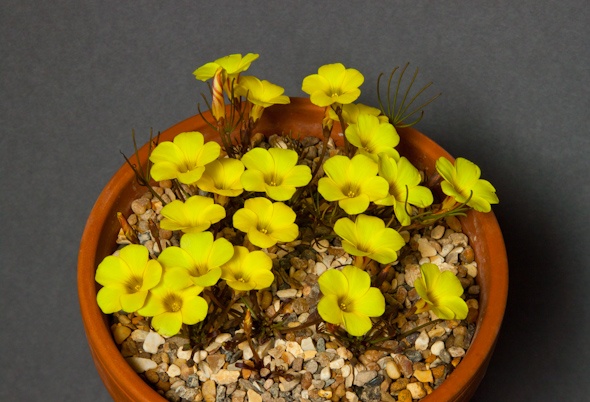 Exhibited as Oxalis flabelliformis and introduced by Francis Masson under that name in 1789, this very showy, large-flowered South African has latterly been treated as part of the O. flava species-complex, butter yellow with a deeper coloured throat in this case, but white and pale violet in other examples. This plant had filiform, glabrous, brownish-green leaves from ovate, fibrous tubers. It blooms from September through to November, rivalling the display from the South American O. perdicaria, which was evident at various other points on the show bench. One of the other synonyms, O. lupinifolia, indicates the neat, deeply-incised foliage. Although found in seasonally damp heavy clays and sandy soils, it is best grown in sandy peat, or a 50/50 mix of John Innes No. 3 and grit. A deeper pot than usual is appreciated and increase by offsets can be generous. Unexpectedly fully hardy, it can be found from Namaqualand south to the Cape Peninsula and east to Riversdale. As yet little-shown, it might well join the ranks of the frequently exhibited, bronze-orange O. massoniana, another autumnal, repeat-blooming species that was shown in other classes by several exhibitors.
The Farrer Medal was awarded to a magnificent pan of golden Sternbergia greuteriana shown by Lee and Julie Martin. This started life as three bulbs bought from that doyenne of the AGS, Kath Dryden, some seven years ago. By the time it reached the show bench it had been repotted in one part loam, one part leaf-mould, two parts grit, half a part of coarse sand and perlite, with a dash of garden lime. Repotted every other year, it had increased to give a display of around three hundred flowers, unprecedented on the show bench. Also of interest was their pan of the same species in the seed-raised classed, which was grown from seed of the main stock and sown in 2005. As with so many seed-raised plants there were minor differences between parent and progeny.
Mary Ridley