Autumn South AGS Show, 2009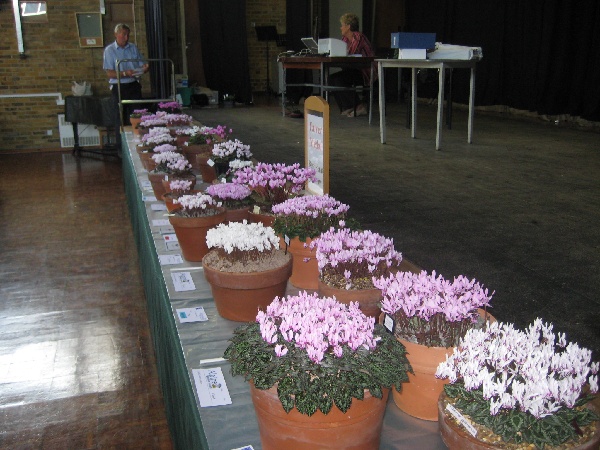 It's always an anxious time when a show is three weeks earlier than the previous year but Dave Hoare and his team had no need to worry. With entries well up on last year and a wealth of good plants, the Rainham show started the autumn season with a bang. Not only good plants but a recent refurbishment of the canteen and reception area has added a high level of comfort for exhibitors and visitors to the show; the nook with the comfy chairs being particularly pleasing to the road-weary traveller. On entering the show hall one could have been forgiven for thinking that the Cyclamen Society had taken over the area in front of the stage.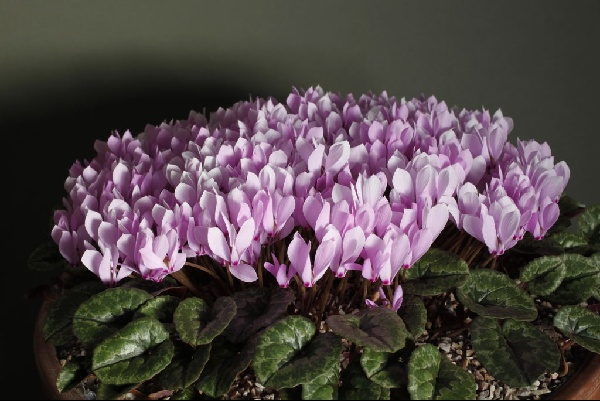 The Farrer medal and correspondingly, the Saunders Spoon for the best Cyclamen , went by unanimous decision to Cyclamen cilicium shown by Mike and Christine Brown.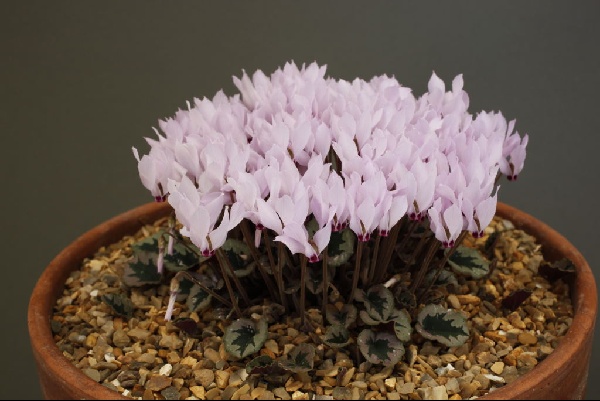 Just a couple of plants to the left came a Cyclamen mirabile (with a hint of Tilebarn Nicholas about it) well worthy of its Certificate of Merit , shown by Mike Chadwick.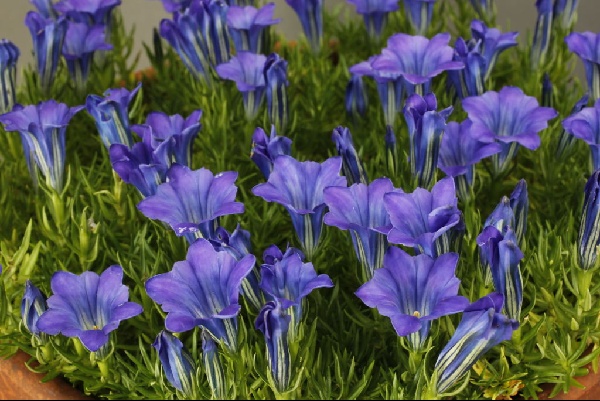 This was the bench to be on; a metre or so further to the left saw the winner of the L W Browne Trophy for the best Gentian, a travelling trophy last appearing at the Newcastle show in 2008, this year's recipient being Alan Newton with a fine pan full of Gentian 'Amethyst', originally a resultant of open-pollination from G. 'Shot Silk'.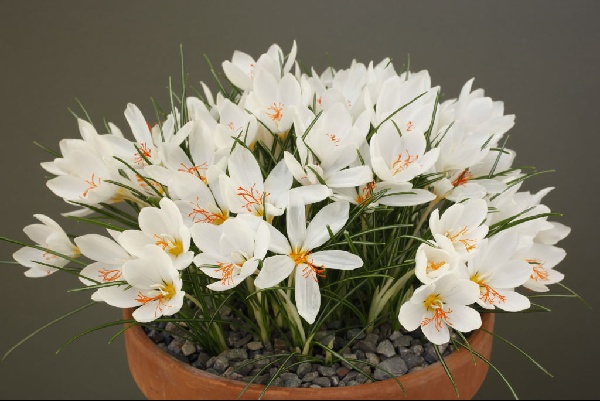 Next to the Gentian was an overflowing pan of Crocus boryi , with large creamy white flowers containing prominent ,many branched orange styles, shown by Lee and Julie Martin, this was awarded the 80th Anniversary award for the best plant in a 19cm pot and was part of the haul which helped them take the Harold Bishop Trophy for the most points in the open section. The Kent Trophy is awarded for the most points in section B, this was won by Clive Dart with a varied selection of well grown plants.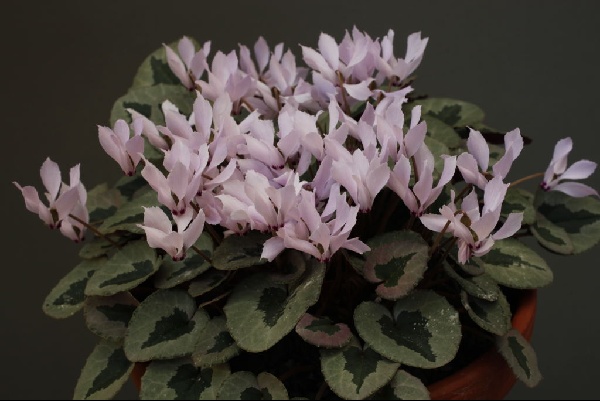 With statistics on your side, it wouldn't be too difficult to guess the genus of plant that the Halstead Trophy (best plant in seed raised classes) was awarded to – yes, you guessed, a Cyclamen – Cyclamen mirabile to be precise , shown by Bob and Rannveig Wallis. A plant from the south-western Anatolian region of Turkey, which is extremely cold in winter, belying its delicate looks, so hardiness is not a problem in cultivation but better if relatively dry conditions can be found at this time.
Cyclamen mirabile was the plant to show this year, another example, this time from section B, was also awarded a certificate of merit, shown by K Scott.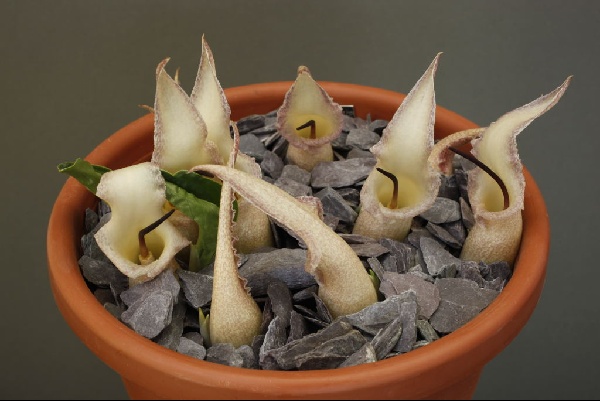 Another plant from south western Turkey, this time Biarum marmarisense shown by Cecilia Coller, also received a certificate of merit; usually a difficult plant to flower this pan showed the cultivators skills with ten of the pale greenish-white speckled spathes sitting broodingly atop the top dressing.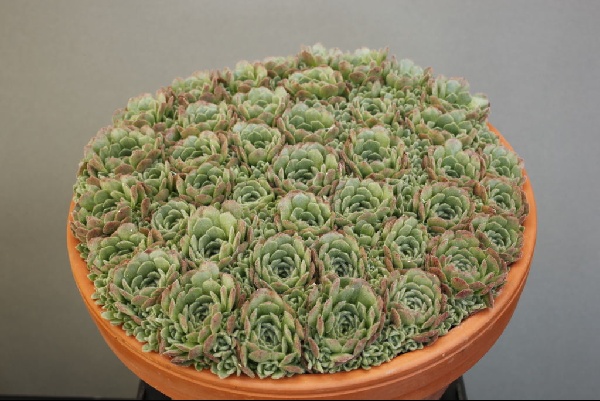 Another Certificate of Merit, this time coming from Section C, was awarded to a mathematically symmetrical pan of Rosularia serpentinica, shown by Tony Hale. A plant of western Asia at altitudes between 2 000-3000m in dry rocky crevices, this specimen originating from material found on the Honaz Dag of Turkey – Tony also won the Sussex Trophy for the most points in section C.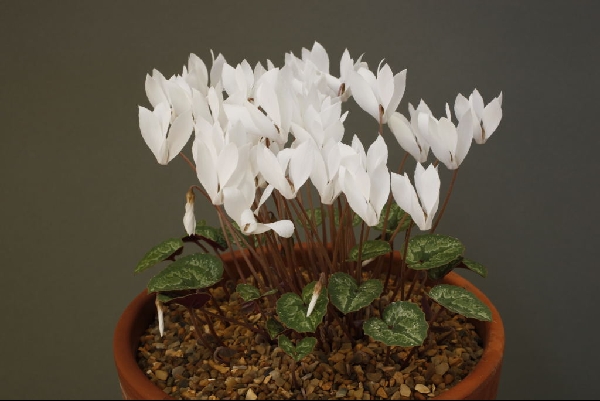 The fifth and final certificate of merit went to – yep - another cyclamen, this time a stunning plant of Cyclamen cilicium album, with large shuttle-cock shaped, purest white flowers without the normal tubular 'nose' to the flower; no prizes for guessing that this was once again shown by Mike and Christine Brown.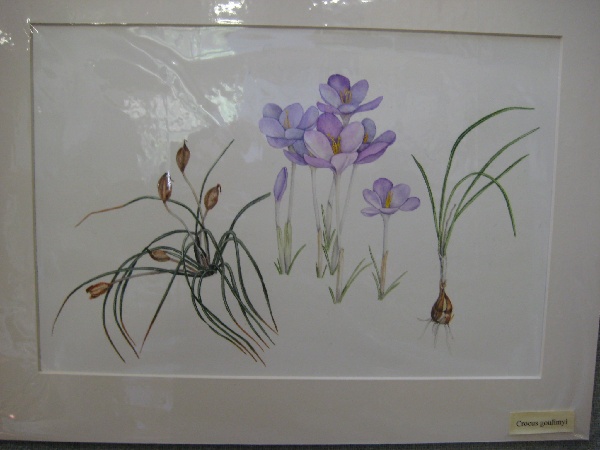 This show also boasts a fine artistic section with the Artistic award for most first prize points in the open section being won by Kathleen Baker, whose botanically accurate study of Crocus goulimyii particularly impressed the judges, and the corresponding award for section B being taken by Ju Bramley. With very easy access from the M2 and plenty to do in the surrounding area, Autumn show south is well worth a visit – if only for the comfy chairs.
Ray Drew