Autumn North AGS Show, 2014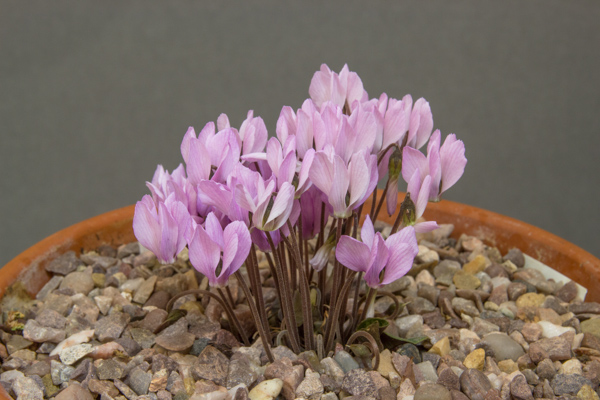 While this was the earliest of four consecutive autumn shows, by mid-September a number of plants traditionally exhibited around this time had already long since peaked. One attendee, viewing the preponderance of Cyclamen intaminatum in the small three-pan class for the genus, remarked that his best plant of this elfin species had flowered early in August, long ahead of its accustomed September-November schedule. It was certainly not alone in its precocious behaviour [picture: Ivor Betteridge's C. intaminatum].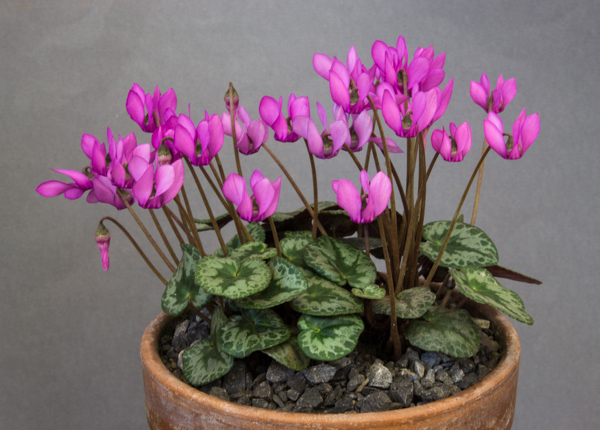 On the other hand, C. purpurascens, the quintessential summer-flower Cyclamen, its performance often starting to peter out by early autumn, was shown by several exhibitors in excellent condition, with Peter Hood's plant the most appealing (the flowers a really deep pink, and fragrant to boot), and Steve Walters' 36cm potful the most imposing ‒ a close-packed, mighty dome of leaves, some of these fully 10cm long, with the last in a long succession of flowers bobbing cheerfully atop.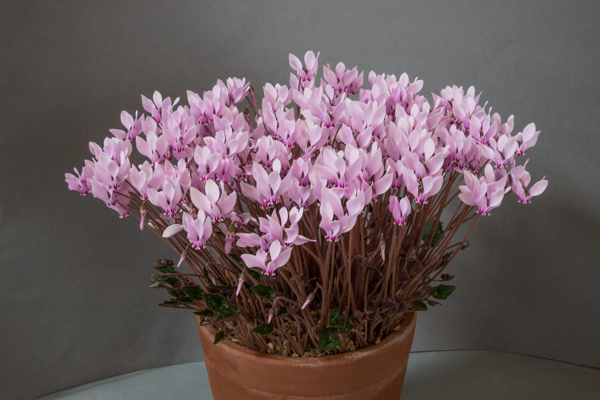 A stalwart of the Cyclamen Society, but a newcomer to AGS shows, Steve brought along a generous range of other species, his lavishly flowered, 25 year-old C. hederifolium subsp. crassifolium unanimously voted best in show, and only denied a Farrer Medal because the stems and the petioles of the as yet scarcely developed leaves were deemed slightly etiolated ('Give me half an hour, a slightly larger pot, and plenty of topdressing, and I'd soon get round that difficulty', a wily exhibitor said to me afterwards). First recognised by Hildebrand in 1907, his classification revived (though at subspecific level) just over a century later, this taxon from southern Greece and some of its islands (possibly Sicily too) has sturdy flower stems and notably fleshy leaves, their diverse patternings among the most attractive for the species as a whole, from which it can also be separated by a different chromosome count. This particular example represents a 1999 introduction from Zakinthos by Pat Nichols, shortly after the exhibitor first became interested in the genus. Mature plants in what is clearly a sizeable collection are grown unplunged in deep clay pots and clearly relish the extra root run provided.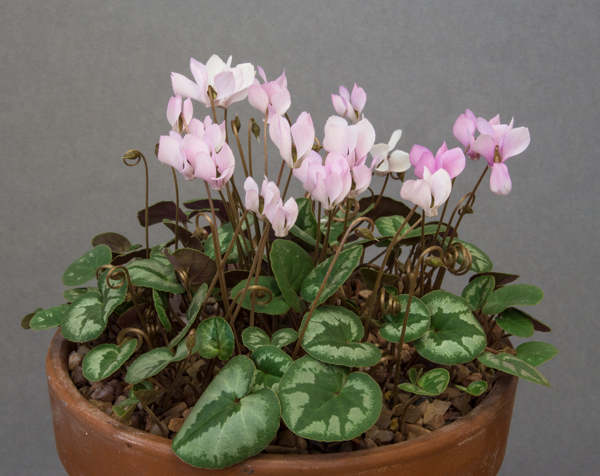 Cyclamen specialists are more generously distributed in the south and west of the country, so it was fortunate that the Pontefract show was well-supported by northern exhibitors such as Steve Walters (who travelled east from near Holmfirth) and another aficionado, Bob Worsley, who came from rather further afield with a very serviceable array of plants that won him the Carter Shield (for most first prize points in the Intermediate Section) and the Colin Field Memorial Trophy for yet another example, or rather examples of C. intaminatum, the hallmark pencilled flowers white through to a delicate pink, the leaves differently marked from one intermixed seedling to another.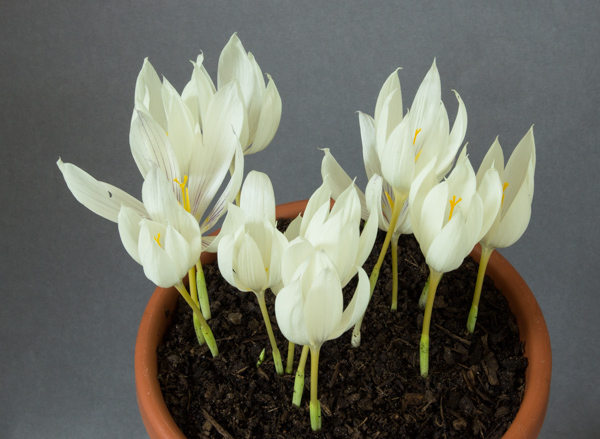 On the whole it was too early for the autumn crocuses, though of the early ones C. vallicola, shown by Alan Furness, and sown in July 2009, was the recipient of a Certificate of Merit. It too showed differences from one flower to the next in the intensity of venation, sometimes pronounced enough in this regard to impart a violet flush, and so confirming that this was not derived from the same clump shown to such acclaim a few years ago. (That virginal stock was violated by a rapacious coterie of Northumbrian voles and is no more.)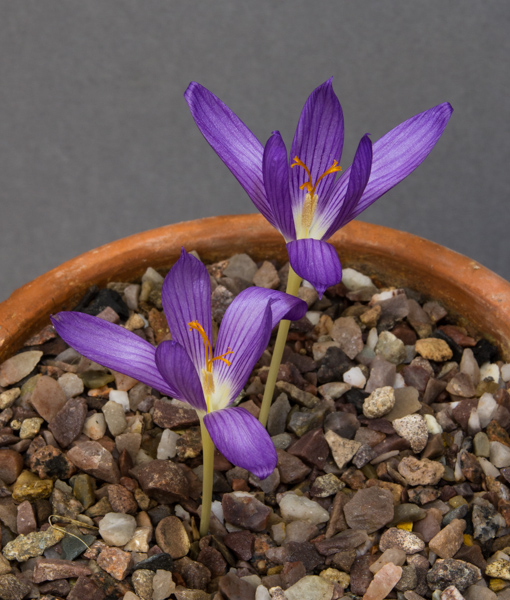 A rarer still, localised close relative, the white-eyed, violet-pink C. autranii, was shown in a small pot by Ian Kidman, who some years earlier very generously gave the present writer some seedlings. But whereas his have gone from strength to strength, mine must surely have been non-flowering forms one and all, for the only other explanation is that ineptitude accounts for the discrepancy in performance. A fairly high attitude endemic of NW Georgia that, like the foregoing, needs to be repotted early, in June, and not dried out at any stage, of it Henrik Zetterlund once wrote that he wouldn't part with corms for any amount of money, but he has given them away, on a number of occasions, and it is largely due to Gothenburg Botanical Garden that this species has strengthened its foothold in cultivation.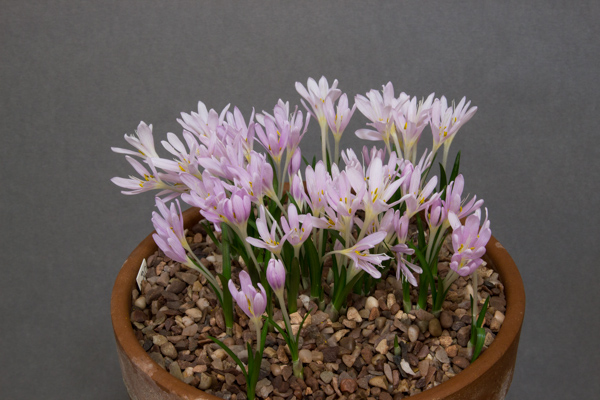 Several unusual colchicums were exhibited, most noteworthy among them Dave Riley's sizeable panfuls of Colchicum pusillum, the corms received from Rannveig Wallis long ago, since when they have increased very freely indeed. Of the really small species, it is almost invariably C. cupanii that appears on the show bench, but that more extensively distributed species often has its leaves partly developed at flowering time, and there are typically two of these per corm, whereas C. pusillum quadruples, quintuples or more that count (though they are not present when the pale lilac flowers are produced) and its punctiform stigmas are a ready means of identification before then. It can be found at sea level on occasion, but also gets up to around 1,400m, and has a more southerly and easterly distribution, from the Peloponnese to Karpathos and Crete. Its gracefulness was accentuated by an infelicitous but instructive juxtaposition with a slightly skewed flower of the comparatively Brobdignagian C. 'Waterlily' a few feet away: this liked and loathed in equal measure double needs the space of a garden border, not a pot, to look in scale.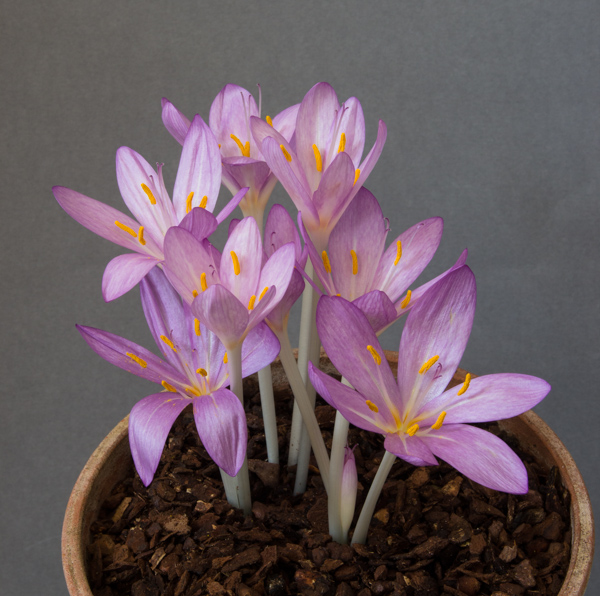 Another comparison: Alan Newton had a lovely C. troodii from a sowing nine years ago, derived from a Mike Salmon collection on Cyprus, with lightly tessellated, pale pink flowers of moderate size, lit by a central clustering of yellow anthers. For preference best afforded the shelter of a bulb frame, it looked remarkably like Don Peace's C. decaisnei on the bench almost directly opposite, and neither of us could see where the differences might lie. Back home, a rudimentary check revealed that they are deemed conspecific, with a full range that extends to include southern Turkey, Lebanon, Israel and Syria, where it typically flowers in October, colonising oak scrub or stony hillsides (Cypriot plants are often wider in leaf, and can be found at up to 2,000m, associated with coniferous woodland).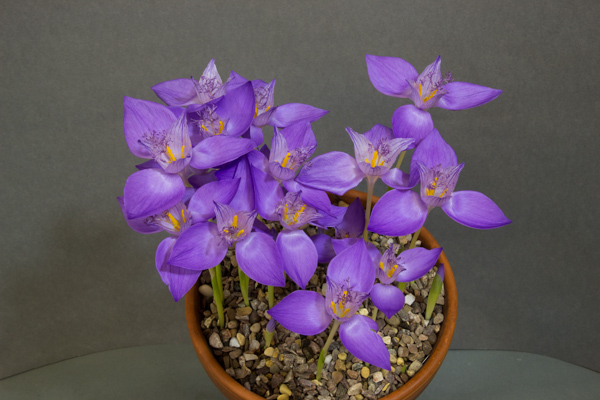 Don received the North of England Horticultural Society's Cup for the most first prize points in the Open Section, and had a very good small three-pan comprising the aforementioned Colchicum, a lusty, in its prime grouping of Crocus banaticus (a few days either side and it would have been better left at home; such are the vagaries of exhibiting this genus) and a handsome clump that bore the label Sternbergia sicula, winner of a further Certificate of Merit [below].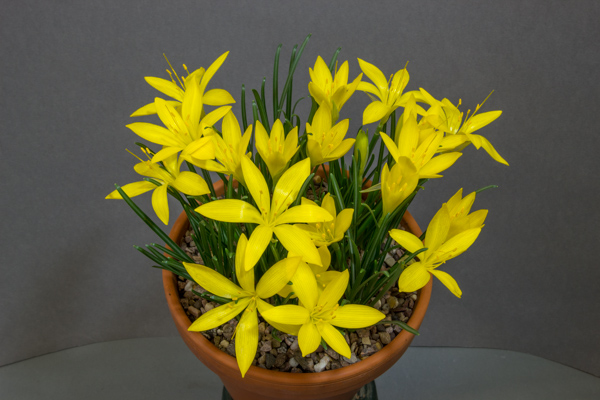 As John Richards, one of the judges (and pertinently the coiner of the term 'halfers' for some intermediate yellowish forms of Galanthus nivalis in Northumberland) observed, this fell midway between that species and S. lutea ‒ var. angustifolia has been used to describe such plants under the general heading of the latter species. Grown side by side, the two species in their definitive forms are easy to separate by their leaves, those of S. sicula splayed and with a white central stripe, those of S. lutea broader, more erect, and greener. Occasional intermediates unhelpfully, mischievously muddy these distinctions.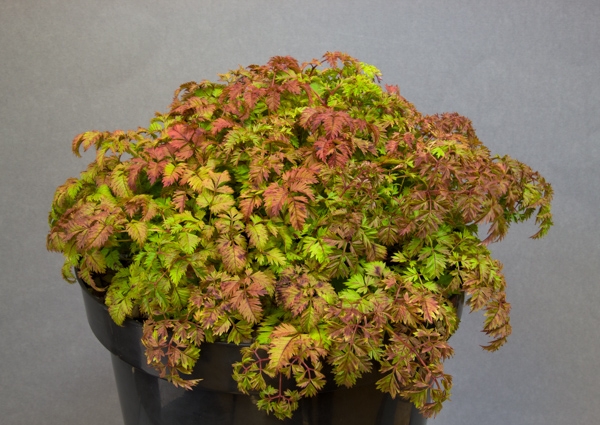 Close study of the various exhibits shown for their foliage alone was amply rewarded time and again, for although the full array of autumnal tints had not yet come about (few if any exhibitors had recorded so much as a grass frost in a generally very benign start to autumn), there was nonetheless much to enjoy. Aruncus aethusifolius colours early, particularly if kept on the dry side, and was shown extensively, most effectively of all by Colin & Kathleen Billington: the much-dissected leaves burnished every shade of yellow-ochre, copper, russet and red. Alan Furness had a distinguished set of New Zealanders, two of them celmisias seen previously, but here with the dazzling yoking of a 30cm, truly silver (rather than greyish-green) low hummock of Leucogenes grandiceps, raised from seed sent to him by New Zealander Steve Newall. I've never seen a healthier, more gleaming example, which I was later told takes well from cuttings, and performs very well indeed outdoors.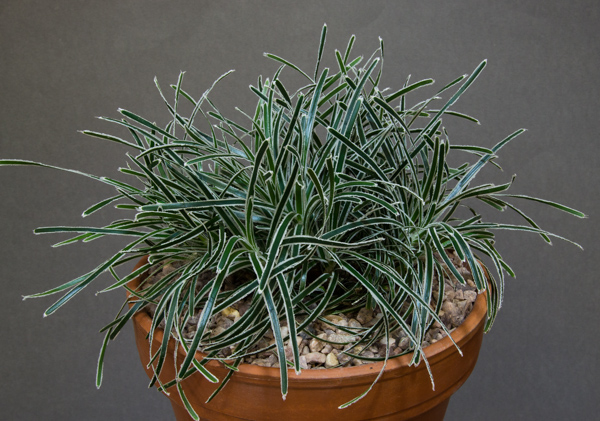 The same hardiness rating cannot be applied in the case of two others, first off Ivor Betteridge's Ficinia truncata 'Ice Crystal', with strap-shaped leaves like some improbably white-rimmed sea anemone: the genus gets as far north as Ethiopia, but this and most other members of the genus are from southern Africa, and require full sun and (at the very least) cold glass winter protection. To quote a second time from John Richards, who judged with me a class that also included Aeonium tabuliforme, which he has seen on Tenerife: 'One really hard frost and both would be killed outright'.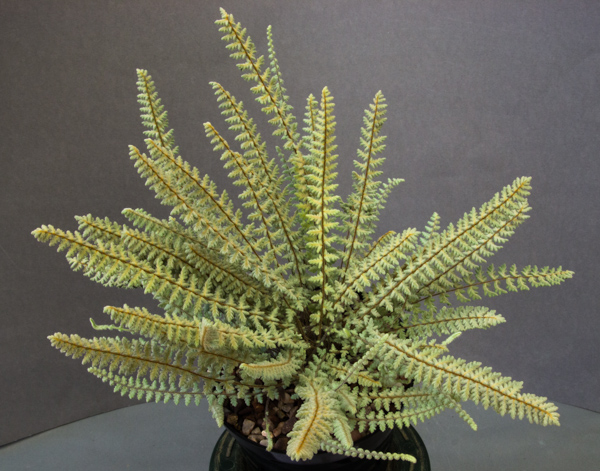 Winter wet rather than cold conditions per se would be the downfall of Cheilanthes yatskievychiana, the most beautiful of all recent introductions of that repeatedly beauteous genus, given to Tim Lever by long-time champion of the genus Clive Brotherton (a one-off display mounted by him at the Birmingham Show in the early 1990s remains a very happy memory) some five years ago. Grey-green felted, and with fronds of moderate length (15-20cm), precisely toothed along the entirety of their densely tomentose subdivisions, it was elegance personified. Discovered in 1996 but not described until ten years ago, it is narrowly endemic to the Sierra del Aliso (Mexico), an eminence within the Sonoran desert, and it needs the same treatment as other dryland species from further north, C. eatonii the most popular of these, and its closest rival in the pulchritude stakes.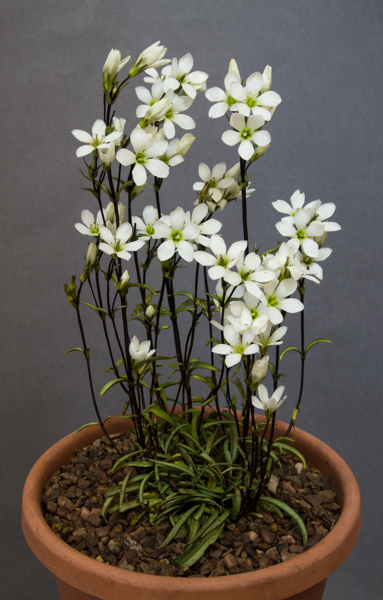 And finally, speaking of beauty, of the few gentians and gentian-relatives staged, Alan Furness's Gentianella serotina was far and away the finest of those present. A short-lived, occasionally perennial (rather than biennial) species from New Zealand's South Island, the clustering shown was from an AGS Seed Distribution allocation, sown in January 2012. Alan has made something of a speciality of its close relatives (one fondly recalls his past exhibits of G. corymbifera and G. patula in particular) but this is arguably handsomer still, to 20cm tall, with dark, almost blackish stems, and outward-facing, white, deep-veined and dark-anthered cascades of flowers from the upper axils. Sometimes found in substantial numbers in tussock grassland and alluvial sites close to rivers in the Canterbury region, it is a plant for the dedicated gardener, who is prepared to raise successive generations from seed (leave it to its own devices and it will like as not die out) ‒ but what nicer to bridge the transition from summer through to the first weeks of autumn?
Author: Robert Rolfe
Photographer: Jon Evans