AGS International conference Show, 2011
The show at the International Conference is always eagerly anticipated by exhibitors of both the Alpine Garden Society and the Scottish Rock Garden Club because it offers the only opportunity in a decade to win a Farrer Medal and a Forrest Medal for the best in show. It is rumoured that some exhibitors start planning to win next time as soon as they get home from the conference! This could not have been the case on this occasion, however, because the winning plant, a stunning specimen of the queen of the trilliums, T. grandiflorum, was already a decade old when we met at Edinburgh in 2001! The winning exhibitor, Chris Lilley, must have been particularly thrilled with his success because he had never won a Farrer or a Forrest before. As the photograph shows, the plant was covered in more than 70 pristine flowers held aloft over unblemished foliage, a triumph of careful cultivation over a prolonged period. Chris grows the plant outside and only repots it occasionally, preferring to feed it once a year with a high potash tomato fertilizer.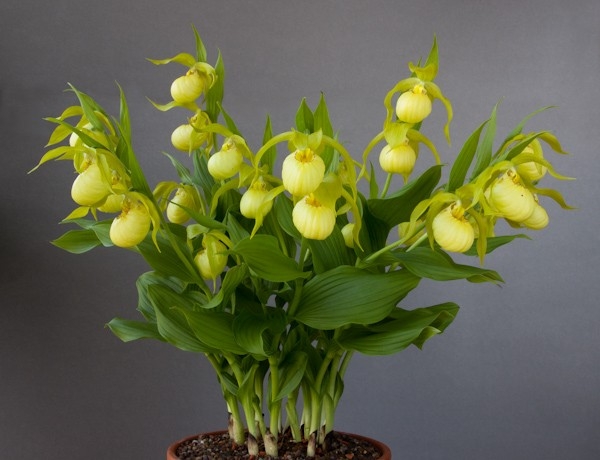 The runner up in what was a very close competition was a wonderful Lady's Slipper orchid, Cypripedium fasciolatum x henryi 'Ursel' shown by Cyril Lafong. This large-flowered form of the hybrid was selected by Peter Corkill, who only kept about six of the many seedlings raised from the cross, this being one of the best. The plant, which was c. 7-8 years old, bore more than 20 perfect flowers over unmarked foliage, a considerable feat of cultivation.
Cyril Lafong showed several other outstanding plants, including a large cushion of that old favourite, Androsace vandellii, which won the Ione Hecker Trophy for the best pan of Primulaceae and a Certificate of Merit (COM).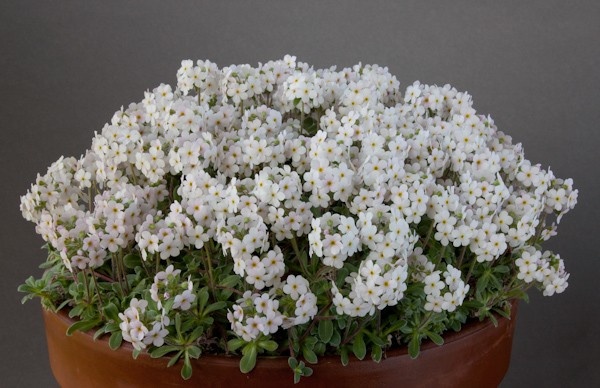 Its Asiatic cousin, Androsace studiosorum 'Doksa', in fine fettle and covered with its heads of white flowers over densely hairy rosettes was also awarded a well deserved COM for its owners, Lee and Julie Martin.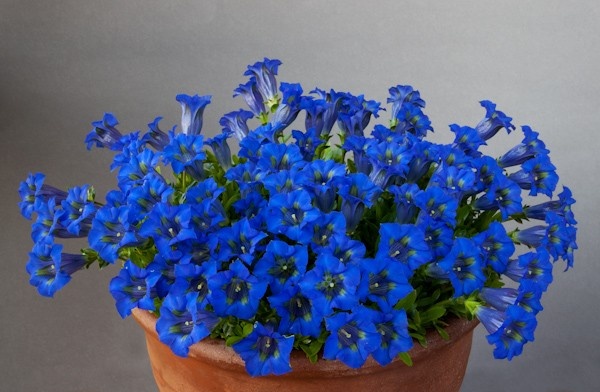 Also outstanding, and winning a COM, was another old favourite, and logo of the AGS, Gentiana acaulis. As the photograph shows, this 30 cm potful, shown by Peter Semple, was covered with flowers, not an easy task, and was much admired by all who saw it.
The Bill Tubbs trophy for the best pan of Ericaceae was won by a splendid, very healthy looking potful of the Curry County form of Kalmiopsis leachiana shown by Dave Mountfort. This is probably the darkest coloured form of this lovely plant, with more red in the flowers than most. It is not a difficult plant to grow but is not easy to maintain to a large size in this condition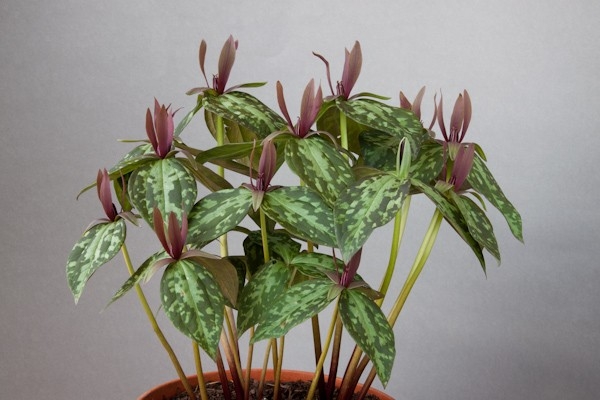 The Kath Dryden Award for the best bulbous plant in the Intermediate and Novice sections was won by a nice exhibit of Trillium cuneatum with very strikingly marked leaves shown by Paul Street. Individual plants vary greatly in this respect and it is worth looking out for the best and propagating them vegetatively. This can be done, whether in a pot or in the garden, by exposing a section of the rhizome with one or two growing points in spring, just as growth is beginning, and slicing it off with a very sharp knife. Autumn offers the other opportunity for this rather drastic operation, but divisions made at this time have to survive the winter before making new growth, and this is always more of a lottery.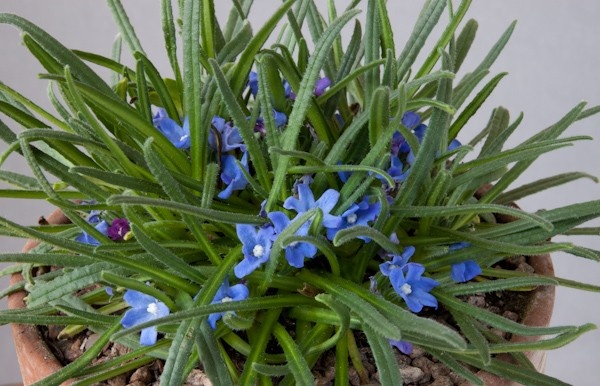 The Donald Lowndes Memorial Bowl for the best plant in the Novice section went to Julie Parrott for a plant of the Cretan endemic member of the forget-me-not family, Anchusa caespitosa. While this was a fine plant showing skill in cultivation it could have perhaps been ever better, with a greater proportion of flowers to foliage, if the grower had used a leaner compost, as the wild home of this beautiful plant is on stony limestone slopes with little soil to provide nourishment.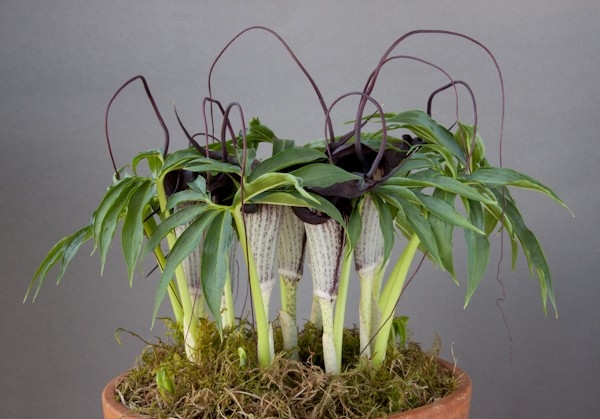 Arisaemas are not by any means everyone's cup of tea, but there was universal agreement among the judges that the plant of Arisaema thunbergii shown by Tony Lee was something special, and they awarded it a COM. It was perhaps the balance between foliage and flowers and the overall compactness of the plant that gave it special appeal, and several who grow this species opined that it was a particularly good form.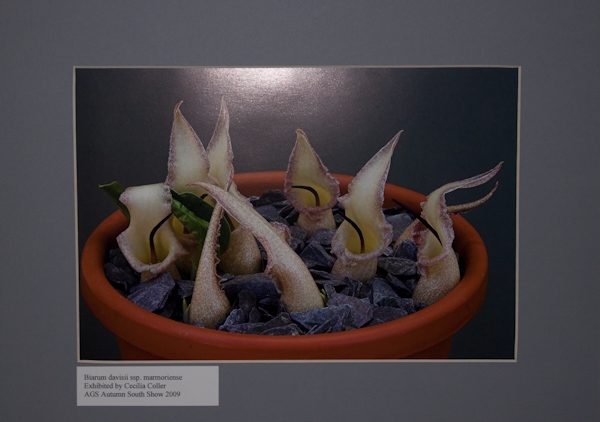 This show was as memorable, perhaps more so, for the range (104 entries, 267 exhibits) and quality of the entries in the Artistic Section as it was for the plants on the benches. This section within our Shows continues to expand and improve in quality, which is in no small part due to Jon Evans who encourages and cajoles potential exhibitors to take part. It was fitting, therefore, that Jon should have received a Large Gold Award for his exhibit entitled '10 years of photographing alpines' that was full of interest. In addition, one of his photographs, of Cecilia Coller's plant of the enigmatic Biarum davisii ssp. marmarisense won a COM. .
Another large Gold Award was made to the Woking and West and East Surrey AGS groups fine exhibit entitled 'World of Alpines'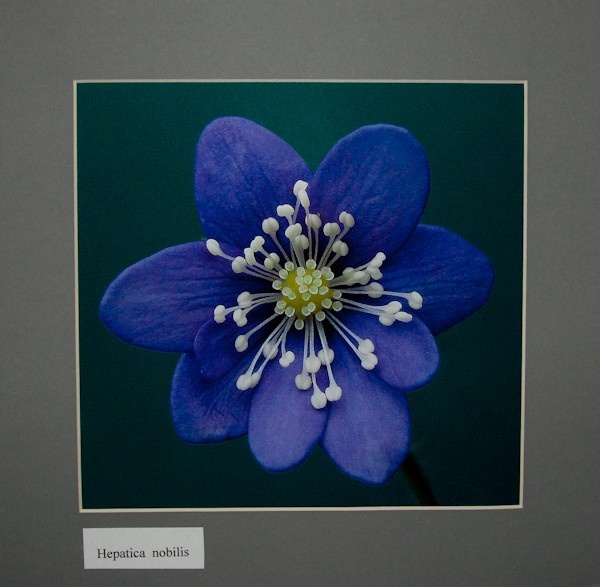 Also in the Artistic Section, COMs were awarded to Graham Nicholls for a photograph of a single flower of a piercingly blue form of Hepatica nobilis that showed the glistening white anthers to perfection,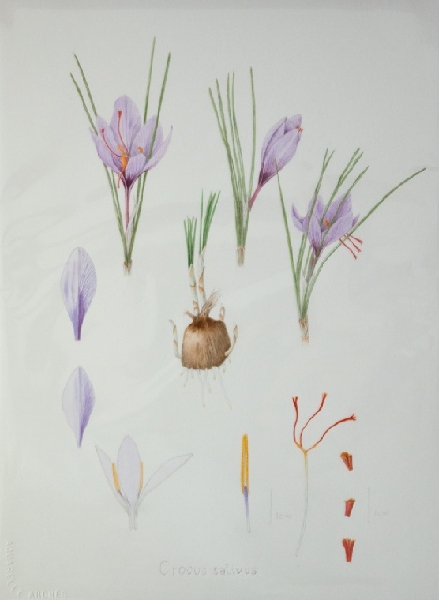 Finally, the Florence Baker Award for the best botanical illustration went to her namesake, Kathleen Baker, for an exquisite painting of Crocus sativus.
There were many other outstanding exhibits in this wonderful show, including the six plants that won an AGS Medal for Ian Kidman in the class for six small pans, and we must not forget the many exhibitors who were not fortunate enough to win the glittering prizes, but who nevertheless helped to make it such a success.
John Good