South Wales AGS Show, 2008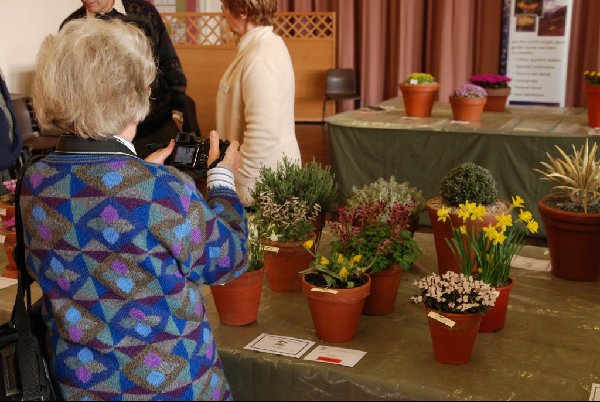 Alpine weather heralded the 2008 AGS Show Season. De-icing windscreens delayed departures when overnight temperatures plummeted to -4 C! However a warm welcome from Rannveig and Bob Wallis and their team on arrival at Caerleon soon raised spirits. While the exhibits basked safely in the cool but bright conditions in the hall, their owners thawed out over hot tea/coffee and sustenance and enjoyed the usual beginning of season chatter. As plants appeared on the benches it became apparent that the usual daffodil yellow was not to be the dominant colour this year indeed cyclamen & primula pinks and magentas stole the show. Everyone agreed early narcissus flowers were uneven and sparse and blamed the hot weather conditions last April encouraging the plants to die down long before good flowering bulbs were formed. Exhibitors always rise to an occasion and South Wales enjoyed a remarkable range of quality alpines; including excellent crocus, snowdrops, primulas, cyclamen, iris and dionysias together with a sprinkling of corydalis, fritillaries, epigeaeas, chionodoxa and hyacinthoides, reminiscent of past early March shows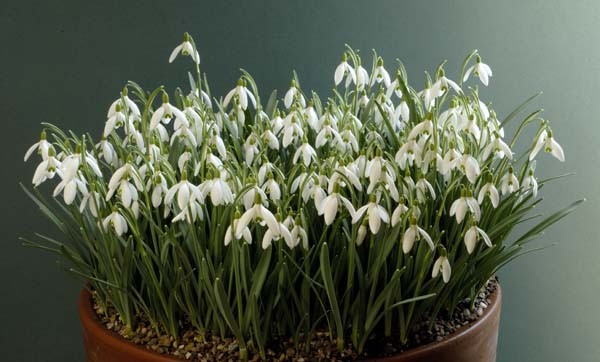 Snowdrops were represented by the new and the rare and the little and the large. Many out on the 'galanthophile trail' would have been delighted to see the well flowered specimens of G transcaucasicus and G.artjuschenkoae not to mention a large pan in full flower of G. 'Bill Bishop' and the 'show stopper' pan of G. nivalis (right) which walked away with the Galanthus Goblet for Alan Keay from Birmingham. The bulbs were potted up a couple of years ago, when rescued from an 18th Century Worcestershire farmhouse garden about to be 'devloped'!!
Crocuses made a colourful appearance, a small pan full of C. etruscus (left) – open at judging time - stealing the red sticker from a half open pan of C.dalmaticus. Once again a number of pans of C.sieberi ssp. sublimis 'tricolor' made their appearance on the benches, gaining a red sticker in section B for Peter Summers, who buys bulbs each year to provide colourful pans for the early shows. A good tip for members starting in section C – bulbs bought in August would be eligible for the early shows.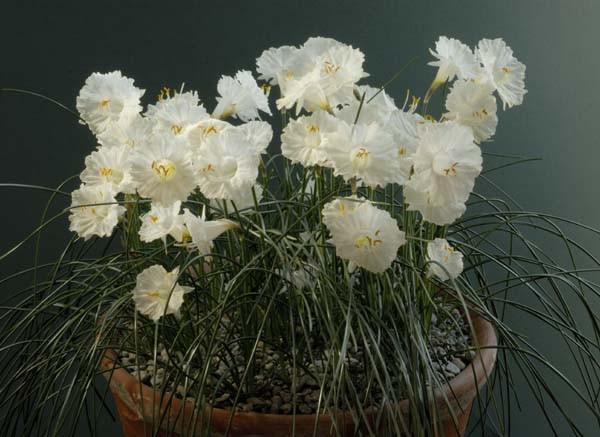 One or two pans of narcissus worthy of mention were N. 'Gipsy Queen' & N. eugenae both of which are rarely exhibited and N. cantabricus var petuniodes (ex seed) - right - from Jim and Jenny Archibald, a lovely pan full of flowers virtually undistinguishable from the original selection, which Jim feels are no longer vigorous and may be 'dying out '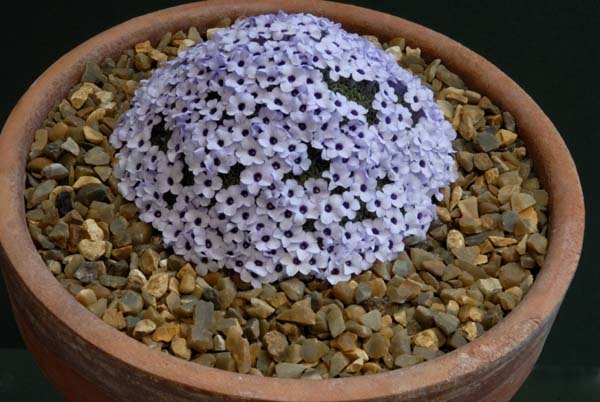 A 'to die for' selection of dionysias from leading growers and exhibitors graced the benches, including D. diapensiifolia SLIZE 253, D. curviflora and D. afghanica GW/H1308 (awarded a Certificate of Merit) - left - and a delightful small pot of D. 'Lycaena' which helped Alan & Janet Cook from Dinton win the Gwent Trophy for most 1st prize points in Section B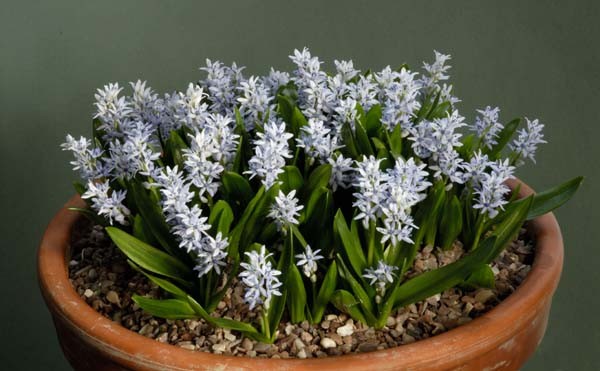 Nowadays, 12 inch pans of Primula allionii are not much in evidence, but local exhibitor George Elder produced a venerable plant in pristine condition, bought some 20 years ago at the Bristol Show. Smaller pans including P. a. 'Anna Griffith' and the rarely seen P.a. 'Pinkie' displayed the range of size and colour available. . A rarely exhibited plant of Hyacynthoides aristidis (awarded a Certificate of Merit) - right, Iris reticulata 'Blue Ice' and Chionodoxa cretica, added an interesting blue note to the show and Adonis amurensis, not quite the show stopper of yester year, but notheless a worthy first and Epigaea gautherioides made a welcome return to Caerleon.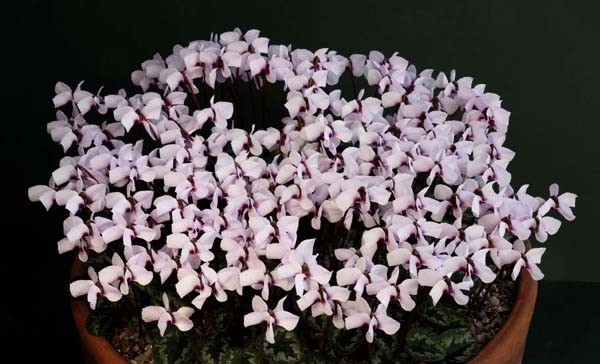 Without doubt the cyclamen dominated the benches this year, from the 12" pans in the Large Open Section down to a perfect tiny high alpine form raised from seed. Colours ranged from white through delicate pink to deep magenta and all shades between, so not unexpectedly the judges awarded the Farrer Medal to a 12" pan of Cyclamen alpinum a worthy winner for Mike and Christine Brown.
The Open Section of the show was well supported, B Section staged some interesting quality plants from 5 or 6 exhibitors, but once again C Section had very little support. Congratulations to Douglas Forsyth a young member who won the Caerleon Cup for C Section, thank you for making the effort to bring along your plant and we hope it will encourage you grow and show more plants in the future.
The South Wales Show brings a breath of Spring in the midst of February, it is an easy venue to reach from the M4 & M5 motor ways, and well worth the fee to cross the new bridge to enter the Principality. It is a friendly relaxing show, ideal for beginners so why not make a start now and plan an entry for 2009. You will be sure to receive a warm welcome and who knows you may find a future Farrer Medal Plant among the excellent and unusual plants for sale from leading nurseries and growers.
Val Lee