Kent AGS Show, 2014
The day dawned and it was a beautiful one, in fact so nice that I thought I should be out on my motorbike for a quick spin to our local bikers tea hut, but instead the Kent Show beckoned. I was really eager to go, for this show is my favourite. It comes soon after the show I organise, (Early Spring), and it's nice just to be able to enjoy the show and the fabulous plants. So while my partner Steve was busy staging his entries, I had a first look round to see if anything caught my eye.
Sadly the large Open Section was a little thin on the ground, but things got busier in the 19cm pan limit classes. There was a very full shrub class. In the Novice Section just two entries, so all to play for! At the entrance to the show, the artistic competition was very well represented, and at one point during staging, it looked as if there wouldn't be enough display boards.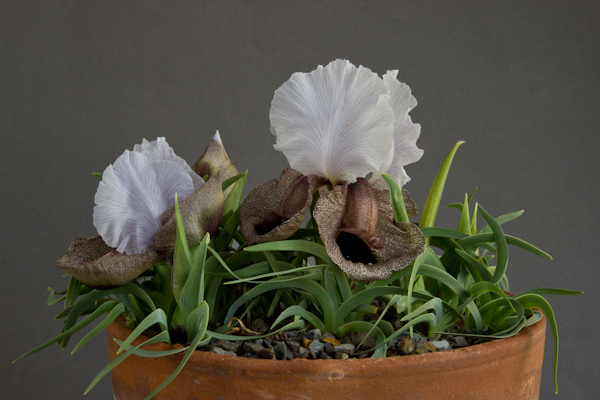 The first plant to grab my attention was an Iris: plants I have a soft spot for, since I look after rather a lot of them at Kew. A beautiful Iris iberica subsp. iberica, grown by Bob & Rannveig Wallis, was a very unusual bluish brown. Bob said that this particular, notably compact form was very early flowering, and had been obtained from Tim Loe, who specialises in the genus. (In the Artistic Section, there was a black and white photograph of this same plant, taken last year.)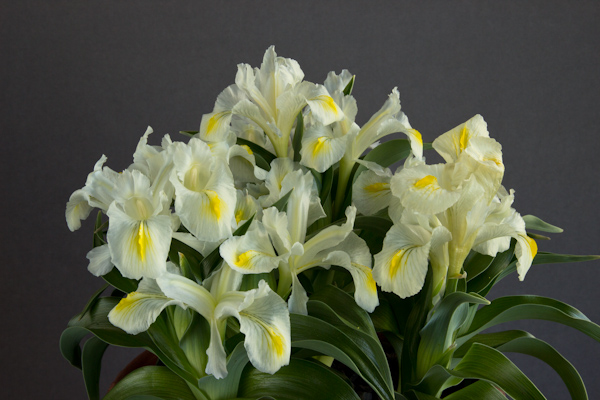 It formed part of a three-pan entry, whose outstanding component was a really nice pale form of Iris nusariensis, a Syrian juno that is ordinarily steely pale blue, but in this case was almost completely white, and packed with flowers. Although the original plant was authentic, having been introduced from the Jabel Nusair, this individual was from seed produced in cultivation, and Tony Hall, a judge at the show, later established that it in all likelihood represented a chance hybrid with I. caucasica subsp. turcica, which the Wallises grow close by. Hybrids with I. aucheri are also known.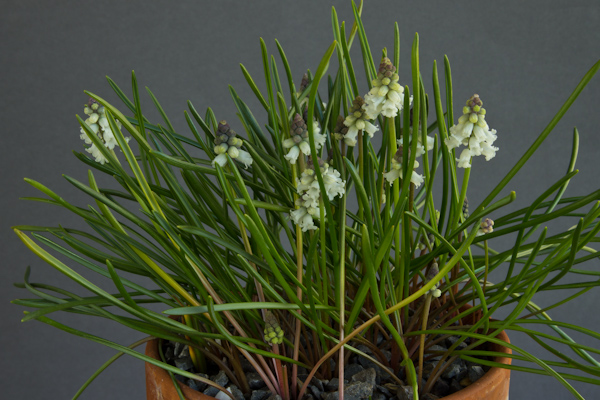 Elsewhere, Bob & Rannveig exhibited the very understated Muscari mcbeathianum, a species discovered by Jim & Jenny Archibald on a trip to Turkey in 1985. For years after they tried to relocate the site again, but without success. However Jim hand-pollinated his tunnel-grown stock and was able to distribute seed among friends and customers. Meanwhile the plant was described by Kit Tan in 1988, from the original herbarium material Jim brought back. Twenty years later, the Wallises led an AGS tour in 2008, and consulted Jim before leaving. He came up with a possible target area - a small pine wood glade with moist sandy soil, close to the border between Içik and Kayseri provinces in south-central Turkey, and the species was relocated in the wild for the first time since the original find. In cultivation it is very slow to increase, as is so often the way with rare and difficult plants. It needs a bit of pampering.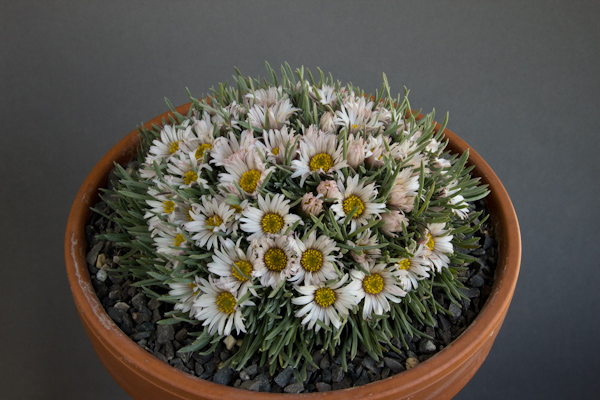 The plant of the day though was Eric Jarrett's Townsendia exscapa, a truly wonderful specimen and so nearly a Farrrer Medal, Alas it had to settle for best in show, but in my heart is was a Farrer Medal recipient. It is not often you encounter such a wonderful, mature cushion, for the species is typically slow to get going, and when young plants reach a certain size they generally commit hara-kiri and are lost forever, sometimes not even setting seed before they expire.
Eric obtained seed from SRGC Seed Exchange years ago: the plant exhibited was from a 2008 sowing. He repots it every year and each year it gets a bigger pot, filled with two parts grit/perlite/sharp sand intermixed and one part compost. Liquid feeding isn't necessary with this regime. Positioned in the sand plunge of a north-facing alpine house (which is kept well-watered in spring and summer, then just moist for the rest of the year), it receives indirect sunlight. To show its appreciation, it regularly sets seed.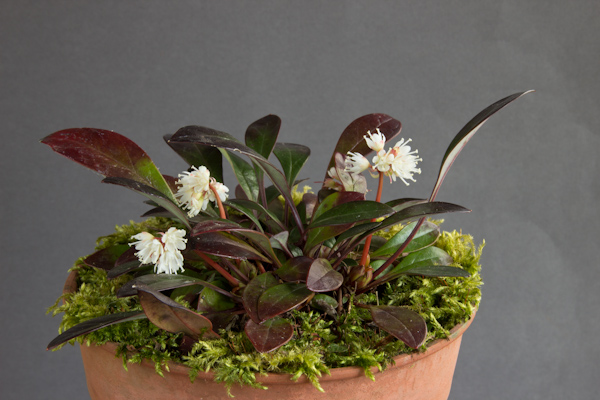 Among the moodier woodlanders plants that caught my eye, the Chinese Berneuxia thibetica. Was brought down from Newcastle by its owner, Alan Newton, who had grown it from seed. Closely related to Shortia (they grow together on the peat walls in the magnificent rock garden at Gothenburg), it needs an acid soil and semi-shade. Good plants have been established in Northern Ireland, and although very seldom available commercially, it is present in specialist collections around the U.K. Alan grows his mature seedling outdoors in Swedish peat and grit.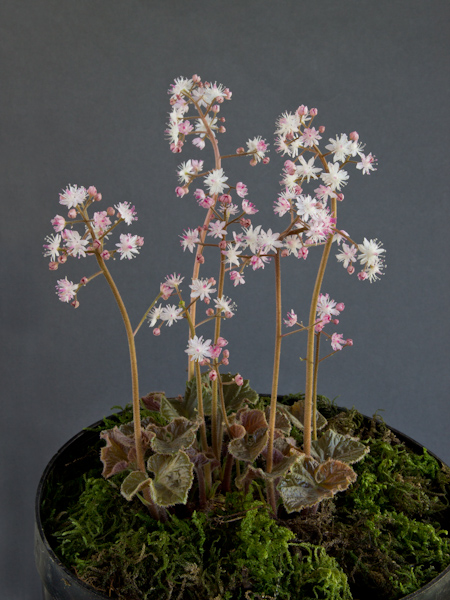 Another lovely Chinese woodlander, Oresitrophe ruprifraga, was also shown by Alan. I'm sure this name rolls off the tongue just fine when you have practised about 500 times. Early in spring it produces spikes of intricate pink flowers that repay close examination. At this stage the unusual, brown-tinged leaves have barely emerged, but soon they turn deep green and expand dramatically, sheltering the rhizomes from the summer sun. This plant came from Robin White, who received a Certificate of Merit for his exhibit at the same show four years ago. Typically the species grows beside waterfalls in the wild, and in this country comes into growth quite early, so a good mulch and frost protection up to and including flowering time make sense. Later in the season it benefits from liquid feeds, and copious watering.
Lastly I just want to say a few words about Barry Tattersall's orchids. Barry is a superb grower of terrestrial orchids, and it does not matter what orchid he shows, they are always perfect in every way. When attempting to select just one I found it impossible to choose, so have decided to talk about his collection in general. Most of those shown were at least five years old, with a bias towards Mediterranean species, for which he has a particular fondness. They are cultivated in a mix of cat litter, perlite and a little bit of John Innes no 3, to which he used to add leaf-mould, though not anymore. When I asked Barry why he likes growing orchids, and he said without hesitation: "Just love 'em". And that, surely, is the true essence of growing plants.
David Hoare did an excellent job of organising the event as usual: well done to all the volunteers too. Thank you for a nice show, and roll on its autumn counterpart.
Selection of Barry's orchids:
Ophrys tenthredinifera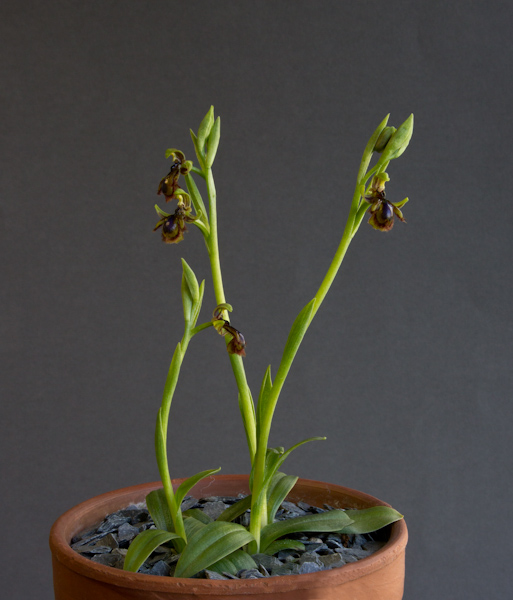 Ophrys vernixia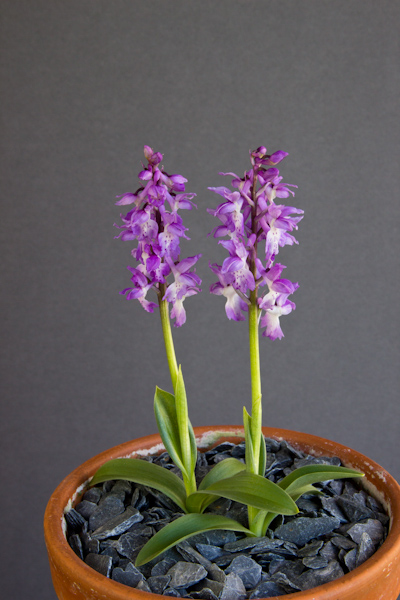 Orchis ichnusae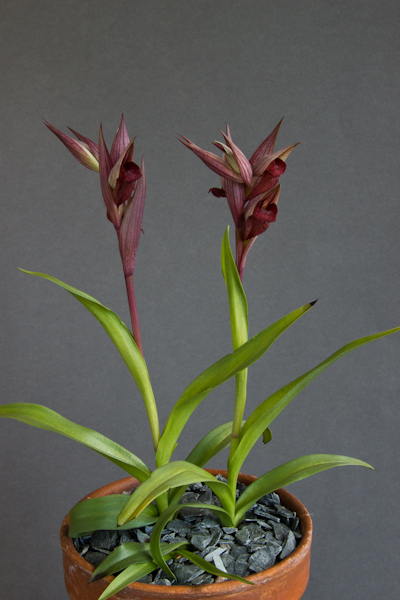 Serapias carica
Author: Kit Strange
Photographer: Jon Evans