East Lancashire AGS show, 2011
...and frosts are slain and flowers begotten,
And in green underwood and cover
Blossom by blossom the spring begins.
A.C.Swinburne 1837 - 1909
On the eve of the vernal equinox one might reasonably assume that the weather might improve, as indeed was the case on as fine spring morning with early sunshine highlighting the tops of distant trees colour-washed with the lichen-green of newly bursting buds. Further west, blackthorn was decked in white alongside the motorways but climbing the foothills of the Pennines on the long approach to Whitworth its buds were barely showing colour. Colour was by no means lacking in the hall, however, where European primulas, Corydalis and dionysias created a 'dream-coat' of brightness in a somewhat lowish light level. Three central benches running the length of the Civic Hall and a single lateral down one side were laden with 460 pots. The pleasant buildings of what looked like local stone had been the venue for this event in years past but a period of nomadic wanderings had been necessary before a return to Whitworth, north of Rochdale, and a tangible feeling amongst the team that they were home despite a 6 a.m.start for setting-up. It's not only exhibitors who need sleep on the following Sunday morning: the Show Secretary and helpers are the backbone of any Show's success.
Comfortable armchairs are arranged in a rest area beyond the hall and it was to these that those ,with out good reason to remain whilst judging took place, flopped gratefully for a brief rest before scouring the plant sales. Judging requires an unbiased approach and a clear brief from the Show Department under Rules for Exhibitors and Judges. On this occasion some judges were uncertain about Classes 6 and 7 when presented with hybrid primulas. Clarification was sought and given with a resolution taken to tighten-up on the wording of Rule 28. Who said judging was a matter of opinion?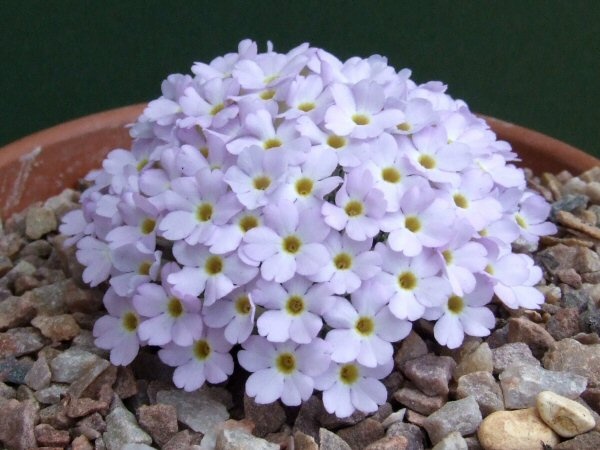 It is regrettable that Section C was lightly supported: three exhibitors, only, entered a total of 17 exhibits. Congratulations go to Tony Stanley from Darlington for his small but perfectly formed entry of Dionysia 'Lycaena'. A Michael Kammerlander hybrid between D. archibaldii and D. curviflora, it might be expected to grow slowly to more than 15 cm in diameter.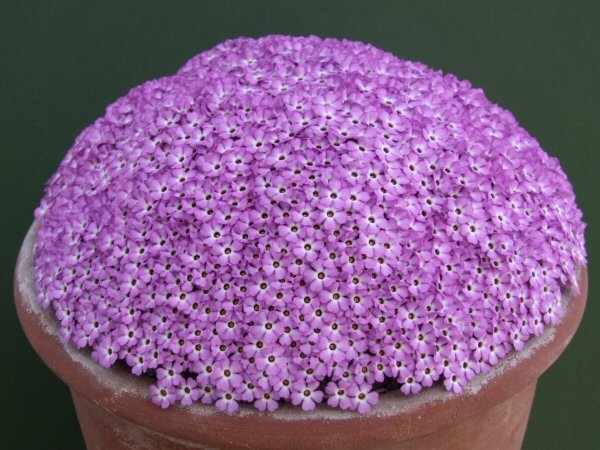 There were, of course, many other dionysias to covert and admire, especially a Farrer Medal-winning D. bryoides from the north-eastern garden of Derek Pickard;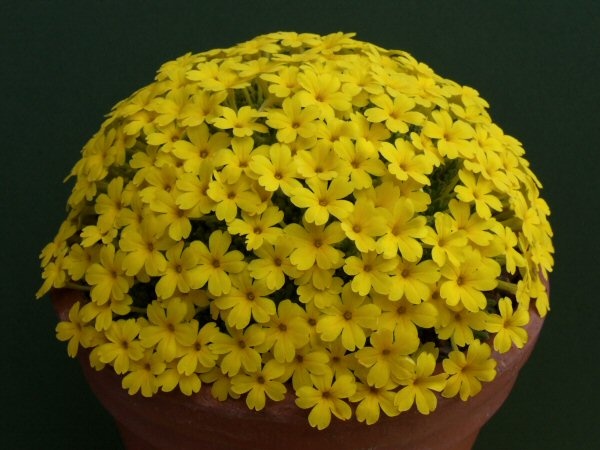 the old favourite D.aretioides (shown by Tony Taziker)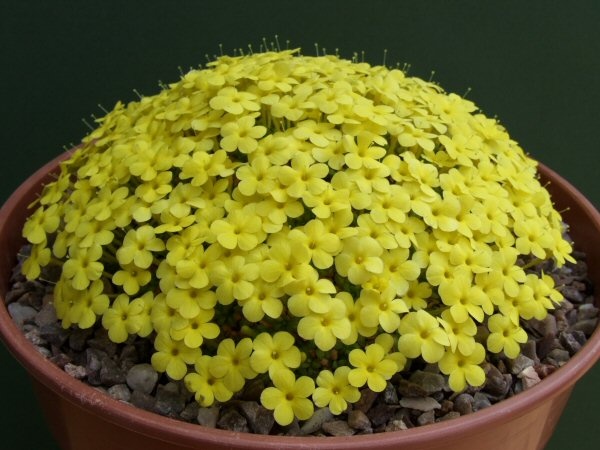 and an outstanding D. gaubae (Brian Burrow) that was awarded a Certificate of Merit ... more than was deserved by several for whom the pronunciation and origin of the epithet proved challenging, despite self-proclaimed expertise.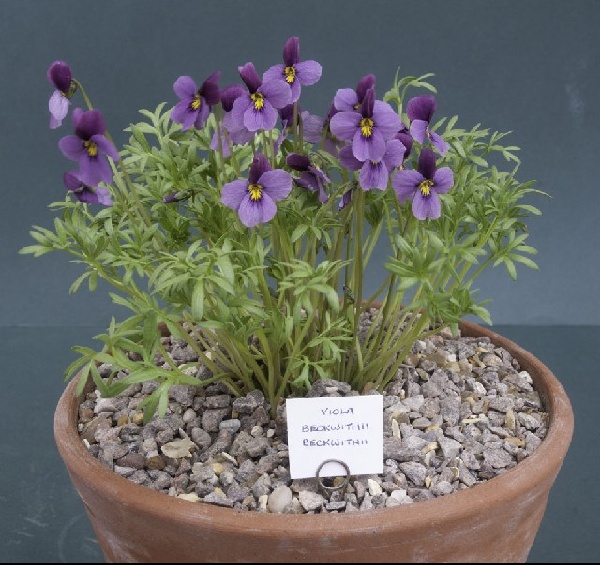 Viola beckwithii, the Great Basin Violet, is one of an alliance of cut-leaved, summer dormant species from the westernmost parts of North America. The usual forms have a striking colour contrast between the upper and lower petals, often more blue than shades of lavender, whereas subsp. beckwithii (shown by Ian Kidman) is often more uniformly coloured, although that of the lower two petals a little paler in hue. It looked a fine variation and one, which will be seen more frequently as the hoped for offspring get passed around. Unlike many Viola species it is not prone to cleistogamy, the habit of producing fertile seed from unopened buds without the need for any obvious sexual activity.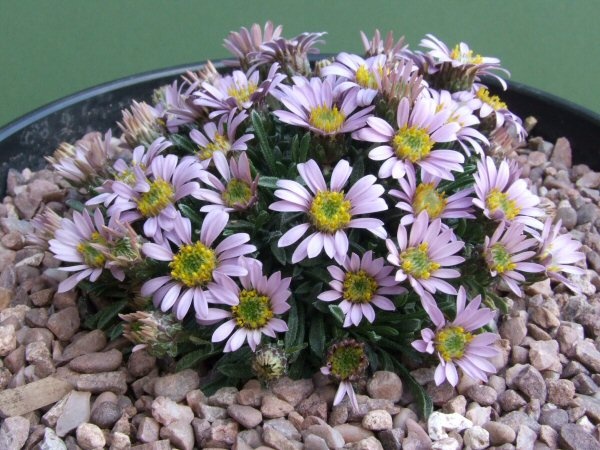 The lavender-violet colour was echoed in another American of very different floral structure. Townsendia leptotes, in the family Asteraceae, as shown by Lionel Clarkson was a charming species that he had been seed-raised from a Rocky Mountain Seeds offering sown in 2007 (most regrettably, this outlet closed for business the day before the Show). Customers who have consistently received good seed, reliably named and of wild origin, will miss it greatly. Grown in a long tom pot to accommodate the extensive root system, for which the genus is noted, it is repotted annually into a compost of three parts John Innes number 3 with five parts of 4 mm grit and one part composted bark and fed sparingly once a month in the growing season. Kept plunged in a cold frame, it is given very little water when dormant through the winter. Another Certificate of Merit receipient, it had been obtained under the cultivar name 'Genie' but the grower was reluctant to use this appellation despite the deep colour apparent in its sessile flowers.
Those with a macabre sense of humour enjoyed Michael & Mandy McLoughlin's diminutive wild ginger Asarum forbesii (syn. Heterotropa forbesii), native to several Chinese provinces including Hubei and Sichuan where it grows at around 800 m, putting it at risk from extreme winter temperatures in the UK. The plant on show was bought about two years ago from the members' stall at an AGS Show and potted in a mixture of equal parts of grit and John Innes No. 2.; a small piece that broke off in the process and has since grown on well hinting that propagation may not be too tricky. Plunged outside in a raised bed, it is only given water when in active growth, with a weak liquid feed from time to time. The specific epithet commemorates a nineteenth century American involved in the opium trade, Francis Blackwell Forbes, who with other members of his family amassed a large fortune out of the misfortune of others. Not unnaturally he developed a lifelong interest in poppies and Chinese botany in general.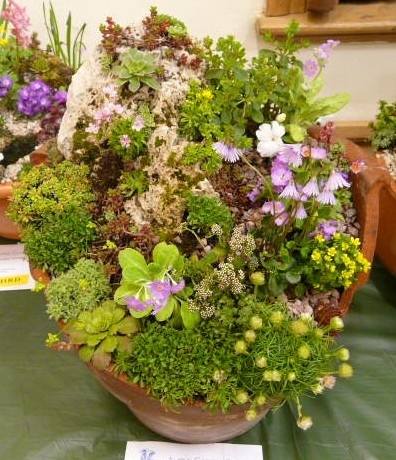 Classes for a pan planted as a miniature garden are not always well supported but at Whitworth there were three entries in the Open category and one in the Intermediate. The McLoughlins entered the former and along with a couple of other first timers demonstrated the skills required to present an established and cohesive display (so often lacking when a jumble of hastily assembled bits and bobs are clumped together to provide what is frequently called 'effect').
Ivor Betteridge retained the Grainger Trophy for the most first prize points in the Open Section. His entry in the one pan Iridaceae class was uncontested but worthy of its first prize. Iris svetlanae is from Central Asia, notably in the area around Amankutan in Uzbekistan. The region is rich in Juno irises, I. magnifica and I. warleyensis for example, which experience a climate of extreme temperatures ranging from -20 C in winter to about 40 C in summer. In springtime the soil is moist, almost wet, from snowmelt but it bakes almost brick-hard in summer when the bulbs are dormant.
Bulbous plants were represented by Fritillaria aurea in several classes with Ian Leslie's notable varient showing a decided reddish margin to the tips of the tepals. A pot of Puschkinia scilloides 'Aragats Gem' (Tommy Anderson) was displayed to perfection. Sourced from Armenia, this version of a usually rather unassuming Scilla relative has bigger flowers than its third division counterpart and, as one observer was keen to point out, showed a distinctly more intensely blue stripe on the reverse of the petal.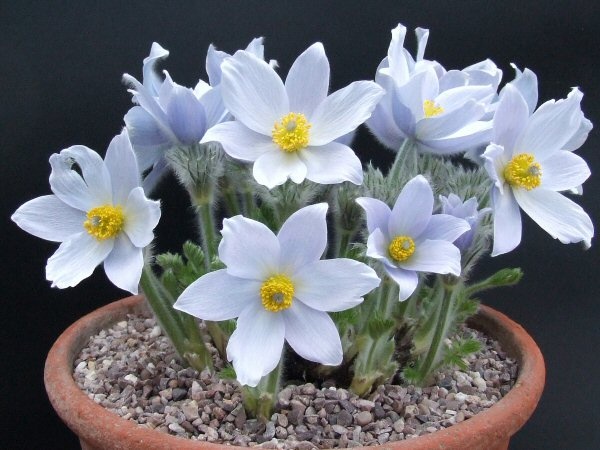 The winner of the Jim Lever Memorial Trophy was a pot-filling specimen of Pulsatilla grandis with strong hints of the late-lamented 'Budapest'. Labelled 'Budapest Strain', for which no doubt ointment may be obtained from any reputable chemist, this was a credit to its grower (Geoff Rollinson) from t'other side of the Pennines. One could argue that it represents only a subspecies of P .vulgaris, with the leaves emerging after the flowers have opened instead of simultaneously: in any event, it was magnificent!
Peter Cunnington