Loughborough AGS Show, 2011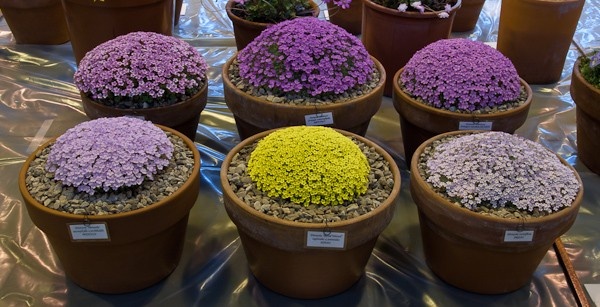 Although there was plenty of colour at Loughborough, entries were, not unexpectedly, down given the unusually cold winter which has refused to cede to spring. Dionysia, Saxifraga and Primula were plentiful but bulbs and Corydalis were less well represented. For the third show running, Paul & Gill Ranson were the most successful exhibitors winning the Open Section aggregate with both AGS Medal classes and many other classes too. The huge Dionysia cushions of DD freitagii x viscidula 'Goteborg', freitagii x microphylla 'Andreas', curviflora JRDA2, 'Manuela', tapetodes x aretioides 'Bernd Wetzel' and freitagii in Class 1 (shown) were superb examples of the skill of this pair of cushion wizards.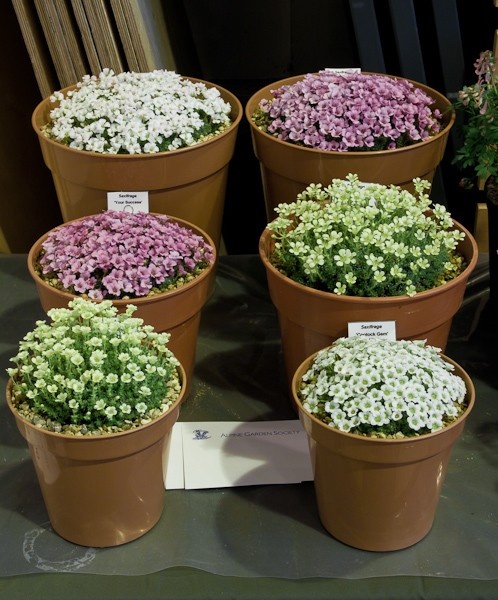 Tony Hale was the winner of the Intermediate section aggregate with exhibits which included the six pan (shown) for the AGS Spoon, and our new editor, John Fitzpatrick, started off his tenure with the Beacon Trophy for the most first prize points in the Novice section.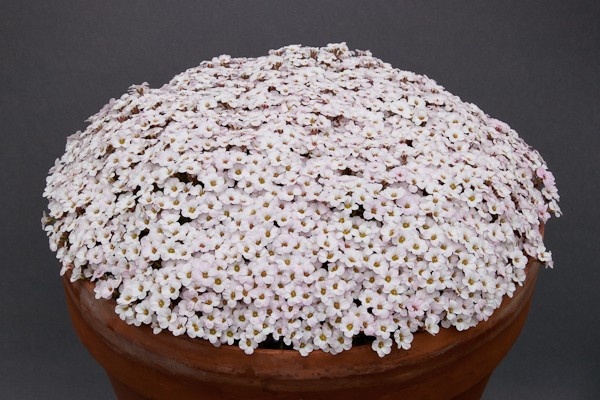 It would have been very hard to beat The Farrer Medal plant for flower power. Saxifraga 'Mary Golds' was exhibited by Mark Childerhouse, who must have staggered in under the weight of not only its ten-inch clay pan but that of its two co-exhibits in this hotly contested three-pan class. S 'Mary Golds' is a hybrid between S poluniniana and S wendelboi , the former presumably conferring the ability to flower from each rosette with its pink buds which rapidly fade to white when they open. There is no doubt that the last three cold winters have greatly aided the flowering of this classic alpine genus which has featured so well in our early shows.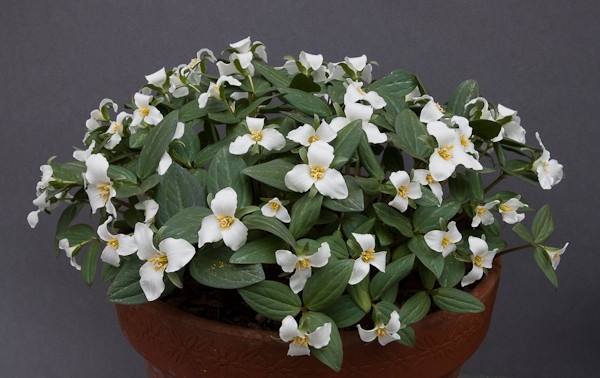 Other notable winners included one of the largest Trillium nivale we had ever seen, which gave Graham Nicholls the American Trophy. Geoff Rollinson's now famous Fritillaria alburyana was adjudged the best bulbous plant and took the Royal Bank of Scotland Award and the Richard Regan Trophy for the best plant in a 19cm pot. Geoff commented afterwards that he had only taken it out of the fridge two weeks before. It had been there ever since the late autumn to ensure that it received its full winter rest. Need he have bothered this year?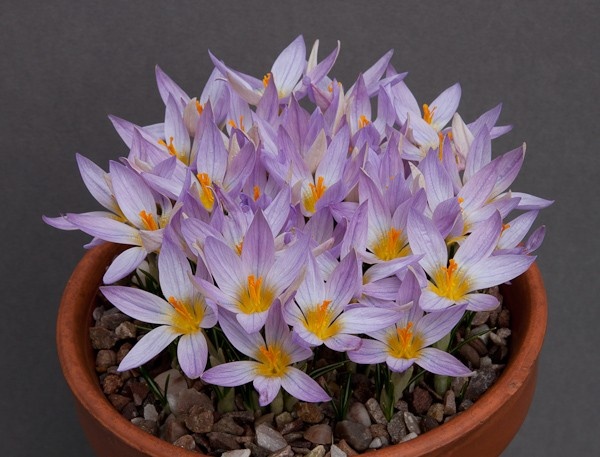 Prize winning pots of Crocus dalmaticus normally appear under the name of Robert Rolfe but, on this occasion, it was John Dixon who showed up with a panful which was duly awarded the Crocus Spoon.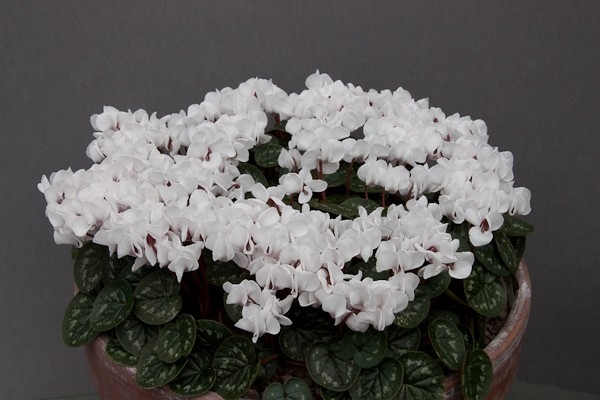 Few Cyclamen that have made it to the show bench this year, but Ian Robertson seems to be one of the few growers who has nursed his specimens unscathed through this winter and has come up with some incredible exhibits. A little bird told one of us that he has used heat in his greenhouses to keep the leaf-damaging frost out. A 36cm pot of C coum forma album was outstanding among two others in the three-pan exhibit and was awarded the Nottingham Group Trophy for the best Cyclamen.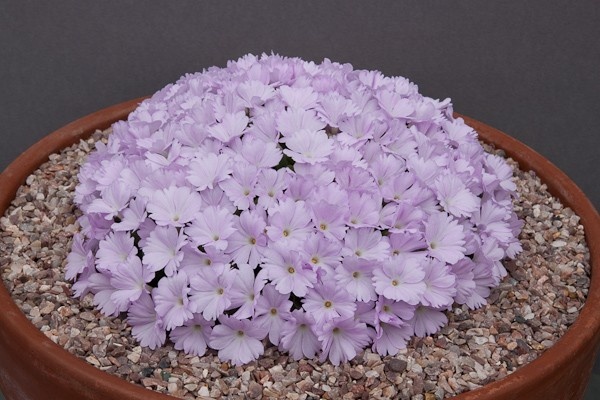 Whilst Mike & Christine Brown are, unusually, showing very few Cyclamen, they seem to have transferred their cultural expertise to Primula allionii with two superb pans of P allionii 'Anna Griffith', an old variety which, in expert hands, still holds its own against more modern interlopers. The larger of the two pans got the vote for the Derby Group Trophy for the best Primulaceae other than Cyclamen.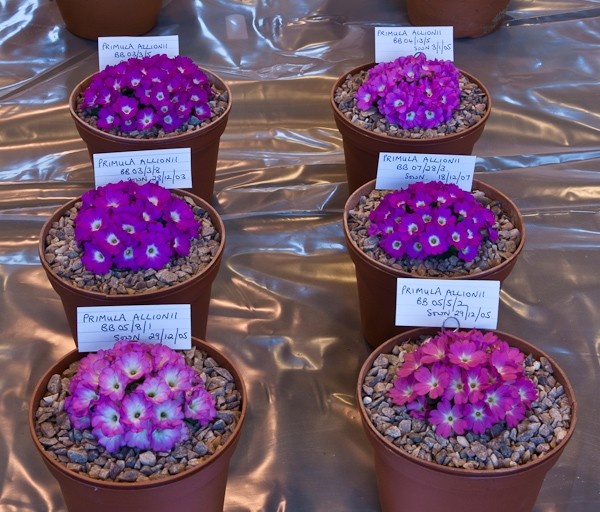 Not all of the six-pan classes fell to the Ransons' wizardry. The Leicester Group Trophy for plants grown from seed was won by a superb exhibit of new colour forms of Primula allionii by Brian Burrow, which he had raised from seed following careful selection of both pollen and seed parents. Seed is sown sometime between October and January and germinates between February and March the following year. The plants are grown on in 2 parts John Innes compost, 2 parts Universal Compost, 1 part Perlite and 7 parts 2-4mm grit and selected for unusual colour breaks and vigour in their second year.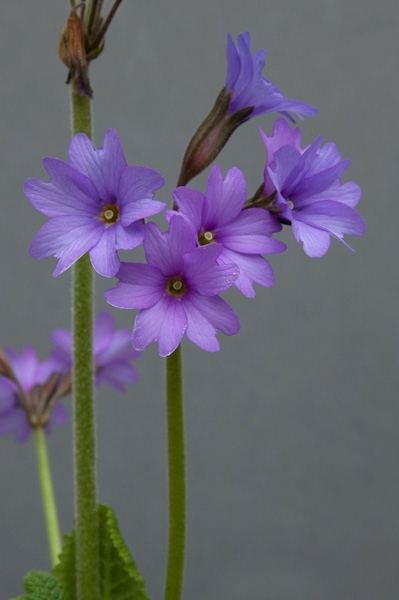 Plants do not necessarily have to win trophies in order to attract attention. As well as the plethora of excellent Primula allionii, two Turkish species are worth mentioning. Both are from the moist north-east of this huge country but grow in totally different habitats. Primula elatior subsp meyeri is the purple form of the oxlip. We have seen this growing at extremely high altitude (3500m) on Kaçkar Daǧ and way above any other alpine plants on this bleak and snow-covered basaltic peak. It does also grow in rocky places at lower altitude in both Turkey and adjacent Georgia. John Richards's plants were grown from Holubec seed which was stored in the refrigerator until it was sown in January 2010, pricked out in June and then it flowered for this show in early March. It is reputed to be a difficult species to cultivate successfully and seems to miss the very cold long winters and cool misty summers of its native habitat. Some of this can be achieved if you live in Northumberland and you keep the plants outside in a shady place all summer.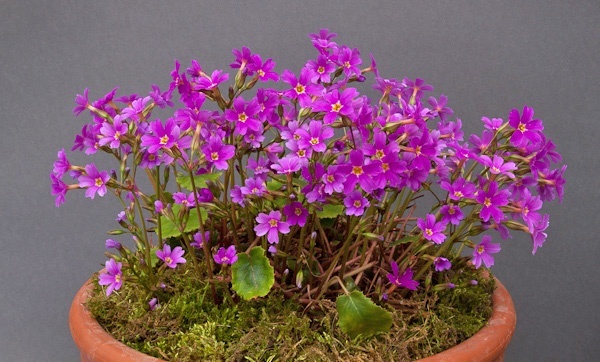 Primula megaseifolia (Terry Mitchell) occurs at much lower altitude on shady moist cliffs around the eastern end of the Black Sea. The large plant exhibited had been in the possession of the exhibitor for 12 to 15 years. During this time no heat had been used, although it can be tender given its preference for proximity to the warm sea. Terry uses a mix of ericaceous compost and grit (2:1) and although he has not found it necessary to keep it in full shade, the midday sun should be avoided even in its Wakefield home from home.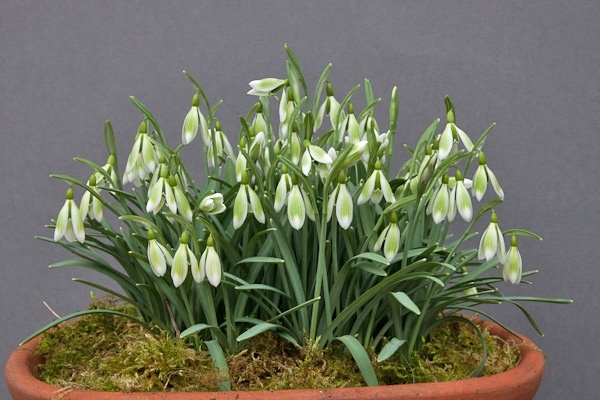 Many plants on the show bench came from exotic locations but not so the two forms of Galanthus nivalis on display. G nivalis var. virescens has been in cultivation for nearly 200 years and gained a PC in 1990. The original introduction can be identified by its rather narrow flowers and flat outer segments whose pointed apices turn outwards. It is very slow to bulk up so the large pot which has become almost an annual event at one show or another, courtesy of Rosina & John Abiss, is a testament to skill and dedication. Even more amazing is that it is raised from the garden each time it is shown and then put back immediately after the show.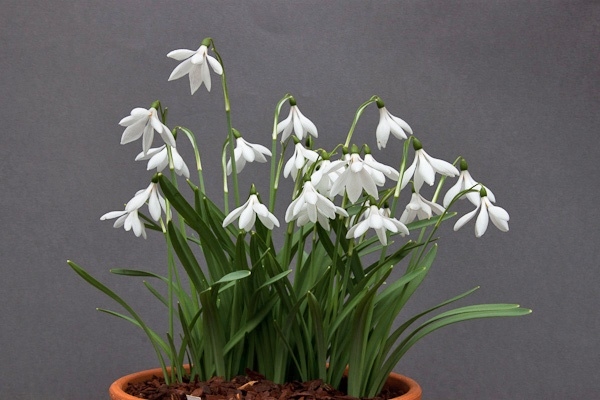 Cecilia Coller showed a lovely potful of the poculiform (the inner tepals are the same as the outer tepals in length and lack of green marks) variety. The mutation which causes this has arisen a number of times and some forms are more constant than others. Cecilia purchased one bulb from Long Acre Plants in 2005, so this one is obviously a good increaser. Apparently it originated in the Scottish borders.
Mike Chadwick showed an unusual porophyllum section Saxifraga with hanging soldanella-like flowers. Named S 'John Byam-Grounds', it has S stribrnyi and S dinnikii as its parents. According to one grower, the foliage can be somewhat scruffy but there was no evidence of this in Mike's plant. Apparently it is an excellent subject for a trough.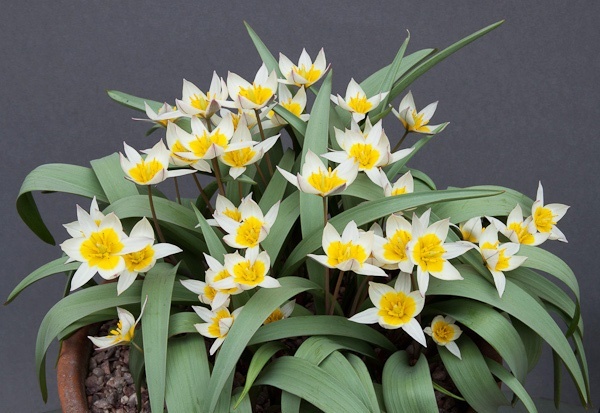 Peter Taggard once again came up with a very reportable plant. Tulipa orithyioides was obtained as a single bulb in 2003 from Janis Ruksans. He grows it in a long tom pot where the JI compost and grit mixture fills just the bottom half and the bulbs are planted about half way down this. The pot is then filled up with grit. The pots are plunged in a deep sand bed which is watered very sparingly in summer. He repots on a two yearly cycle. In his experience, each Tulipa has its own preference for depth and it is important to maintain this when repotting.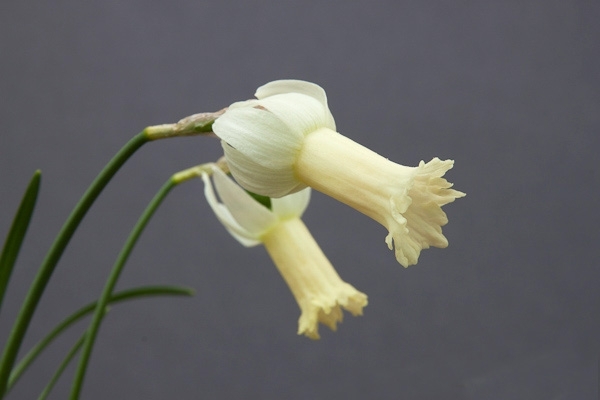 We were very impressed by the unusual hybrid miniature narcissi shown by Anne Wright. The first was a cross which she made between N cyclamineus and her favourite species for breeding, N rupicola. N 'Coo' (N bulbocodium subsp bulbocodium var tenuifolius x N cyclamineus) and 'Second Fiddle' (N 'Gypsy Queen' x cyclamineus - shown left) are hybrids raised in Australia which Anne has purchased and then managed successfully to turn around their seasons to that of the northern hemisphere by planting on arrival in March into damp compost in the shade, such as is used for her snowdrops. They then leaf through the summer but continue through until the next spring. Anne uses a very rich compost for her bulbs comprising John Innes No 2 and sand or vermiculite (1:1) with added Vitax Q4 extended release fertiliser. She repots every year.
Rannveig and Bob Wallis